One of the perks of delving into the world of corsets is all the interesting new facts there are to learn. For example, did you know that corsets have been around since 1600 B.C.E. or that they were once a must-have in any gentleman's wardrobe?
You may think a corset and a bustier are the same thing, and in fact, the terms are often used synonymously. However, when it comes to bustier vs. corset, there are actually many differences.
Both garments look similar, but they are designed to fulfill different purposes. The clue to their function is in their names. The English word "corset" is derived from the French and means to support or constrict. "Bustier" is also of French origin and relates to a woman's bust.
Once you understand that a corset is for constricting and a bustier is for boosting, you'll have a better chance of recognizing which is which.
Bustier vs. Corset: More Differences
Both bustiers and corsets can help create an hourglass shape, and both can be worn inside or outside of your clothing. Though there are some similarities, there are more differences between these two garments than you may first realize.
Price
Corsets are generally more costly than bustiers, and there's a good reason. People who are waist training wear their corsets almost every day. These garments are well-made from high-quality materials to ensure comfort and durability. That's not to say corsets aren't affordable, but a good waist trainer is seen as an investment.
Bustiers can be found in the lingerie department of your favorite discount store. Certainly, some bustiers are beautifully crafted with fine materials, but as a rule, a bustier is more of a fashion item. Corsets must be seasoned to fit each person's individual body perfectly and laced properly for the most benefits.
Shaping
Both garments are meant to fit close to the body. A bustier may or may not be boned, but corsets depend on boning to help cinch the wearer's torso.
A corset helps to create an hourglass shape by nipping in the waist and creating a smooth line under the bust. Hugging the waist makes both the hips and the bust look slightly larger for exaggerated classically feminine curves. Even over-the-bust corsets that provide some bust support are designed to enhance the hourglass silhouette.
On the other hand, the focus of a bustier is the bust line. Some bustiers may offer slight compression of the torso, but the goal is to push the breasts up and bring them together to create more dramatic cleavage.
Closures
When it comes to a custom fit, there's a clear winner between bustier vs. corset. Bustiers have hook-and-eye closures like a bra. They typically fasten in the front for ease of use, but some may have closures in the back. There is little flexibility in the sizing of a bustier. If you lose or gain weight, your bustier will probably no longer fit.
Corsets are closed with laces. Lacing provides a flexible fit that you can personalize with every wear. If you gain a few pounds or are having some temporary bloating, you can loosen the laces to wear your corset comfortably. If you lose a little weight or you're having a day when you really want that waist to look snatched, simply tighten the laces for your desired shape.
Benefits
Corsets are durable and comfortable when seasoned and worn properly. A corset can be worn occasionally for short-term benefits or used for more permanent results through waist training. Corsets can also help relieve back pain and improve posture, and they may aid in weight loss by controlling your appetite.
In addition, many of our customers report feeling more confident and secure when they wear their corsets.
A bustier offers excellent bust support, and the long-line fit of a bustier may be more comfortable for women with large breasts. However, bustiers don't have steel bones like corsets. Without the extra support of boning, they may help with shaping for only a few hours at a time. Wearing a bustier will not provide the same waist-training benefits as wearing a corset.
Bustier vs. Corset: Which One Is for You?
Bustiers and corsets are fun, sexy, and versatile undergarments that deserve a place in your closet. Depending on the style, you can wear them over your clothing for a daring (and functional) fashion statement. However, they do have different purposes, and one can't be substituted for the other.
If you're interested in starting a waist-training regimen or you want to emphasize your hourglass shape for a special event, you need a corset.
The Glamorous Corset collection truly has something for everyone. Many of our steel-boned corsets are priced around $100.00, and our knowledgeable customer service representatives will help you select the right style and size to meet your needs. 
---
To stay up-to-date with weekly blog posts, waist training tips, and the chance to win one of our monthly corset giveaways, follow us on Facebook, Instagram & subscribe to our mailing list today! Want to find the perfect steel boned corset? Shop some of our favorites: underbust corsets, overbust corsets, corset dresses. You can also shop our corsets by material: cotton corsets, denim corsets, leather corsets, mesh corsets, pvc corsets, and satin corsets. Have questions about getting started with waist training or finding the right size corset? Contact us!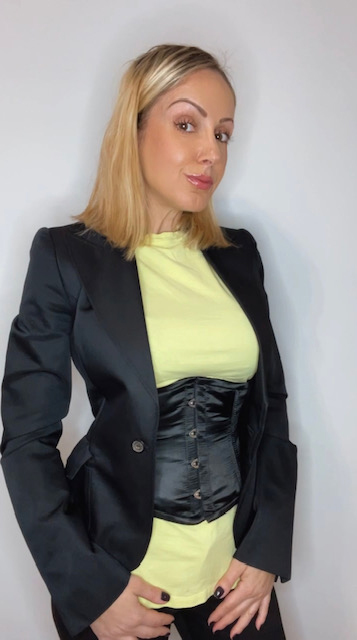 My name is Rachel, I am the owner of Glamorous Corset, a small business founded by me in 2010. Back In 2005, I was in a car accident that left me with a herniated disk. Much to my surprise I learned steel boned corsets were beneficial to several medical injuries including mine. I was always intrigued with corsetry, their history and their beautiful aesthetic. I love sharing knowledge about corsets, educating my wonderful readers and breaking the negative stigma related to corsetry. In combination with my years of research and personal experience I hope my articles are useful and can help anyone who has struggled with some of the same things I have. More about me…