Bras are notoriously uncomfortable. Straps dig, wires poke, and the constant need to readjust throughout the day is enough to make you give up. The idea of wearing corsets for breast support may seem unrealistic at first, but many corsets are designed to provide support just like a bra — only better.
If you're thinking about waist training or have already started enjoying the benefits of wearing a corset regularly, it may be time to consider investing in an over-the-bust corset.
Why Should You Consider Corsets for Breast Support?
Every culture has its own unique beauty standards. Large breasts are often considered to be the ultimate sexy feature in the United States, but any woman with large breasts knows they aren't always fun to live with. A heavy bust can cause headaches, back pain, and general discomfort.
Overbust corsets may be able to eliminate all of that while also helping you look your best.
Most people are familiar with waist trainers that fit just below the breasts in the front and the scapulas in the back. Overbust corsets extend higher and include bra-like cups to provide the support you need.
4 Benefits of Wearing an Overbust Corset
The added support of an overbust corset is the reason most women try this style to begin with. Once the laces are tightened, the rigidity and compression provided by an overbust corset will lift your breasts and provide support all day and night.
While making the tatas look tata-riffic is enough of a reason to try an overbust model, there are several other benefits to this type of corset.
1. No Bra Straps
Think of it, great bust support without straps digging into your shoulders. An overbust corset provides better shaping than most strapless bras while doing all the work you expect from a waist trainer. You can wear strapless tops or simply enjoy getting through the day without falling or irritating bra straps.
2. Better Posture
Corsets are known to help you stand taller, and longline and overbust designs do an excellent job of correcting your posture. Not only will your breasts be standing at attention, but you'll be standing (or sitting) taller with no slouching.
3. Pain Relief
If you suffer from pain in your upper back, neck, or shoulders (let's be real — those queens are heavy), wearing corsets for breast support may help.
Unlike a bra that relies on straps to keep the girls high and tight, an overbust corset does the job with compression. Better support from underneath helps relieve the stress large breasts can put on your neck and shoulders.
4. Versatility
Like other corsets, overbust models can be worn over and under clothing. For an office-friendly look, wear your overbust corset instead of a vest with your power suit. For a night on the town, skip the blouse and don an overbust corset with a cropped jean jacket or a sleek leather blazer.
And remember — an overbust corset is still a waist-training garment. When you opt for an overbust style, you're getting the best of all foundational worlds.
The Downside of Overbust Corsets
Before you invest in a collection of corsets for breast support, there are some cons to consider.
All corsets are somewhat constricting. A corset that has been fitted and seasoned properly shouldn't restrict your breathing but can limit your mobility. Corsets that go over the bust will limit your ability to twist and bend even more. This can be uncomfortable for some women, but many find it is simply a matter of practice.
Constricting the breast area can also constrict your lungs. If you have breathing problems such as asthma, an overbust corset may not be a good fit. However, with some adjustments, most corset enthusiasts can find the "just right" spot that provides breast support without limiting lung capacity.
Lastly, make sure to take all recommended measurements when sizing yourself for an overbust garment. Overbust corsets can be more difficult to fit correctly because you also have to factor in bust measurements and cup size.
Over the Top or Overbust? It's Up to You
Corsets for breast support aren't everyone's cup of tea. Women with short waists may not feel comfortable in a corset with a long line, and compression around the chest may be uncomfortable for some. However, if you struggle to find a bra that provides support and comfort, an overbust corset may be the solution you've been looking for. 
---
To stay up-to-date with weekly blog posts, waist training tips, and the chance to win one of our monthly corset giveaways, follow us on Facebook, Instagram & subscribe to our mailing list today! Want to find the perfect steel boned corset? Shop some of our favorites: underbust corsets, overbust corsets, corset dresses. You can also shop our corsets by material: cotton corsets, denim corsets, leather corsets, mesh corsets, pvc corsets, and satin corsets. Have questions about getting started with waist training or finding the right size corset? Contact us!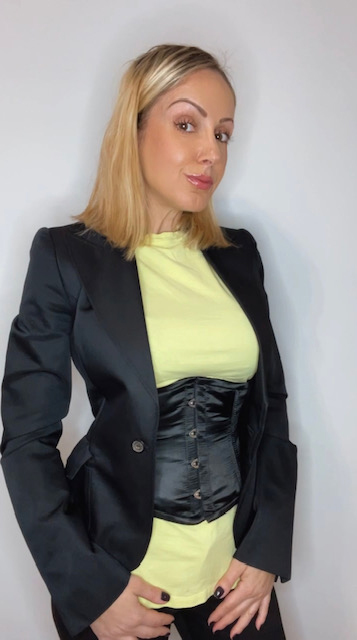 My name is Rachel, I am the owner of Glamorous Corset, a small business founded by me in 2010. Back In 2005, I was in a car accident that left me with a herniated disk. Much to my surprise I learned steel boned corsets were beneficial to several medical injuries including mine. I was always intrigued with corsetry, their history and their beautiful aesthetic. I love sharing knowledge about corsets, educating my wonderful readers and breaking the negative stigma related to corsetry. In combination with my years of research and personal experience I hope my articles are useful and can help anyone who has struggled with some of the same things I have. More about me…