If you've been thinking about waist training but haven't fully committed, chances are you doubt it can really help. One of the most common questions we hear is, "Will wearing a corset everyday make my waist smaller?"
Hey, we understand, and you're smart to be suspicious, but waist training is one of the few "too good to be true" practices that actually live up to the hype. That is, as long as you follow all the recommended guidelines.
Getting Started with Waist Training
Trends in shapewear come and go, but corsets have lasted the test of time for good reason. The moment you put on a corset, your waist looks smaller and you appear curvier. Those results are temporary, but with daily wear, a corset can help you make semi-permanent changes to your body.
It all starts with choosing the right corset. There are different styles of corsets, and some are best for certain body types. For example, corset belts may work best for short-waisted women, and longline models are best for people with long torsos.
Whichever style you prefer, for serious waist training a corset should include:
Steel (not plastic) boning
Sturdy busks for closing in the front
Durable and comfortable fabric
High-quality lacing in the back for a custom fit
True waist trainers are an investment. They endure cinching, pulling, and daily wear. Costume corsetry can be fun to wear, but garments meant only for costumes or fashion won't provide the support needed for making your waist smaller.
Sizing It Up
Starting with the correct size is the next step. It may be tempting to squeeze yourself into a smaller size than you need. After all, if you're trying to compress your waist, isn't tighter better?
The answer to that question is a resounding "no." Buying a garment that's too small may actually discourage you from waist training. It will be uncomfortable and difficult to put on, and the extra strain on the fabric and eyelets could cause the corset to tear or become damaged.
The most important reason to purchase the right size is your health. Wearing a corset should feel like a firm but comfortable hug. It should not constrict your breathing or make it difficult to fulfill your normal functions.
To get the sizing right, measure your underbust, waist, hip, and torso length. If you are trying an overbust corset, your bust measurement and cup size will also be needed.
Once you receive your corset, take the recommended time to season it. A seasoned corset will fit you like a glove. Do not start tightening the laces until your garment is well seasoned.
Follow a Schedule
To have success with waist training, you need to begin with realistic goals. No, you won't shave six inches off your waist in the first two weeks. In fact, it may take more than two weeks until you are ready to wear your corset daily. That's okay. Everyone needs to move at their own pace.
We recommend starting with one to two hours of wear each day. If you notice bruising or have any shortness of breath, loosen the laces and/or cut back to wearing the corset every other day until you feel more comfortable.
Gradually increase your wear time by no more than two-hour increments. Pay attention to your body and ease up if needed. Once you reach a point where you can wear your corset comfortably all day every day, it may be time to move to a smaller size and begin the process again.
Is That It?
Will wearing a corset make my waist smaller? Yes, it really will. Waist training is not a complicated process, but it does take patience. With time, you'll notice a change in your measurements even when the corset is not on.
Keep in mind that these changes aren't permanent but are considered semi-permanent. As long as you maintain a healthy weight and continue with your corset-wearing regimen, you will continue to enjoy the benefits of waist training.
---
To stay up-to-date with weekly blog posts, waist training tips, and the chance to win one of our monthly corset giveaways, follow us on Facebook, Instagram & subscribe to our mailing list today! Want to find the perfect steel boned corset? Shop some of our favorites: underbust corsets, overbust corsets, corset dresses. You can also shop our corsets by material: cotton corsets, denim corsets, leather corsets, mesh corsets, pvc corsets, and satin corsets. Have questions about getting started with waist training or finding the right size corset? Contact us!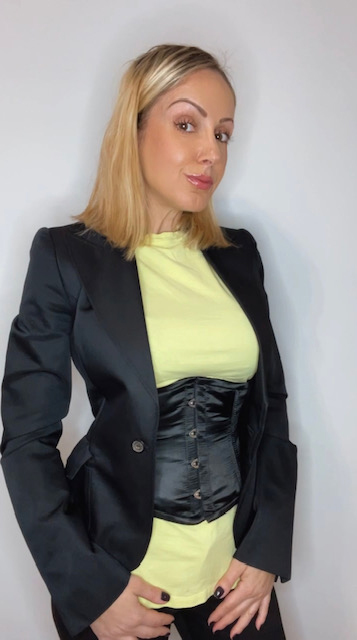 My name is Rachel, I am the owner of Glamorous Corset, a small business founded by me in 2010. Back In 2005, I was in a car accident that left me with a herniated disk. Much to my surprise I learned steel boned corsets were beneficial to several medical injuries including mine. I was always intrigued with corsetry, their history and their beautiful aesthetic. I love sharing knowledge about corsets, educating my wonderful readers and breaking the negative stigma related to corsetry. In combination with my years of research and personal experience I hope my articles are useful and can help anyone who has struggled with some of the same things I have. More about me…