Over the centuries, clothing has improved in a variety of ways. Consider that little more than a century ago, a woman's attire might consist of a corset, pantaloons, petticoats, a bustle, a bodice, skirts, stockings, an elaborate bonnet, gloves, boots, and more. Today, we can leave the house wearing a bra and underwear, jeans, a T-shirt, and flip-flops.
In addition, we now have access to a range of advanced textiles designed to deliver comfort while wicking away moisture and helping regulate body temperature. Even so, if you purchase clothing that doesn't fit your body right or that's made with the wrong materials, you could end up dealing with discomfort.
Consider the underwire bra that digs into your ribs or the sky-high stilettos that slip at the heel with every step. What about the low-cut jeans that give you a muffin top or the itchy sweater that makes you break out in hives?
The clothing you choose impacts your comfort and how you live your life, especially with snug support garments like corsets. The last thing you want when waist training is uncomfortable chafing and rashes. How can you choose the right garment and avoid these undesirable outcomes?
Why Do Chafing and Rashes Occur?
There are a couple of reasons you might suffer chafing and rashes when wearing a corset. Chafing is related to the corset rubbing in a certain area, which is very likely due to improper fit. You've probably chosen the wrong size or style of corset for your body.
Rashes could be related to chafing, but they might also be due to issues like sweating or irritation caused by the textile you've selected. The good news is, there are simple steps you can take to avoid both chafing and rashes when you wear a corset.
Choose the Right Corset Style and Size
The importance of choosing the right corset for your body cannot be overstated. While a jersey tee can stretch and conform to your shape and size, a corset is meant to hug your body and contour your torso.
Seasoning will help a corset fit snugly and comfortably, but you need to start with a garment that fits nearly perfectly to prevent chafing.
For sizing, measure your bust, underbust, hip, and torso length. Take the time to check size charts before you order, and if possible, try before you buy (or make sure you understand return policies).
Also, be careful of styles like longline that aren't ideal for shorter torsos, and check the spring to see if it's suitable for straighter or curvier body shapes.
Add an Extra Layer
If you have the right corset size, but you still experience some discomfort and chafing, try adding a liner to the mix. A chemise, tank, or tee will do the trick. Just make sure to choose a fitted garment that will stay put when you layer your corset over it.
A liner can also help to prevent rashes. It's not uncommon to sweat a bit under a close-fitting corset, even if you select breathable textiles like cotton. Adding a soft liner can help to absorb sweat and oils that might lead to rashes, with the bonus of protecting your corset in the process.
Care for Your Skin
Proper skin care, including daily cleansing and moisturizing, can make a real difference when it comes to preventing rashes from all-day corset wear. Dry skin can be more easily irritated by the compression of a corset, so make sure to stay hydrated.
A Little Care Can Prevent Problems
With proper corset sizing, a liner, and suitable skin care considerations, you have the best chance to avoid issues like chafing and rashes while waist training. These simple precautions can make your experience much more pleasant
---
To stay up-to-date with weekly blog posts, waist training tips, and the chance to win one of our monthly corset giveaways, follow us on Facebook, Instagram, & subscribe to our mailing list and YouTube channel today! Want to find the perfect steel boned corset? Shop some of our favorites: underbust corsets, overbust corsets, corset dresses. You can also shop our corsets by material: cotton corsets, denim corsets, leather corsets, mesh corsets, pvc corsets, and satin corsets. Have questions about getting started with waist training or finding the right size corset? Contact us!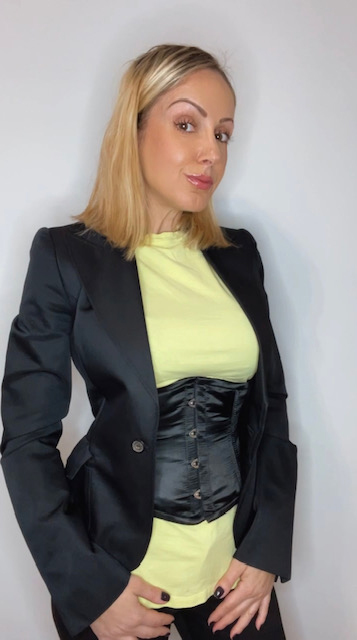 My name is Rachel, I am the owner of Glamorous Corset, a small business founded by me in 2010. Back In 2005, I was in a car accident that left me with a herniated disk. Much to my surprise I learned steel boned corsets were beneficial to several medical injuries including mine. I was always intrigued with corsetry, their history and their beautiful aesthetic. I love sharing knowledge about corsets, educating my wonderful readers and breaking the negative stigma related to corsetry. In combination with my years of research and personal experience I hope my articles are useful and can help anyone who has struggled with some of the same things I have. More about me…