For most people, undergarments are a practical concern. We don panties, boxers, brassieres, and so on in an effort to gain needed protection and support. Then there are people who harbor secret glee from wearing racy underwear that no one else knows about, or alternately, going commando. Whatever you wear (or don't) under clothing, you can feel relatively confident that modern underwear is designed with modern clothing in mind…unless you're wearing Lulu Lemon leggings, in which case you're likely leaving nothing to the imagination.
What about corsets, which haven't changed dramatically since the reign of Queen Victoria? Certainly, there are newer materials, and styles have evolved somewhat, but the basic principles of providing support and compression with robust textiles, sturdy construction, and resilient steel boning are virtually unchanged.
The result can be a somewhat bulky undergarment, especially when paired with clingy, lightweight, modern fabrics like jersey knit. So, what gives? How can you wear corsets under clothes these days without giving away your secret to a slim and sleek silhouette? Here are a few things to consider.
Health, Stealth, and Happiness
There is a well-known practice among waist-training aficionados called stealthing, by which corset wearers endeavor to hide their undergarment. You might think stealthing revolves around choosing the right clothing, but it actually begins by selecting the right corset.
Stealthing is made much easier with an unobtrusive corset. For example, you may want to skip bulky textiles like leather, or fabrics like cotton that can stick to clothing. Instead, go for slick satins that your clothing will slip and slide over, like your skin, or even newer mesh fabrics that fit closer to the body.
If waist training is your goal, you don't necessarily need a longline, overbust corset. You might opt for an underbust model or even a tiny waspie that nips in your waist line with a lot less bulk. As for hiding laces, eschew thick nylon in favor of silk ribbons that lie flat, and tuck the ends under the bottom edge of the corset for a smooth silhouette under clothing.
This probably goes without saying, but you should also avoid prominent features like buckles, bows, and other adornments that will definitely make people wonder what you're smuggling under your blouse. Once you have the right undergarment, the next step is choosing clothing that's going to camouflage your corset.
Working Your Wardrobe
If you like to wear bodycon dresses that reveal every curve, you're going to have a hard time hiding your corset. If you're wondering how can you wear corsets under clothes when modern garments are so clingy, the answer is simple: choose the right fabrics and layers.
For example, a corset is much easier to hide under a stiff, cotton Oxford than a jersey knit tee. When you add a vest, cardigan, blazer, or other finishing piece to the mix, you can easily cover any minor bulk from laces in the back. You might also consider high-waisted pants or skirts that show off your tiny waist, but float away from the body (wide-leg or A-line construction), paired with tops that you can blouse out from the waist. Empire waist blouses are also ideal.
Of course, there are going to be times when wearing heavier textiles is impractical. What if you want to don a tee, a tank, or a thin, summer dress? In this case, you might consider hiding your corset in plain sight.
In recent years, corsets have become a popular accessory, insomuch as many women wear them for fashion on the outside of clothing. A waspie, for example, makes for a trendy, wide belt over skirts, high-waisted pants, or shirt dresses. Even an overbust corset could double as a fitted vest over a blouse when you look for a model with shoulder straps.
Those who want to waist train need not live in mortal fear of being discovered. If you don't feel confident facing peer scrutiny related to your decision to waist train (which is no one's business anyway), you can definitely choose corsets and clothing that allow you to hide the fact that you're tightlaced 24/7.
Other Helpful Resources
---
Stay up-to-date with weekly blog posts, waist training tips, and the chance to win one of our monthly corset giveaways, like us on Facebook & subscribe to our mailing list today! Want to find the perfect steel boned corset? Shop some of our favorites: underbust corsets, overbust corsets, corset dresses. You can also shop our corsets by material: cotton corsets, denim corsets, leather corsets, mesh corsets, pvc corsets, and satin corsets.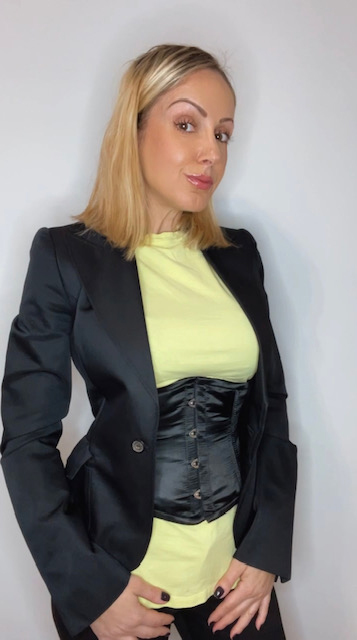 My name is Rachel, I am the owner of Glamorous Corset, a small business founded by me in 2010. Back In 2005, I was in a car accident that left me with a herniated disk. Much to my surprise I learned steel boned corsets were beneficial to several medical injuries including mine. I was always intrigued with corsetry, their history and their beautiful aesthetic. I love sharing knowledge about corsets, educating my wonderful readers and breaking the negative stigma related to corsetry. In combination with my years of research and personal experience I hope my articles are useful and can help anyone who has struggled with some of the same things I have. More about me…