The word "corset" may conjure up the image of a sexy, slightly see-through undergarment, and while corsets certainly can be all of that, they can also be quite modest.
If you've ever wondered, "What is a modesty panel on a corset?" this article will explain how you can use a panel to make your waist training corsets more comfortable and more modest.
What Is a Modesty Panel on a Corset?
Corsets are made of several parts. Each part is important to the structure and function of the garment as well as the overall look. Depending on the corset style, it may include:
Busks
Bones
Channels and panels
Grommets
Lacing
Lining
Shell
When using a corset for waist training, it's necessary to get a perfect fit every time you wear the garment. The front closure is made of steel busks with metal fasteners that are not adjustable.
The back closure is where all the form fitting happens. It is closed with lacing that works similarly to the laces on a shoe. The laces can be drawn tightly or loosely depending on the fit needed.
On a shoe, the tongue covers the gap between the laces and protects your foot from being exposed. There is also a gap between the laces on a corset. That gap may be wide or narrow according to the sizing, and it allows a strip of flesh to peek through underneath the lacing.
A modesty panel is an extra piece of fabric that fits under the laces and covers the exposed skin.
Showing a bit of skin may not be an issue for some corset wearers, but others prefer the comfort and the coverage provided by a modesty panel. Without the extra panel, the laces and the grommets that hold them in place are in direct contact with your skin.
The Different Types of Modesty Panels
If you're just learning about "What is a modesty panel on a corset?" you may be surprised to learn there is more than one style. You can try three basic types of modesty panels.
Attached Panels
Attached panels are the most convenient because they are already sewn into the corset. You don't have to worry about misplacing them because they are secured to the corset on one side.
The downside of sewn-in panels is that they are usually not stiffened. The lack of structure can make it challenging to get the panel placed correctly when you put on your corset.
Detached Panels
A detached panel is exactly what it sounds like — a separate section of material not sewn onto anything. The advantage of detached panels is they are pre-stiffened and easy to use. Also, being detached gives you the option to use a modesty panel or not, depending on your needs for that day.
Suspended Panels
Suspended panels are stiffened and detached. Many corset wearers feel these are the easiest type of modesty panel to use. This model "suspends" with laces you attach to the corset yourself. Attaching a suspended panel may take a little more time up front, but you save time and frustration when putting on the garment.
Suspended panels also allow you to wear a modesty panel or not as you prefer.
Is a Modesty Panel Necessary?
One of the great things about corset wearing is how, when, where, and why you wear a corset is up to you. While there are certainly recommendations for getting the best fit, especially if your goal is waist training, corsets are made to adapt to you, not the other way around.
Modesty panels aren't necessary if you don't want to wear them. Though light, they do add another layer of fabric and can complicate the lacing-up process. Many people prefer to remove the panel if they purchase a corset with an attached panel.
Not all panels are removable. Before getting your seam ripper out of the sewing basket, look for a seam allowance (an extra strip of fabric) beyond the stitching that attaches the panel to the corset.
If there is a seam allowance, you can carefully pick apart the stitching to release the panel. If there is not a seam allowance, it is possible to cut the panel off the corset, but you could end up damaging the corset or interfering with its structural integrity.
However, if you're bothered by the look or feel of a strip of flesh puckering out between your corset laces, a modesty panel is the solution.
---
To stay up-to-date with weekly blog posts, waist training tips, and the chance to win one of our monthly corset giveaways, follow us on Facebook, Instagram, & subscribe to our mailing list and YouTube channel today! Want to find the perfect steel boned corset? Shop some of our favorites: underbust corsets, overbust corsets, corset dresses. You can also shop our corsets by material: cotton corsets, denim corsets, leather corsets, mesh corsets, pvc corsets, and satin corsets. Have questions about getting started with waist training or finding the right size corset? Contact us!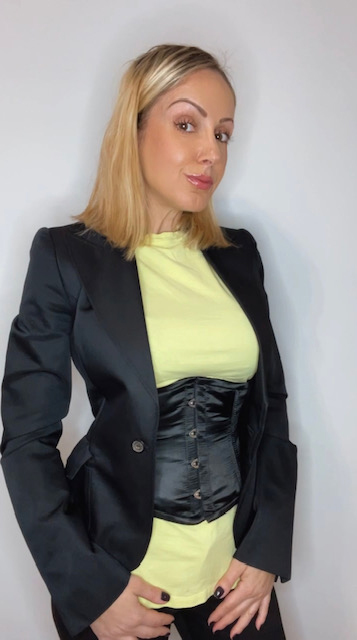 My name is Rachel, I am the owner of Glamorous Corset, a small business founded by me in 2010. Back In 2005, I was in a car accident that left me with a herniated disk. Much to my surprise I learned steel boned corsets were beneficial to several medical injuries including mine. I was always intrigued with corsetry, their history and their beautiful aesthetic. I love sharing knowledge about corsets, educating my wonderful readers and breaking the negative stigma related to corsetry. In combination with my years of research and personal experience I hope my articles are useful and can help anyone who has struggled with some of the same things I have. More about me…