Corsets are best known as supportive foundation garments that are also stylish. You can wear a corset over your clothes as a fashion statement or completely hide it under your clothing, where it can do its job in secret. Hidden or not, a corset can support your back and improve your posture.
If you are one of the millions of people in the U.S. with scoliosis, you may be interested in the benefits of wearing shapewear for scoliosis treatment.
What Is Scoliosis?
A healthy human spine has a slight natural S-curve as it extends from the base of the skull to the sacroiliac. Scoliosis causes an abnormal curve, forcing the spine to rotate side to side. The curvature caused by scoliosis can be mild and hardly noticeable or severe and debilitating.
There is no cure for scoliosis, but severe symptoms can be corrected through surgery. However, most people with scoliosis don't require treatment. When treatment is appropriate, it generally focuses on improving spinal function and decreasing pain.
Low-impact exercise, stretching, and taking steps to improve posture are the most common approaches. Shapewear for scoliosis might be recommended to help improve posture.
How Does Shapewear for Scoliosis Help?
Braces are sometimes recommended to help people with scoliosis relieve pain and help maintain proper posture. A scoliosis brace is a custom-made medical device that fits under the bust and extends just over the hipline.
Always follow your doctor's advice: If your doctor has prescribed a brace, replacing this medical device with shapewear is not recommended. But if your physician approves and you do not need the extra support of a custom-made medical brace, a steel-boned corset may offer relief.
Steel-boned corsets are the most popular choice for waist training. A long-line overbust or underbust steel-boned corset shares many similarities with a medical brace. And as with a medical brace, getting the correct fit is key.
Benefits of Corset Wearing for Scoliosis
There are many benefits related to day-to-day corset wearing. Corsets and waist trainers help feature your natural curves and create the look of a curvier profile, if that's your goal.
They can also help you lose or maintain weight. Because it keeps a firm hold on your stomach, a corset helps you feel full faster, which is helpful if you're trying to monitor your calorie intake.
Corset shapewear for scoliosis offers unique potential benefits:
Posture support to alleviate back strain
No bulk, as it hides neatly under clothing
Can be shown as part of your ensemble
Come in a variety of fun materials, styles, and colors
Not as heavy or confining as a medical brace
"This back brace makes me feel so sexy and confident!" — said no one ever. There is no replacement for a medical device if your condition requires it, but if your scoliosis is mild, a corset may provide the extra support and posture improvement you need to feel your best every day.
Getting the Right Fit
Taking correct measurements is the first step to getting a corset that fits well. In addition to measuring your bust, underbust, waist, and hip, you must also measure your torso length.
Whether you are buying a corset for fashion or considering shapewear for scoliosis, do not size down. If the corset is too small, it may tear when you tighten the laces and will probably be too uncomfortable to wear.
A corset should feel like a comfortable hug around your abdomen, not like it's squeezing the life out of you. Remember, as the corset seasons, it will naturally stretch to fit your unique body proportions.
Depending on the severity of your spinal curvature, an off-the-rack corset may not give you the right fit. But don't give up on the idea of using shapewear for scoliosis; custom corset makers can create a garment that gives you the personalized fit you need.
Can a Corset Help with Your Scoliosis?
If your spinal curvature is severe, shapewear is not the answer. Fortunately, most people diagnosed with scoliosis don't require a brace or treatment beyond a few lifestyle changes.
You don't need a medical reason to improve your posture or to feel more confident in your clothing. Unless your doctor objects, wearing a corset could benefit your back health — and your confidence — in multiple ways. 
---
To stay up-to-date with weekly blog posts, waist training tips, and the chance to win one of our monthly corset giveaways, follow us on Facebook, Instagram, & subscribe to our mailing list and YouTube channel today! Want to find the perfect steel boned corset? Shop some of our favorites: underbust corsets, overbust corsets, corset dresses. You can also shop our corsets by material: cotton corsets, denim corsets, leather corsets, mesh corsets, pvc corsets, and satin corsets. Have questions about getting started with waist training or finding the right size corset? Contact us!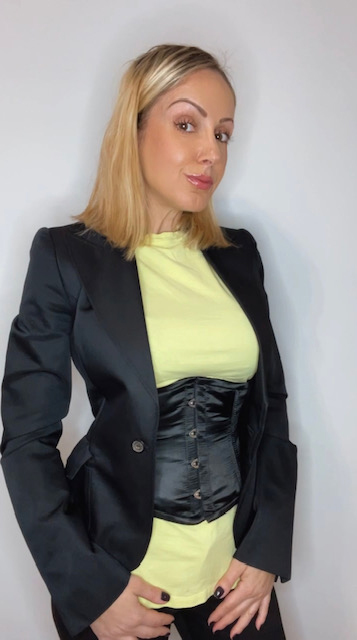 My name is Rachel, I am the owner of Glamorous Corset, a small business founded by me in 2010. Back In 2005, I was in a car accident that left me with a herniated disk. Much to my surprise I learned steel boned corsets were beneficial to several medical injuries including mine. I was always intrigued with corsetry, their history and their beautiful aesthetic. I love sharing knowledge about corsets, educating my wonderful readers and breaking the negative stigma related to corsetry. In combination with my years of research and personal experience I hope my articles are useful and can help anyone who has struggled with some of the same things I have. More about me…