Whenever you add a new garment to your wardrobe, you may struggle to find ways to pair it with other pieces.  Jeans and tees are easy, but I've definitely bought a cute skirt and held it up to every top in my closet before realizing it goes with none of them.  Initially, you might have the same issues when adding corsets to your closet.  What can you wear with a corset?  Here are a few fun and functional pairings sure to make your ensemble must-list.
Stealthy as She Goes
There's no limit to what you can wear with your corset when you hide it under your clothing.  This smoothing and supportive garment is often meant to go unnoticed, and when properly laced, it can definitely operate in stealth mode under dresses and blouses alike.  The corset crowd calls this "stealthing".  Naturally, adornments like buckles and bows could protrude under thinner fabrics, so if you plan to wear a corset daily for waist training, you'll want to find models that fit flat and smooth on your body, offering a streamlined silhouette under any garment.
Belt it Out
One of the best things about modern corsets is that you can often wear them over other garments just as easily as under, and this is where added accessories like fancy hardware can bring some flare to your wardrobe.  If you want to go for an understated look, just swap in a waspie for your average belt.  This look can work with everything from dresses and tunic tops to high-waisted pants and pencil skirts, or even over a cardigan.  Bring on the sexy secretary!
Suitable Attire
Not every corset is suitable to wear to the office.  You don't necessarily want to opt for steampunk leather and hardware or sexy satin and lace when you're shooting for an office-appropriate look.  That said, when you pair a simple and understated corset, such as an overbust model, with a blouse for modesty and a blazer to complete the look, you might be surprised by how polished and professional your final ensemble turns out.  If you're worried, look for a pinstripe, plaid, or classic pattern that you can pass off as a fitted vest.
Rock the Caszh-Bah
Corsets can pair with just about anything, even casual attire like tees and leggings.  The trendsetting Jenner/Kardashian clan might not know the first thing about waist training (they think it's a way to lose weight), but they can rock a truly fierce ensemble, and more than one of these stylish siblings has been photographed wearing a corset with nothing more than an oversized tee paired with pumps or thigh-high boots.
Absolutely Nothing
Hokay, there's a time and place for everything, and believe it or not, the right corset can adapt to your every wardrobe need, even when your outfit is nothing but a corset.  These garments can be worn under clothing for waist training and support, they can be worn over clothing for style, and they can even help you get frisky when you pair them nothing but your birthday suit in the privacy of your boudoir.  As multifunctional garments go, it doesn't get much better than the versatile corset.
---
Stay up-to-date with weekly blog posts, waist training tips, and the chance to win one of our monthly corset giveaways, like us on Facebook & subscribe to our mailing list today! Want to find the perfect steel boned corset? Shop some of our favorites: underbust corsets, overbust corsets, corset dresses.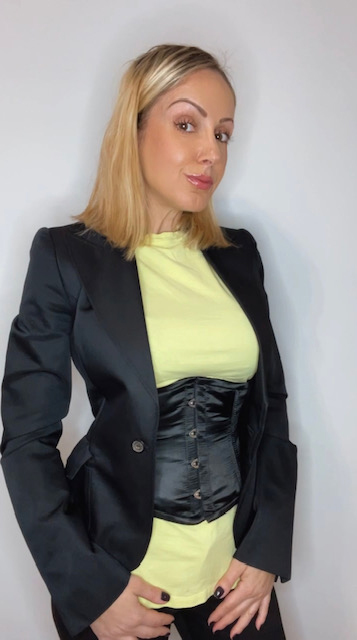 My name is Rachel, I am the owner of Glamorous Corset, a small business founded by me in 2010. Back In 2005, I was in a car accident that left me with a herniated disk. Much to my surprise I learned steel boned corsets were beneficial to several medical injuries including mine. I was always intrigued with corsetry, their history and their beautiful aesthetic. I love sharing knowledge about corsets, educating my wonderful readers and breaking the negative stigma related to corsetry. In combination with my years of research and personal experience I hope my articles are useful and can help anyone who has struggled with some of the same things I have. More about me…