In this hectic modern world, with so many demands on our time, most of us can get a little impatient.
I mean, who hasn't wanted to scream at the guy in a Starbucks line 20-deep who's ordering a dozen coffees, and each one has a slew of specifications?  You can practically hear the collective groan of everyone behind him.
That said, there are definitely things worth waiting for: the royal wedding, the new En Vogue album (14 years after their last album), and basically anything featuring Ryan Goslings abs.
What are the chances they'll get their own star on the Walk of Fame?  They've certainly earned it.
Another thing worth waiting for is the svelte waistline you hope to obtain through your waist training regimen, especially since it won't happen overnight.
With perseverance, you can get the waist you want, and semi-permanent results in the bargain.  However, this is a "slow and steady wins the race" situation.
Still, at some point you're going to notice that you're cinching your corset tighter as you go.
How can you tell when it's time to upgrade to a downsized corset?  Here are a few signs you're ready to slip into something a little bit smaller.
You've Reached the End of the Line
If you get the right size of corset for your body to begin with, you should have a lot of space on the back panel to work with.
Waist training corsets are designed to provide room for improvement, so when you get the right size and tighten the laces until it's snug, you'll notice that the laces span perhaps several inches across your back and the back panel of the garment.
As you incrementally tighten the laces over time, narrowing your waist bit by bit, you'll start to notice you're running out of real estate on your back panel.
Eventually, you'll get to the point where your corset is completely closed in the back, with the two cinchable sides touching each other and the back panel no longer visible.
At this point you basically have nowhere else to go – you can't tighten the laces any further.
When you're getting close, it's time to take your measurements (without your corset on) and put in an order for some new garments that suit your current waist size.
Your new corsets should arrive just in time to take over for your trusty old soldier – its job is done.
Your Corset is Loose
Even if you've tightened the laces of your corset as much as you can, you can keep wearing it for a little while.
After all, you want to get the greatest use value out of every garment.
That said, it may start to feel a little loose, especially if you continue to wear it while working newer, downsized corsets into your rotation.
In truth, even seasoned corsets will naturally stretch and deteriorate somewhat with extensive use, so looseness could be a side effect of aging, as well.
Either way, when your corset starts to feel loose and you've tightened it as much as possible, it's definitely time to downsize.
---
Stay up-to-date with weekly blog posts, waist training tips, and the chance to win one of our monthly corset giveaways, like us on Facebook & subscribe to our mailing list today! Want to find the perfect corset? Shop some of our favorites: underbust corsets, overbust corsets, corset dresses.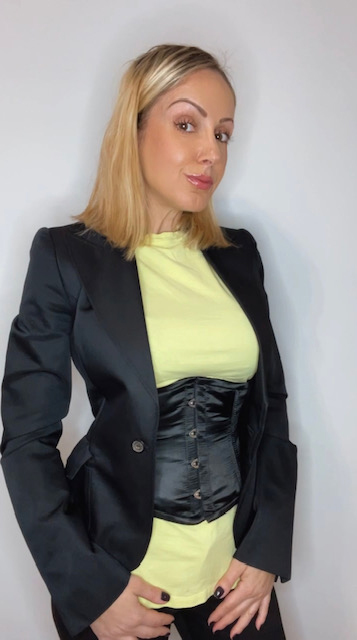 My name is Rachel, I am the owner of Glamorous Corset, a small business founded by me in 2010. Back In 2005, I was in a car accident that left me with a herniated disk. Much to my surprise I learned steel boned corsets were beneficial to several medical injuries including mine. I was always intrigued with corsetry, their history and their beautiful aesthetic. I love sharing knowledge about corsets, educating my wonderful readers and breaking the negative stigma related to corsetry. In combination with my years of research and personal experience I hope my articles are useful and can help anyone who has struggled with some of the same things I have. More about me…