Featured Product: Purple Replacement Corset Laces
Expectations regarding the female figure have long been defined by the male gaze, and sadly, modern society hasn't yet escaped this patriarchal construct. However, women today have more opportunity than ever to make choices about their appearance that help them feel beautiful and empowered, regardless of the opinions of others.
This could mean giving up on torturous crunches and focusing instead on a healthy diet and an exercise routine designed for cardiopulmonary health, overall toning, and most importantly, fun. It might mean saying no to uncomfortable underwire bras in favor of soft bralettes or tank tops.
Alternately, you might elect to use supportive compression garments like a corset to achieve the hourglass figure that makes you feel like the strongest version of your feminine self. To some women, a corset can serve not only as underwear but as a form of armor.
When you set out on your waist training journey, you may be interested in the prospect of tightlacing. How does it differ from typical waist training? Why would you choose tightlacing and how do you start? Before you get your cinch on, read this basic primer on tightlacing for beginners.
Waist Training vs. Tightlacing
In a society where consumption is the order of the day and eating serves not only as a necessity but also as a form of entertainment, it's not surprising that plenty of adults add unwanted inches to their waistline. For women, this challenge can be even more difficult, thanks to weight gain from pregnancy.
The end result may be a desire to trim inches from your waist and/or achieve more pronounced curves (i.e., the hourglass silhouette). There are many ways to go about this, and waist training and tightlacing are two. Understandably, they're often confused with one another. What's the difference?
What Is Waist Training?
Waist training is a process designed to help you whittle inches off your waist over time by wearing a corset daily for about eight to ten hours. Most people start with just one to two inches of reduction and aim for four or more by the time they're done. 
The ultimate goal could be to lose just a few inches or to lose several, and to achieve semi-permanent results — a slimmer waist in and out of your corset.
The main characteristic of this form of waist slimming is that it's a slow, steady process. A waist training regimen is measured in weeks, at least, and more often, months or years spent progressing toward a goal. This form of waist reduction is safe, comfortable, and intended to create long-term habits that result in semi-permanent waist slimming.
What Is Tightlacing?
The difference between tightlacing and waist training is a matter of extremes. Waist training is a measured process; tightlacing is a much more ambitious version that may not be entirely safe or comfortable. It is not for those who have never worn a corset!
The ultimate goal of tightlacing, by most accounts, is to reduce waist size as much as physically possible, downsize quickly, and see a near-permanent reduction of as much as eight to ten inches or more.
Many tightlacers will commit to wearing a corset almost 24/7 (removing it only to bathe), and they are okay with experiencing discomfort along the way. In essence, tightlacing could mean living your life in a very tight corset.
Why Choose Tightlacing?
When discussing tightlacing for beginners, one important question is why anyone would choose this path. Like any form of body modification, it has to do with individual beauty standards.
Some people straighten their teeth or dye their hair to feel beautiful. Some get tattoos and piercings. Others undergo cosmetic surgery like liposuction, facelift, or even bone lengthening surgery.
Tightlacing is just another way to change your body in order to feel attractive and confident. It could also be a form of control, perhaps to relieve feelings of anxiety. Or it could be a form of competition or a way to further professional goals. The reasons for tightlacing will vary from one person to the next.
Tightlacing for Beginners: Goals and Expectations
Now that you know what tightlacing is, it's time to learn how to get into tightlacing for beginners. Like waist training, it's always best to go slowly, not only for safety but because you're more likely to reach your goals if you adopt a process that is tenable.
Even so, tightlacing means choosing a corset that can size down at least several inches smaller than your natural waist. Many tightlacers start by cinching a minimum of four inches — remember, most have already gotten comfortable with waist training by the time they decide to try tightlacing.
Some start with a corset that can size down to eight or more inches smaller than their natural waist, but you need to consider what you're comfortable with.
If you want to adopt a safe regimen, take your time and work toward your goal incrementally, as with waist training. This is the best way to achieve long-term results, even if your ultimate goal is extreme waist slimming.
Just be prepared to commit to all-day wear and potentially even sleeping in a corset to get what you want. Remember that tightlacing isn't for everyone, and if it impairs your ability to enjoy life, you can always revert to traditional waist training.
---
To stay up-to-date with weekly blog posts, waist training tips, and the chance to win one of our monthly corset giveaways, follow us on Facebook, Instagram & subscribe to our mailing list today! Want to find the perfect steel boned corset? Shop some of our favorites: underbust corsets, overbust corsets, corset dresses. You can also shop our corsets by material: cotton corsets, denim corsets, leather corsets, mesh corsets, pvc corsets, and satin corsets. Have questions about getting started with waist training or finding the right size corset? Contact us!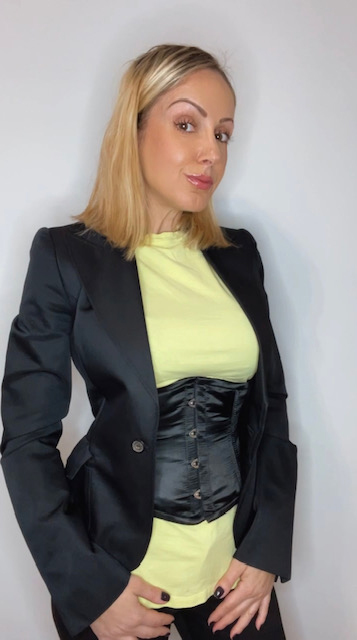 My name is Rachel, I am the owner of Glamorous Corset, a small business founded by me in 2010. Back In 2005, I was in a car accident that left me with a herniated disk. Much to my surprise I learned steel boned corsets were beneficial to several medical injuries including mine. I was always intrigued with corsetry, their history and their beautiful aesthetic. I love sharing knowledge about corsets, educating my wonderful readers and breaking the negative stigma related to corsetry. In combination with my years of research and personal experience I hope my articles are useful and can help anyone who has struggled with some of the same things I have. More about me…