This review was original posted on hannahmcknight.org. Hannah McKnight identifies as transgender whose mission is to talk about what it's like to balance a life between genders.
If you've spent more than a minute on my website you will likely realize a few things:
-I heart clothes
-I overthink
-I overthink about clothes
I tend to associate a lot of memories, meanings, and emotions with a particular piece of clothes. Well, femme clothes. I have a lot of neckties that I absolutely have no idea where they came from. On the other hand I have an incredibly beautiful floor length ball gown which fit perfectly before I lost weight that I will never ever get rid of because it was one of the first dresses my wife bought for me.
I am enamored with certain items because of their beauty, even if they aren't, well, practical. My six inch rose gold platform stilettos? I've worn them like twice but my goodness they are magnificent and will forever have a permanent spot in my closet.
Lingerie is a perfect example of pragmatism versus beauty. Tights are more practical than thigh high stockings held by a garter belt, but I chose stockings almost every time.
For years a corset was a perfect example of something that was visually stunning but not something I felt could be worn for long periods of time. But that was because I was wearing them wrong and I didn't have a proper corset. My introduction to proper corsetry started with my Dita Black Satin Corset from Glamorous Corset.
It's a stunning piece of lingerie and my goodness did I learn quickly that it required proper training as well as commitment. I had never heard of seasoning a corset before but I learned. Corsetry requires an insane amount of dedication and at first it was kind of intimidating but I quickly realized the benefits of following through.
While preparing for a photo shoot over a year ago I decided to wear my corset which I rarely did for long periods of time. This would be the first time I would wear it for more than several hours and it would be the first time I would wear it outside of my home when I would be getting in and out of a car, going up and down stairs, and doing a lot of walking. Again, it was intimidating and there was a learning curve but it didn't take long to see the benefits of a proper corset and the results of the hours I put in seasoning it.
Since then I have worn my corset every time I present en femme. Yes, it's a stunning corset but its equaled by the practical benefits of it. A perfect balance.
I was thrilled when I was contacted by Glamorous Corset asking if I would like to review their Lara Black Cotton Corset with Hip Ties corset. Yes please!
A corset takes dedication and it also requires accuracy. Measurements are absolutely key.
I sent in my measurements and within a few days I received a black velvet bag with the Lara corset in it.
Although I've been wearing my first corset for a while and I am very much used to it, I was still taken aback by the beauty of it not only in terms of appearance but also in construction and design of it. I love small, subtle attention to clothes, whether it is a small fabric rose on the front of a pair of panties, and in this case of the Lara I was drawn to the side ties of it. This is a steel boned corset which helps create a more defined (curvier) figure and helps with my posture. I couldn't slouch if I wanted to.
My second impression? Yes this is beautiful but I have a certain affinity for my current corset and I couldn't imagine wearing the new one in place of it. This thinking would change.
I spent about a week seasoning it and was quickly reminded that although I am used to A corset it doesn't mean I am used to ALL corsets. When seasoning one you should wear it for about an hour at first and over time wear it a little longer as you progressively adjust the lacing. A quick reminder if what you're wearing hurts (be it a gaff or a corset) you're wearing it wrong. I wear my current corset for up to 14 hours at a time and I naively thought this new one wasn't going to be as much of a learning curve as it was.
After thirty minutes or so I was very much aware of what I was wearing. It was a relief to take it off however over the next few days as it adjusted to my body it became more and more comfortable and by the end of the week I was wearing it for up to ten hours (in boy mode).
This was one of the items I wore for my most recent photo shoot and although one of my first thoughts was that I would continue to wear my Dita corset I realized that my Lara would now be my go-to corset.
Photo shoots can require a lot of creative movement and posing. This could be reclining or balancing on one stiletto. The Lara moved with me and complimented my figure with every gesture. The seasoning and expert design of it paid off.
For the original post, and images, see https://hannahmcknight.org/2022/05/20/review-lara-underbust-corset/.
---
To stay up-to-date with weekly blog posts, waist training tips, and the chance to win one of our monthly corset giveaways, follow us on Facebook, Instagram & subscribe to our mailing list today! Want to find the perfect steel boned corset? Shop some of our favorites: underbust corsets, overbust corsets, corset dresses. You can also shop our corsets by material: cotton corsets, denim corsets, leather corsets, mesh corsets, pvc corsets, and satin corsets. Have questions about getting started with waist training or finding the right size corset? Contact us!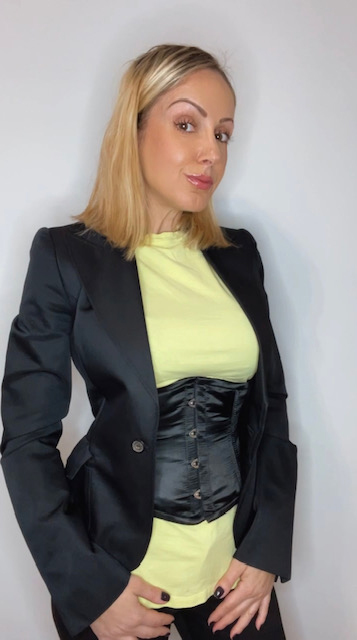 My name is Rachel, I am the owner of Glamorous Corset, a small business founded by me in 2010. Back In 2005, I was in a car accident that left me with a herniated disk. Much to my surprise I learned steel boned corsets were beneficial to several medical injuries including mine. I was always intrigued with corsetry, their history and their beautiful aesthetic. I love sharing knowledge about corsets, educating my wonderful readers and breaking the negative stigma related to corsetry. In combination with my years of research and personal experience I hope my articles are useful and can help anyone who has struggled with some of the same things I have. More about me…