Featured Corset: Jenna Black Satin Corset Plus Size
There's no denying we're a results-driven society. 
It's not enough to graduate from high school — you have to have a killer GPA and a list of activities that reads like a novel. Why choose a regular college when you could attend an Ivy League school? When it's time to get a job, you want prestige companies that will stand out on your resume and a title and salary that will get you your million-dollar home.
Okay, to be fair, most of us are fine with falling somewhere shy of the top 1% and enjoying a comfortable lifestyle with a reasonable work/life balance. However, that doesn't stop us from having ambitions and goals.
When you decide to take up waist training, slim your midsection, and amplify your curves, it's totally natural to want to shoot for the moon. How many inches will a corset take off? It will depend entirely on you.
How Waist Training Works
Let's start with the good news. When you put on a corset and cinch the laces, it's reasonable to expect an instant reduction of one to two inches. This level of cinching is typically well-tolerated even by newbies, although it varies from one person to the next.
Remember, you want your corset to be snug but comfortable — a notable lack of Victorian fainting couches in the modern era means there's nothing to catch you if you naively over-tighten right out of the gate and pass out. Waist training should be undertaken with safety in mind.
How does it work? Put simply, it's an incremental process. You'll start with just a couple of inches but cinch tighter, bit by bit, until you reach your ultimate waist-slimming goal.
Planning Your Waist Training Regimen
The first thing you need to do when you set out to slim your waist is set a personal goal for how many inches YOU can reasonably lose. This number should be realistic for your size and could vary based on factors like whether you plan to lose weight while you waist train.
For example, if you're starting with a 20-inch natural waist, you shouldn't expect to lose more than a few inches total, no matter how long you waist train.
Ethel Granger famously started with a 22-inch waist and ended up at 13 inches after ten years of tightlacing (she held a Guinness record for it until 1998), but this extreme level of slimming isn't typical or recommended for most women.
If, however, your waist is 30 or 40 inches or more, you could eventually trim down by several inches, especially if you shed pounds concurrently. The trick is to do it in a safe and healthy manner, and this means setting a realistic goal and working toward it over time.
A simple rule of thumb is to wear your corset for about eight to ten hours daily and cinch it down by about 0.5 to 1 inch at a time, waiting at least several days before trying to cinch tighter.
You always want to make sure you feel comfortable. If you experience symptoms like pain, bruising, or difficulty breathing, for example, you need to slow down and listen to your body.
How Many Inches Will a Corset Take Off?
There's no one answer to this question. Although it's tempting to set a significant goal, success will depend on being realistic, even if you're ambitious. In time, you could lose up to several inches and achieve the narrow waist and curvy figure that helps you look and feel beautiful and confident.
---
To stay up-to-date with weekly blog posts, waist training tips, and the chance to win one of our monthly corset giveaways, follow us on Facebook, Instagram & subscribe to our mailing list today! Want to find the perfect steel boned corset? Shop some of our favorites: underbust corsets, overbust corsets, corset dresses. You can also shop our corsets by material: cotton corsets, denim corsets, leather corsets, mesh corsets, pvc corsets, and satin corsets. Have questions about getting started with waist training or finding the right size corset? Contact us!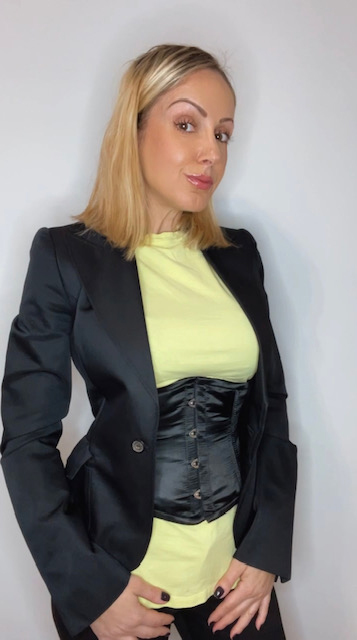 My name is Rachel, I am the owner of Glamorous Corset, a small business founded by me in 2010. Back In 2005, I was in a car accident that left me with a herniated disk. Much to my surprise I learned steel boned corsets were beneficial to several medical injuries including mine. I was always intrigued with corsetry, their history and their beautiful aesthetic. I love sharing knowledge about corsets, educating my wonderful readers and breaking the negative stigma related to corsetry. In combination with my years of research and personal experience I hope my articles are useful and can help anyone who has struggled with some of the same things I have. More about me…