Featured Corset: Emma Red Satin Corset
As consumers, everyone likes to have options, but sometimes it can be difficult to figure out what it is you're actually getting and whether one product is better suited to your needs and preferences than another.
Imagine standing in front of the yogurt section at the grocery store, perusing a dozen different brands that all looked much the same. Upon closer inspection, you find regular yogurt, Greek yogurt, and French yogurt. There are custards and kefirs. Some tout probiotics while others proudly state their fat percentage.
You just want some yogurt! Instead, you stand there reading labels for 20 minutes before you get fed up and grab a bunch of different ones, electing to let taste be the deciding factor in future purchases.
When it comes to corsetry, you may find yourself facing a similar conundrum. You might stumble across corsetry, waist trainers, waist cinchers, girdles, shapewear, and even fashion corsets with little idea where the differences lie.
This can be especially confusing if you're interested in starting a waist training regimen. Shouldn't the products that are called waist trainers be the ones you're looking for? They aren't!
In truth, you'll need an authentic corset if you're looking to significantly slim your waist and generate semi-permanent results over time. So what's the difference between waist trainers and corsets? Here's what you need to know.
What's in a Corset?
Authentic corsets may look somewhat similar to other waist-cinching options on the market, but they feature distinctive elements. These structures are required when you want to change the contours of your torso and create the defined, hourglass silhouette you crave.
What should you look for in a real corset?
Steel Boning
This is easily the most important part of an authentic corset, and it's usually how you can tell you've found the real deal.
In order to provide the compression and support needed to significantly slim your waist, rigid steel boning will be fitted into a number of channels situated between fabric panels.
The number of steel bones will depend on factors like the number of fabric panels, the size of the garment, and perhaps the spring, for example. However, you can expect to find at least two bones at the busks (one on each side), four bones at the laces (two on each side), and one bone separating each panel — although some models feature double boning for added strength or shape.
Robust Textiles
Because of the tension on a tightened corset, strong textiles are vital. Authentic corsets usually feature robust fabrics like cotton coutil, satin, brocade, and modern mesh that's designed to be sturdy, but breathable.
Busks
If you see a corset with hook-and-eye closures instead of busks, you can bet it's not authentic. With the stress a corset is under, the hooks would quickly warp and pop open, which is why busks — steel brackets featuring pegs and loops — are used instead.
Sturdy Laces
While some women like to use low-profile, satin laces to minimize bulk under clothing, frequent corset wearers tend to lean toward durable, nylon laces that hold up under constant tugging and tension.
Waist Trainers vs. Waist Training
It's important to understand that there's a difference between waist trainers and waist training, and it can be hard to figure out when people mistakenly use the terms to mean the same thing.
For starters, a waist trainer is an entirely different garment than a corset.
Perhaps you've seen celebs like Jessica Alba or the Kardashians wearing flexible, mesh girdles during their workouts, claiming that they help to increase the efficacy of exercise.
These claims are dubious at best. You'll note that they refer to their waist-cinching garments as waist trainers.
How are they different from corsets? Although they're designed to provide compression, they're flexible and stretchy. This means they follow the natural contours of the body and provide no real support. They lack the steel boning and heavy textiles that corsets use to shape the body and slim the waistline.
While plenty of everyday activities are possible when wearing a corset, any strenuous exercise that requires bending is pretty much out. Waist trainers, on the other hand, allow for a greater range of motion because they bend and flex with the body.
So what's the deal with waist trainers and waist training? Nothing more than an unfortunate overlap of wording, really.
Waist trainers are, in actuality, waist cinchers or girdles that have been mislabeled. If you want to waist train — which is to say, semi-permanently slim your waist by up to two to four inches (or more) — you'll need an authentic, steel-boned corset to make it happen.
Where Do Fashion Corsets Fit in?
Fashion corsets, also referred to as costume corsets, are made to look like authentic corsets, but they lack pretty much everything that makes a real corset useful.
They use cheap, plastic boning, instead of steel; thin, flimsy fabric instead of sturdier textiles; and weak, hook-and-eye closures instead of busks.
They offer the look of a corset on the surface, but none of the elements that provide the support and compression of a true corset.
If you're looking to start a waist training regimen to sculpt your body, boost your confidence, and generate semi-permanent waist-slimming results, the place to start is by making sure you're purchasing authentic, steel-boned corsetry.
---
To stay up-to-date with weekly blog posts, waist training tips, and the chance to win one of our monthly corset giveaways, follow us on Facebook, Instagram & subscribe to our mailing list today! Want to find the perfect steel boned corset? Shop some of our favorites: underbust corsets, overbust corsets, corset dresses. You can also shop our corsets by material: cotton corsets, denim corsets, leather corsets, mesh corsets, pvc corsets, and satin corsets. Have questions about getting started with waist training or finding the right size corset? Contact us!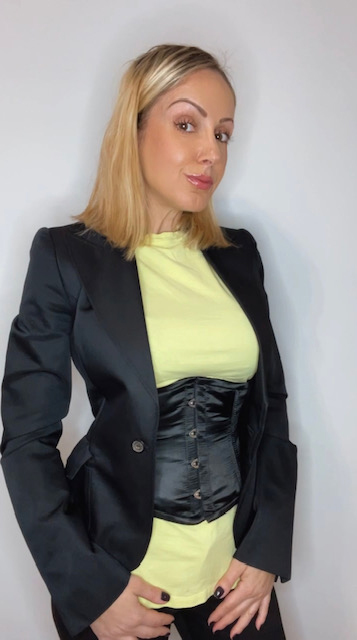 My name is Rachel, I am the owner of Glamorous Corset, a small business founded by me in 2010. Back In 2005, I was in a car accident that left me with a herniated disk. Much to my surprise I learned steel boned corsets were beneficial to several medical injuries including mine. I was always intrigued with corsetry, their history and their beautiful aesthetic. I love sharing knowledge about corsets, educating my wonderful readers and breaking the negative stigma related to corsetry. In combination with my years of research and personal experience I hope my articles are useful and can help anyone who has struggled with some of the same things I have. More about me…