I humbly submit, and I don't think I'm alone here, that life is short.  You don't want to wait in line at the grocery store or sit in the waiting room at the doctor's office for an hour when you show up on time for your appointment.  Why?  Because you have better things to do.
Not to be macabre, but none of us know what's around the corner, or how much time we have, so we naturally want to make the most of it.  Why, then, would you wait to achieve the gorgeous, curvy silhouette you crave?
When you have a goal in life, you go for it, right?  You wanted to earn a degree, so you went to college.  You didn't spend four years working at Starbucks until you saved enough money for a year of tuition – you got student loans and got started.
Why, then, do we trick ourselves into thinking that there are certain things we can't do until we reach a specific weight?  While hitting a weight loss goal is often a personal journey to build a new, healthier relationship with food and exercise, there's nothing to say you can't work on other goals simultaneously.
When you think about it, waist training could actually aid in weight loss progress.  Here are a few reasons why you needn't wait to start waist training.
See Immediate Results
There's no two ways about it – when you strap on a corset, you're going to see a difference in your figure immediately.  The curvy waist you always wanted will appear like magic and you're going to feel pretty good about your appearance.
The danger is that this could become a crutch, stopping you from taking the steps needed to lose weight, but for most women, it's just the boost they need to work even harder and reach their weight goals.  When you see results in the mirror, it might be just the motivation you need to work toward movement on the scale.
As a caveat, I would like to say that weight isn't everything, so try not to get too hung up on a number.  It's always wise to track other factors, like measurements, as exercise can add heavy muscle, but result in a more svelte and toned physique.
Control Mindless Eating
I'm a grazer, and I always have been, but I also used to have a problem with overeating to the point where I felt sickly full.  I love food, what can I say?  It took a concerted effort to become aware of when I was full and stop eating, and it took time.  Not gonna lie, though, wearing a waist training corset helped.  When your torso is under compression, there really is only so much you can squeeze in, and until I mastered my impulse to overeat, having that added failsafe was a real help.
Increase Successes
Waist training while you work on weight loss can create a positive cycle of increasing successes, starting with the confidence boost you get from seeing a curvy silhouette in your corset, which motivates you to stick with your diet and exercise regimen.  As you lose weight and downsize your corset, you'll gain even more momentum.  While everyone will have a unique experience with waist training, you're likely to find that it only helps you to reach your weight loss goals, so maybe don't wait for an arbitrary sign from your scale.
---
Stay up-to-date with weekly blog posts, waist training tips, and the chance to win one of our monthly corset giveaways, like us on Facebook & subscribe to our mailing list today! Want to find the perfect steel boned corset? Shop some of our favorites: underbust corsets, overbust corsets, corset dresses. You can also shop our corsets by material: cotton corsets, denim corsets, leather corsets, mesh corsets, pvc corsets, and satin corsets.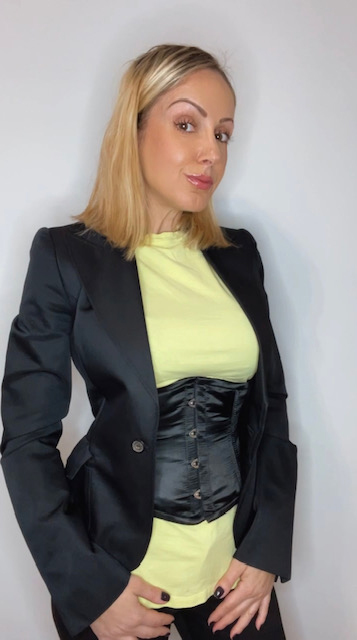 My name is Rachel, I am the owner of Glamorous Corset, a small business founded by me in 2010. Back In 2005, I was in a car accident that left me with a herniated disk. Much to my surprise I learned steel boned corsets were beneficial to several medical injuries including mine. I was always intrigued with corsetry, their history and their beautiful aesthetic. I love sharing knowledge about corsets, educating my wonderful readers and breaking the negative stigma related to corsetry. In combination with my years of research and personal experience I hope my articles are useful and can help anyone who has struggled with some of the same things I have. More about me…