Most of us have, at some point or another, walked into a clothing store and realized there is nothing available in our size, that in fact, our size does not even exist in the store. If you're like me, you've still tried to squeeze into the largest size available before realizing those tiny pants wouldn't fit over one thigh, much less two. I did not rehang those pants, by the way, because forget that frigging store! (My belated apologies to the sales staff that found them crumpled on the floor).
The sad truth is that women's fashion seems to be made for a very specific size range that not every woman fits into. Options for the plus size ladies have been on the rise in recent years as retailers realize the untapped market they've been neglecting, but it can still be hard to find the beautiful, well-made garments tailored for your size and/or proportions.
Ladies, you're in for a surprising treat. If you're interested in the prospect of waist training, but you have yet to do so because you assume you can't find corseting in your size, think again. There are corsets designed for nearly every shape and size, including plus size corsets, not to mention options for custom-made garments that will perfectly hug every curvy inch of your torso and help to create a defined hourglass.
Before you get started, though, you should understand what to expect when it comes to plus size waist training results. Here's a bit about corseting for ladies looking to take control, get gorgeous, and improve their confidence at any size.
Enhancing What God Gave You
If we were all the same size and shape, life would get pretty boring. Instead, humanity represents a glorious variety of forms. Still, you might like to mold yours in one way or another, like most of us, and there's nothing wrong with finding ways to be your best self. If you're happy with your size but you'd like to corral your curves a bit, waist training is an ideal way to shape your body into a form that pleases you and draws attention to your natural curvature by enhancing the hourglass silhouette.
Getting Results
There are two important things to remember when it comes to getting results with waist training. First and most importantly, it takes time. Whether you're a size 4, 14, or 24 when you start, you're embarking on a journey when you purchase a corset and lace it up for the first time. You'll see results immediately, but lasting results take time, effort, and an open-ended waist training schedule.
The second thing you need to know is that the products you purchase can make a huge difference. If the corset you select doesn't fit right and/or it isn't high quality, you're going to experience discomfort and your journey isn't likely to last long. Like every woman who wants to waist train, you need to prepare to splurge a bit on quality corsets that fit you perfectly so you can stick with the program and reach your goals.
---
Still want to learn more about plus size waist training results? Contact us – we'd love to help! If you'd like to stay up-to-date with weekly blog posts, waist training tips, and the chance to win one of our monthly corset giveaways, like us on Facebook & subscribe to our mailing list today!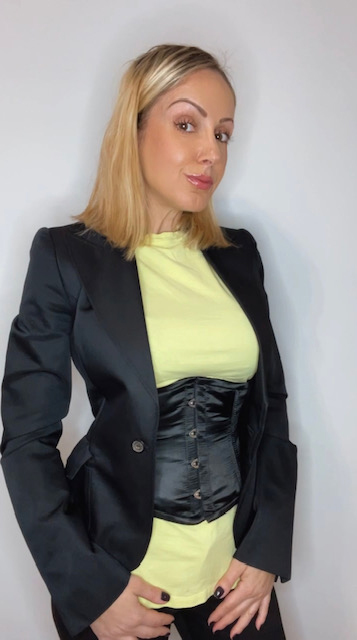 My name is Rachel, I am the owner of Glamorous Corset, a small business founded by me in 2010. Back In 2005, I was in a car accident that left me with a herniated disk. Much to my surprise I learned steel boned corsets were beneficial to several medical injuries including mine. I was always intrigued with corsetry, their history and their beautiful aesthetic. I love sharing knowledge about corsets, educating my wonderful readers and breaking the negative stigma related to corsetry. In combination with my years of research and personal experience I hope my articles are useful and can help anyone who has struggled with some of the same things I have. More about me…