This review was originally published on missmonmon.com.
Much like building a sturdy home, wearing vintage is all about the foundations you lay down. Foundation garments can really make or break an outfit and help you achieve that perfect vintage aesthetic and look. When wearing vintage clothing, the fit is of utmost importance to ensure the clothing lays perfectly on the body and has that 'wow' factor it was designed to have. As was fashionable in the 50's, the hourglass figure is one that is defined as feminine and impactful. Having the perfect foundations for a garment, such as a corset, can do the outfit wonders and really make you look like you stepped out of a classic era. I've recently been collaborating with Glamorous Corset who have kindly gifted my two corsets. Today we are doing a full review on both of these gorgeous garments and next week we are looking at corset seasoning, what it is, how to do it and the schedule I use to properly break in a corset (if the corset requires it). If you love Glamorous Corset as much as I do, use code MISSMONMON15 at checkout for an extra discount.
Glamorous Corset is a female run, New York based business who specialise in corsets and structuring undergarments. With a passion for high quality corsets and a multitude of knowledge, Glamorous Corset also prides itself on being budget friendly with strong customer service. I found them an absolute pleasure to work with and they are patient and passionate about finding the perfect corset for their customer. I was really pleased by their want to find the perfect fitting corset and I made sure to follow their measurement tips to the letter.
In terms of measurements, I was asked to provide my undercuts, natural waist, high hip and torso measurements. I was also asked to provide information whether my stomach was soft and squishy or more on the lean side and my height. I also have to commend Glamorous Corsets on how simple and easy their measuring instructions were. Diagrams and explanations were provided which made measuring myself correctly quite simple and easy to do. Without their help I think I would have purchased the wrong size and I definitely see why some of my older corsets never fit as well. I was kindly gifted two corsets; the Jade corset in black and the Jolie short corset in beige both in a size 24″. I was so excited when they arrived on my doorstep.
Each corset arrived in its own black velvet pouch featuring the Glamorous Corset logo. As for postage, it's really hard for me to give you an honest judgement as shipping has been severely impacted and slowed down due to the pandemic. It took just over five weeks for the corsets to travel from New York to Western Australia which is a pretty long time. I wasn't in a rush for them and was very grateful when they arrived. I'm sure if you are ordering within the United States, the shipping is a lot faster. When I finally got the corsets in my hot little hands I fell in love instantly.
The first thing you notice is how delightfully thick the fabric is on both the corsets. I didn't receive any mesh/fishnet corsets so I can't comment on those but the material used in the Jade and Jolie is definitely of high quality. I found the weight of the corsets to be pretty decent and it made the corsets feel thick, sturdy and strong. I've had some corsets which feel no heavier than a t-shirt and have a very weak and flimsy fabric that looks strained when worn. The one I was immediately drawn to was the Jolie short corset as I really enjoy wearing the shorter waspie corsets.
The Jolie Short Corset in Beige
On the Glamorous Corset website, the details included with the Jolie Short Corset listing include the following notes: 24 steel bones (4 Rigid Steel Bones, 20 Spiral Steel Bones), a steel busk, it's suitable for short or average torso length, it has a front length 9 inches, a back length 9.5 inches and a side length 9 inches. The Jolie corset also has a 6 inch rib spring and 9 inch hip spring and is made from cotton and also lined with 100% cotton and waist tape. The back of the corset features a 5″ wide modesty panel with traditional bi-directional back lacing and 6 suspender loops. On the website, the corset is described as "Only 9 inches long an excellent choice for anyone with a short torso. Ideal for curvy figures its superior comfort will give maximum results. Provides extra durability and support. Great for improving posture and relieving back pain. A great choice for waist training and tightlacing".
All that information can make this corset (or any corset for that matter) sound really intense and daunting. Personally, I found the Jolie corset to be my favourite to wear and style as it was shorter in length making it just that touch more comfortable but it also really did a lovely job pulling me in and holding my waist tight. I never found wearing the corset uncomfortable at anytime. I would wear it around the house and world forget I have it on even whilst doing cleaning, laundry and my normal work. I have been steal thing with this corset a fair bit (wearing it out in public under my normal garments) and I found it comfortable there as well. I have also worn it whilst driving and didn't find it restrictive at all.
I did go through the recommended seasoning process for the Jolie corset. The Jolie corset is so well made and so sturdy I don't think it needed to be seasoned to adjust the corset, but I found the process more helpful in getting my body used to wearing a corset again as it had been a while. Full seasoning process will be out next week so please come back for that.
The Jade Corset in Black
On the Glamorous Corset website, the details of the Jade corset listing include the fact that the corset is made up of 24 steel bones (4 rigid steel bones, 20 spiral steel bones), a steel busk and is recommended for average torso length. The corset has a front length of 12 inches, back length of 12.5 inches and a side length 11 inches. The Jade corset has a 6 inch rib spring and 10 inch hip spring, is made of cotton, lined with 100% Cotton and Waist Tape and the back has a 5″ wide modesty panel, traditional bi-directional back lacing and 6 suspender loops. Glamorous Corsets note that the Jade corset has "a generous 10 inch hip spring, this steel boned corset is ideal for a curvy figure. Will cinch the waist and hug your hips. The hip to waist ration will create a dramatic hourglass shape. An excellent choice for waist training and tightlacing".
The Jade corset was significantly longer in the torso so I found it great for wearing more flower dresses with. I've always been a bit self conscious about my shape, especially my stomach due to my Endometriosis making the lower portion protrude. This corset really held in my tummy but I found that with more flower dresses (such as fit and flares) I felt a lot more confident and comfortable. Depending on my Endo belly and how bloated I can be during the day, I found that the corset could handle holding me in but at time I did feel a little bulge popping out. Endo belly is something I can't control or ever really "fix" but this corset really gave me that push that I needed to feel confident.
When it came to wearing my new corsets, I did lean towards the Jolie a little more over the Jade. The short length of it made me feel very comfortable and it didn't appear as bulky under my clothes. During it's seasoning process, I was able to lace it myself although help from my partner was also appreciated. Depending on how tight I wanted to wear it, sometimes someone helping was just what was needed. The fact that both corsets were steel-boned made them feel really strong and sturdy but still very comfortable. I think there was only one day since I received the corsets and was wearing them around the house that I asked to be released an hour in to wear; I think I was just not having the greatest day and didn't feel comfortable doing anything. I don't think it was the corsets fault as the next day I wore it for four hours. I found the backs of the corsets to be quite high which meant I didn't get as much of that dreaded back-bulge as I thought I might which is always a plus. I felt really secure and good about myself whilst wearing the corsets over the course of two months.
Miss MonMon wears the Jolie corset from Glamorous Corsets under a summer dress.
We are now in the middle of the Aussie summer and believe me when I say, these corsets are super comfortable. Even on a 40 degree day (104 F), I still felt comfortable wearing it and to be honest, at that heat, not a lot is comfortable. I always made sure to wear something underneath the corset to keep it clean and to stop getting sweat all over it. For those wondering how to keep a corset clean, I will be posting a blog about that soon so keep your eyes on my social media for that announcement. These corsets were both simply wonderful. I found the price in comparison to the quality received was unbelievably great and definitely a great place to start if you want a good quality corset on a budget. Glamorous Corsets has also gifted my readers and followers an affiliate code for 15% off at checkout so please use MISSMONMON15 if you are interested. This code does earn me a small commission which is put towards more content for my followers but I was not paid for this review and all thoughts and opinions expressed are honest and my own.
---
To stay up-to-date with weekly blog posts, waist training tips, and the chance to win one of our monthly corset giveaways, follow us on Facebook, Instagram, & subscribe to our mailing list and YouTube channel today! Want to find the perfect steel boned corset? Shop some of our favorites: underbust corsets, overbust corsets, corset dresses. You can also shop our corsets by material: cotton corsets, denim corsets, leather corsets, mesh corsets, pvc corsets, and satin corsets. Have questions about getting started with waist training or finding the right size corset? Contact us!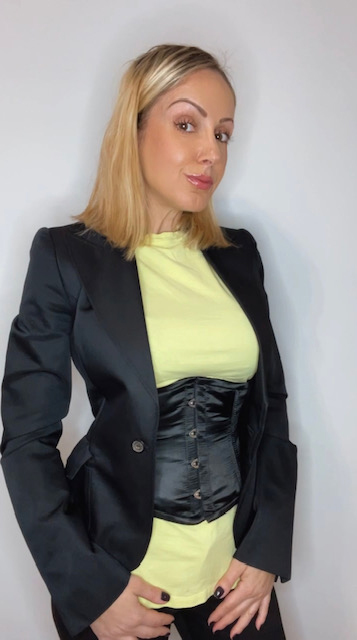 My name is Rachel, I am the owner of Glamorous Corset, a small business founded by me in 2010. Back In 2005, I was in a car accident that left me with a herniated disk. Much to my surprise I learned steel boned corsets were beneficial to several medical injuries including mine. I was always intrigued with corsetry, their history and their beautiful aesthetic. I love sharing knowledge about corsets, educating my wonderful readers and breaking the negative stigma related to corsetry. In combination with my years of research and personal experience I hope my articles are useful and can help anyone who has struggled with some of the same things I have. More about me…