Featured Corsets: Jolie Black Mesh Corset & Jolie Black Mesh Corset Plus Size
Mesh is quickly becoming one of the most popular materials for corsets, and it's no big mystery when mesh fabric is naturally breathable. The mesh holes allow air to circulate fully around and underneath the bodice to keep you cool and comfortable. 
It is thin enough to wear under your clothing, stylish enough to show off over your clothing, and strong enough to withstand proper cinching. What's not to like?
Though some corset wearers may think mesh is the perfect material, not all mesh is created equal. Before investing in your next waist-training corset, take the time to understand the different kinds of mesh and their advantages.
Fishnet
Most shoppers are familiar with the look and feel of classic fishnet. The material may be best well-known for making sexy stockings, but it also makes an appearance in fashionable outerwear, especially during the summer.
This mesh gets its name from the crisscross design used in fishing nets, and like actual fish nets, it's both strong and flexible. Fishnet mesh looks like pieces of cotton or polyester string that have been twisted together to form dozens of small hexagons.
The hexagonal shape is the secret to fishnet mesh. This geometry maximizes the space within each hole while minimizing the amount of thread needed to create the material. Glamourous Corset offers several fishnet corsets in various colors, shapes, and styles.
Benefits of Fishnet Mesh
You can't do better than fishnet mesh if you're looking for cool and comfortable in a corset. Fishnet mesh waist trainers are popular and easy to find. Because the material is used for making so many clothing and sports items, it is available in a variety of colors.
Other benefits of fishnet mesh include:
Thin enough to be comfortable for under-clothing wear
Fashionable for over-clothing wear
Stretchy and easy to get the correct fit for waist training
Naturally cool
Strength
Fishnet mesh has a timeless sex appeal that's both feminine and daring at the same time, but it's not perfect. Some of the cons to consider is that you may have an abdomen full of little hexagonal imprints when you remove your corset.
Also, though it is strong, it is not indestructible. Fishnet mesh can tear, especially if your trainer is too tight due to incorrect sizing.
Corsetry Mesh
Corsetry mesh is the second most commonly used type of mesh for off-the-rack corsets and waist trainers. It is also widely used for custom corsets. This mesh is known for its fine, somewhat stiff weave, which may remind you of a window screen.
Don't worry; corsetry mesh is made of a polyester-nylon blend and will not make you feel like a walking reminder to get the spring chores done. Corsetry mesh is strong, but it's also smooth and comfortable.
Some additional benefits of corsetry mesh include:
Resists warping
More flexible than multi-layered cotton corsets
Can achieve conical rib shaping
Corsetry mesh may not be ideal for extended wear as it does not breathe well. The synthetic material feels like plastic against the skin and can be slightly irritating.
However, those who enjoy wearing a corset over their clothing will appreciate the sleek, totally snatched look of corsetry mesh.
When selecting a trainer made with corsetry mesh, quality is critical. Skimpy seam allowances or poor construction may cause the mesh to pull away from its stitching.
Sports Mesh
Athletic or sports mesh is easily confused with fishnet because the two look alike at first glance. Take a closer look, and you'll see these two types of mesh are actually very different.
Sports mesh is used to make football jerseys, shoes, laundry bags, and the mesh bags sewn into luggage. This type of mesh has little stretch. It is not woven into economic hexagonal shapes like fishnet. The holes are circular or square, and the material has a more uneven feel overall.
Athletic mesh offers most of the same benefits as fishnet mesh but without the classic sexy appeal. It is stronger than fishnet and far more breathable than corsetry mesh. It comes in a wide range of colors and costs only slightly more than fishnet.
Sports mesh has a few downsides, and it's not indestructible. Like all mesh, it does have holes that make the material vulnerable to rips and snags.
Tulle
Tulle is most often associated with weddings. It is not only used to add volume and charm to wedding dresses, but yards of flowing tulle may be used as décor or to wrap a handful of sweet wedding favors.
For corseting, tulle mesh is typically reserved for semi-mesh styles, and even then, extra reinforcement is required. Tulle is not well-suited for making corsets to fit generous curves.
Tulle is not a waist-training workhorse. It adds more beauty to an undergarment than structure. However, it is easy to source, available in a multitude of colors, and can be affordable. Though a tulle corset is not a good pick for serious waist training, the sheer femininity and sex appeal of tulle are hard to resist.
Bobbinet
It's rare to find beautiful bobbinet mesh used in off-the-rack corsets. Bobbinet is made from breathable cotton and is loved for its lightweight and smooth, ultra-feminine appeal. This material is often used to make foundation wear under couture dresses.
Double layers of bobbinet will do the job when extra strength is required, but doubling up doesn't come cheap as bobbinet is a costly material.
Aida Cloth
Aida cloth corsets are similar to what was once used for "activewear" corsets in the Victorian and Edwardian periods. It is not commonly used outside of custom designs, but cross-stitch lovers may be familiar with Aida as it is the same cloth used for creating cross-stitch designs.
Aida is made from cotton, which means it's breathable and comfortable. As a natural fiber, it is easy to dye. You can find Aida in a variety of weights and counts. Finer, lighter versions of Aida are preferred for making corsets.
To be effective as a waist trainer, a corset made from Aida would need to be constructed from high-quality cloth and be impeccably made. Otherwise, it is likely the material would fray and shred after a few uses.
Which Mesh is Best?
Fishnet mesh is popular among corset makers and wearers for a reason. If you're just starting a waist training regimen, you can't go wrong with a well-made fishnet and steel bone corset.
Corsets are much like a certain brand of potato chips — it's hard to stop with just one. As your experience and passion for waist training grow, don't hesitate to branch out and try corsets made from other types of material. Ultimately, the corset you like most is the one that's best.
---
To stay up-to-date with weekly blog posts, waist training tips, and the chance to win one of our monthly corset giveaways, follow us on Facebook, Instagram, & subscribe to our mailing list and YouTube channel today! Want to find the perfect steel boned corset? Shop some of our favorites: underbust corsets, overbust corsets, corset dresses. You can also shop our corsets by material: cotton corsets, denim corsets, leather corsets, mesh corsets, pvc corsets, and satin corsets. Have questions about getting started with waist training or finding the right size corset? Contact us!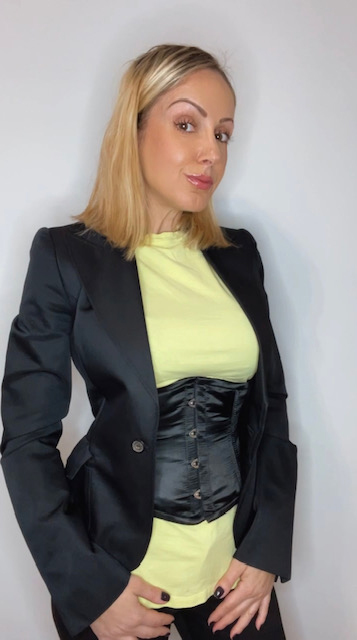 My name is Rachel, I am the owner of Glamorous Corset, a small business founded by me in 2010. Back In 2005, I was in a car accident that left me with a herniated disk. Much to my surprise I learned steel boned corsets were beneficial to several medical injuries including mine. I was always intrigued with corsetry, their history and their beautiful aesthetic. I love sharing knowledge about corsets, educating my wonderful readers and breaking the negative stigma related to corsetry. In combination with my years of research and personal experience I hope my articles are useful and can help anyone who has struggled with some of the same things I have. More about me…