This review was originally published on rebeccarosereviews.square.site.
When Rachel from Glamorous Corset first reached out to collaborate, I excitedly agreed. Though I'd never worn a corset before, I'd long admired their addition to pinup outfits and historical costumes. Despite the fact I'd never donned one, I knew they had a long and complicated history.
Indeed, for 400 years, women wore corsets, and they became more than just an item of fashion, growing to be a symbol. They represented social status, feminine beauty, and respectability. The woman who wore a corset, was not only in control of her teensy waist size, but also in control of her life. She was moral, ordered, and presumably wealthy enough to hire servants to help her into her corset every day. While the corsets of the past might have been seen as a tool of oppression, constricting women's shapes and restricting them from participating in certain 'unladylike' activities, modern women have reclaimed them as a sign of feminine power. Additionally, the corset provides some benefits, including posture correction, alleviating back pain and creating an hourglass figure.
Circling back to my experience, I was asked to provide the measurements of my underbust, natural waist, high hip, torso sitting down and torso standing up. Based upon my unique measurements, Rachel recommended the Jolie short corset in size 22". My steel boned corset was therefore sent off, and I eagerly awaited its arrival.
When the Jolie did arrive, I'll confess I did everything wrong one possibly could- from lacing it incorrectly, to wearing it upside down. Fortunately, there was one thing I got right- that it must be 'seasoned' first to ensure the best fit and longevity of the corset. A corset will initially have gaps at the top and bottom and will be stiff, but will mould to the body once 'worn in'. The process typically takes two weeks, but can take longer, and involves wearing it for an hour a day, gradually increasing wear and tightening it more as you progress. Once seasoned, the gaps will start to come together, and the overall look will be much improved, as your corset now fits you beautifully.
I can definitely recommend Rachel, her knowledgeable and helpful style, and the excellent corsets her company makes. The experience was rendered easy and straightforward. However, I must confess I didn't end up wearing my corset as much as I was hoping. This was because it triggered my eating disorder, a consequence I did not anticipate. Because it's such a beautiful piece and I've now finished my ED treatment, I'm hoping I can approach corsets with renewed zeal. It's a shame my mental health got in the way of me enjoying something many women find empowering, but I'm determined to don it again.
All in all, despite seismic shifts in women's roles and rights, the corset has never fully disappeared from society. Once a tool of societal subjugation, the corset has become a confidence enhancing accessory, and a way to express the power of women through femininity. Once I wear mine again, I'm hoping some of the confidence boosting properties will rub off on me. Or, at the very least, I'll feel like a very wealthy lady, with a plethora of servants to dress and finesse me. 😜
---
To stay up-to-date with weekly blog posts, waist training tips, and the chance to win one of our monthly corset giveaways, follow us on Facebook, Instagram, & subscribe to our mailing list and YouTube channel today! Want to find the perfect steel boned corset? Shop some of our favorites: underbust corsets, overbust corsets, corset dresses. You can also shop our corsets by material: cotton corsets, denim corsets, leather corsets, mesh corsets, pvc corsets, and satin corsets. Have questions about getting started with waist training or finding the right size corset? Contact us!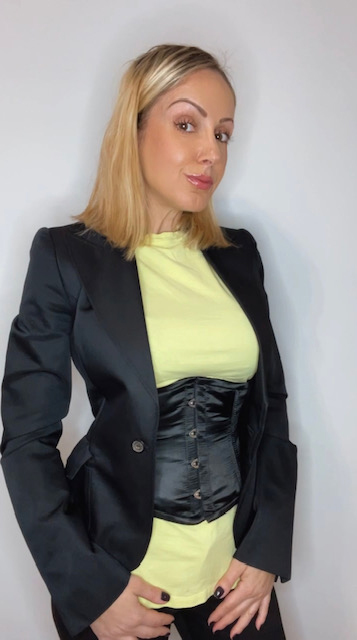 My name is Rachel, I am the owner of Glamorous Corset, a small business founded by me in 2010. Back In 2005, I was in a car accident that left me with a herniated disk. Much to my surprise I learned steel boned corsets were beneficial to several medical injuries including mine. I was always intrigued with corsetry, their history and their beautiful aesthetic. I love sharing knowledge about corsets, educating my wonderful readers and breaking the negative stigma related to corsetry. In combination with my years of research and personal experience I hope my articles are useful and can help anyone who has struggled with some of the same things I have. More about me…