One of the most difficult, but often most exciting aspects of planning for your wedding day is finding the perfect dress – the one that makes you, your mom, and everyone in your bridal party burst into tears.  That said, the dress is only the beginning of putting your ensemble together.
You may also need embellishments and accessories, from a beaded belt, to a veil, to shoes, for example. Many brides also put a lot of thought into undergarments, and this could include a corset.  If you've never donned one before, it's imperative that you learn how to wear a corset under your wedding dress before you saunter down the aisle.  Here are a few tips to ensure a good showing from "I do" to happily ever after.
Choose a Dress, Then a Corset
You don't want to be limited when it comes to selecting that one special gown that makes you feel like a princess on your big day.  In other words, you want to build your wedding day ensemble around the centerpiece of the gown, rather than starting with undergarments that might not match the dress you ultimately choose.  That said, you should at least consider how a dress might work with a corset if you're set on wearing one underneath. While you should definitely choose the wedding gown that wows you, keep in mind that a corset will definitely show through slinky fabrics like silk, and if you want a low-back gown, chances are you won't be able to wear a proper corset (although there are other bridal undergarments to consider).  If you really want the support and cinching of a corset on your big day, you should keep it in the back of your mind when trying on dresses.
Finding the Perfect Corset for Your Gown
When choosing a corset, you naturally want to consider proper sizing, which means taking precise measurements to get the perfect fit (see corset sizing chart).  You also want it to suit your body shape, so paying attention to length, spring, and other dimensions is a must. However, for this special day, you also need to choose a corset that goes with your dress.  For American brides, this typically means a white or ivory hue, although nude is also an option.  You also need to make sure your corset works with the shape and style of your dress.  Don't forget to select features like smooth textiles and satin laces that are most likely to lie flat and avoid detection under your gown.
Practice Makes Perfect
Okay, so you've got your gown and the corset to match.  Now you just wait until the big day to strap it all on, right?  Um, no.  Just no.  Before you wear a pair of heels to an all-day outing, you break them in on shorter trips to make sure they won't feel like torture devices on a longer excursion. The same basic principle applies to your corset.  Even if you only plan to wear it on your wedding day and then pack it in mothballs for posterity, you want to make sure you practice wearing it so you don't feel like you've been clamped in a vice. Seasoning your corset is incredibly important to ensuring proper fit and overall comfort on your big day, so follow a seasoning guide in the weeks leading up to your wedding to prepare (see corset seasoning schedule).  Don't forget to bring your corset to dress fittings, along with your heels, to ensure the perfect fit when final alterations are complete.
---
Stay up-to-date with weekly blog posts, waist training tips, and the chance to win one of our monthly corset giveaways, like us on Facebook & subscribe to our mailing list today! Want to find the perfect steel boned corset? Shop some of our favorites: underbust corsets, overbust corsets, corset dresses. You can also shop our corsets by material: cotton corsets, denim corsets, leather corsets, mesh corsets, pvc corsets, and satin corsets.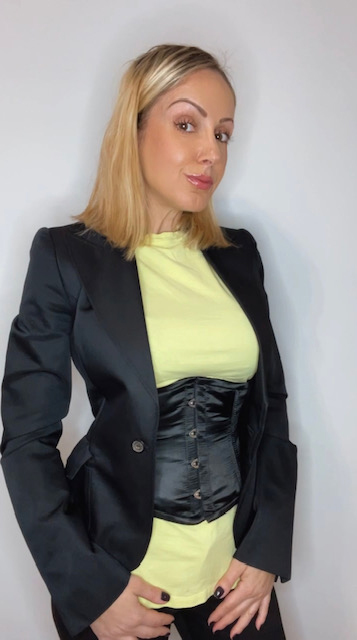 My name is Rachel, I am the owner of Glamorous Corset, a small business founded by me in 2010. Back In 2005, I was in a car accident that left me with a herniated disk. Much to my surprise I learned steel boned corsets were beneficial to several medical injuries including mine. I was always intrigued with corsetry, their history and their beautiful aesthetic. I love sharing knowledge about corsets, educating my wonderful readers and breaking the negative stigma related to corsetry. In combination with my years of research and personal experience I hope my articles are useful and can help anyone who has struggled with some of the same things I have. More about me…