In this video we will discuss how to wear your corset in discreet mode under your fitted dress. We will share some helpful tips on successfully corset stealthing and which fabrics are best to wear under the dress.
Video Transcription
Hello everyone, and welcome back to our Glamorous Corset YouTube channel.
On today's episode, we will be talking about how to wear a corset under your fitted dress. As you can see, I'm wearing this lovely polka dot dress. But I do have some love handles, as well as my belly that pooches out, that I would love to cover up so everything can be nice and sleek and smooth.
In today's episode, I will be wearing our Bella corset. The reason I chose Bella is because Bella comes in a beautiful satin finish. And when you're wearing a corset under your outfit, we always recommend wearing a sleek corset, meaning a mesh corset, a satin corset, a cotton corset. But definitely not a denim corset or a leather corset. Those fabrics tend to be a bit on the thicker side and also, they will be bulky under your outfit. They will not conceal as well as a satin corset, a mesh corset, or a cotton corset. Okay?
Here's our Bella corset again. I've already loosened up the laces in the back. So, I can comfortably wrap this lovely corset. I like to start from the bottom with the busk and work my way up. Position my corset so I am nice and comfy. I begin tightening up my corset.
This corset, I wear this one very often. And it is beautifully seasoned, so it is super comfortable to get in and out of.
Here's my back. Like always, I adjust the back. Try to keep the back nice and parallel. So, you already see my shape has been enhanced dramatically. I have a beautiful curve. I can't wait to see what the dress will look like over this corset.
One last final tug. I feel cinched. I feel comfortable. I feel confident. When corset stealthing, I like to tuck my laces inside the corset. This way I don't have any excess lacing and excess bulk, specifically when I wear clothing over my corset.
Now my laces are all tucked in as you could see. In the back, we don't have the bow in the back. So, when I put the dress over the corset, it will be nice and smooth.
Excited for the final reveal. Zipper in the back. Okay, here it is. So, now as you can see, very smooth finish, no lumps, no bumps, no excess fat. I feel completely comfortable. I feel completely confident. And extremely happy and pleased that this dress is now beautifully fitted.
The back. Absolutely no comparison to not having a corset under the dress.
Once again guys, if you're looking to conceal your secret, if you're looking to bring in your waistline, push out your hips, lift your bust, a steel boned under bust corset is the way to go. It will create a beautiful hourglass silhouette. It will make you look and feel good. Not only in the aesthetic sense, but you will feel absolutely amazing, with your confidence through the roof.
Look at the shape. The shape is no comparison to when I put the dress on initially with my tummy pooching out, with my love handles sticking out. I feel incredible.
If you guys have any questions at all about corset stealthing, about the right corset to wear under your dress so it stays in discreet mode and undetectable, please feel free to reach out to us. We're here to answer all your questions. We can guide you with your measurements and sizing and the right style.
And if you have any other questions at all, please contact us. We are here to help. And we're always happy to hear from you.
I hope you found this episode helpful. And if you guys want to see any future videos from us, please let us know in the comment section. And please help us grow our channel, and like and subscribe.
Thank you so much, guys. We'll see you next time. Bye bye.
---
To stay up-to-date with weekly blog posts, waist training tips, and the chance to win one of our monthly corset giveaways, follow us on Facebook, Instagram, & subscribe to our mailing list and YouTube channel today! Want to find the perfect steel boned corset? Shop some of our favorites: underbust corsets, overbust corsets, corset dresses. You can also shop our corsets by material: cotton corsets, denim corsets, leather corsets, mesh corsets, pvc corsets, and satin corsets. Have questions about getting started with waist training or finding the right size corset? Contact us!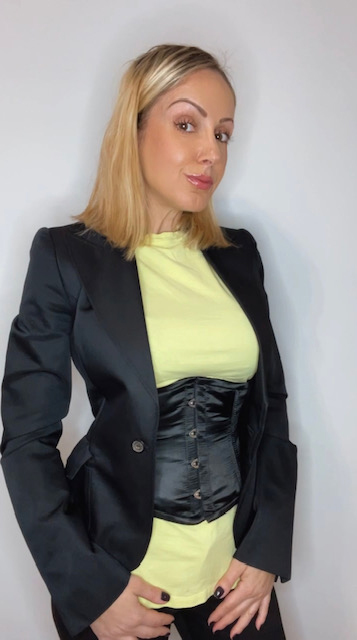 My name is Rachel, I am the owner of Glamorous Corset, a small business founded by me in 2010. Back In 2005, I was in a car accident that left me with a herniated disk. Much to my surprise I learned steel boned corsets were beneficial to several medical injuries including mine. I was always intrigued with corsetry, their history and their beautiful aesthetic. I love sharing knowledge about corsets, educating my wonderful readers and breaking the negative stigma related to corsetry. In combination with my years of research and personal experience I hope my articles are useful and can help anyone who has struggled with some of the same things I have. More about me…