In this video review, Pinup Savi Monroe shares her experience with her Glamorous Corset Jade Curvy Black Cotton Corset.
Video Transcription
Hello, sparkling vixens. Welcome back to my channel. It has been ages since I've been here. I'm just getting back to recording again and posting again and just getting back to myself again.
If you don't know who I am, my name is Pinup Savi Monroe. I do retro haul tutorials, vintage tutorials, vintage hauls, and now I'm rebranding and I'm going to be talking about vintage horror movies and vintage stories and vintage scandals, old Hollywood scandals.
If you like, please like and subscribe. And plus turn on your notification bell so you guys can get more updates when I make some more videos.
Hello babies, I miss you guys so much. I'm just so excited to be back. I feel better than ever. I'm just ready to get back into punching out these videos and coming up with more content. If you notice, I'm blonde now. I'm not red, I'm not black, I am blonde. I have bleached my hair blonde twice and got to this golden blonde color. And I really love it. It's giving me that early Marilyn Monroe vibe. So, I'm really loving that.
So yes, thank you so much for watching my channel, supporting me, still supporting me. Leaving me comments. I cannot thank you guys enough and I love you guys. Thank you so much for your support. It means so much to me. I know I'm not he best uploader or uploading on time. But I promise I will get better at that guys. You guys know, I used to be punching out some videos, three videos a week. But I'm going to get back into it. It's just, life happened, and you guys know that life happens. I had a lot of things I had to deal with, and my mental health was failing, and I really had to deal with that. But I'm back, I feel better, and I'm so glad to be here to be recording and doing all that.
So, guys, I have a new treat for you guys. I have a company I'm working with, she was so nice and gracious enough to give me this corset. This corset that I have, I cannot wait to show you guys, and I hope you guys love it.
I'm working with this new company. It is called Glamorous Corset. I am so happy to be working with them. She was so nice and kind enough to give me this corset. And I wanted to show, sparkly vixens, how this will work on your body. This is the corset to get. When I tell you, if you invest in any corset, Glamorous Corset, is the corset to get. I highly recommend this. And you guys know, I would never put my name on something that I don't believe it. It has my stamp of approval. I fully love it. It has fully charged my shape and contour to a perfect hourglass. I have gotten so many compliments on this corset. So, if you guys want to see how this corset fits on me and how it may look on you, please keep watching.
Okay, guys, this is Glamorous Corset. This is the bag that it is in. It comes in this luxurious velvet bag with the logo. I am so happy with this corset guys. Oh, and before I forget, you guys get a 25% off using my Savi code. So, please use that code if you are interested in getting this corset. I didn't want to forget that. I wanted to put that in.
I am going to go in step-by-step details on this corset and what you guys should know about this corset so that you guys can decide to make the right decision for this corset.
Now, before you guys get a corset, make sure you do your research, like I did. Before I even considered on working with this brand, even though she reached out to me first, I did my research on her brand. Her brand is top-notch, top of the line corsets. Every shape or size, for plus size, petite, tiny waist, larger torsos, tiny torsos, it is very important that you guys take your measurements and it's very important that you guys do not just jump into corsetry. You have to work your way in. I have been wearing this corset every day since I have received the corset. And I have been seasoning it. It is very important. I will show you guys, step-by-step how to season your corset.
But first, I would love for us to get into it. Now, as I showed you guys, this is the velvet bag. And this is the manual it comes in. It comes in this manual. This is a manual. And it will show you step-by-step on how to do it. And we can see the beautiful lady on the front. And this is the booklet on the corset. This is the booklet, I'm sorry. So, right– This is the booklet on the corsets. You will get a booklet and a step-by-step on how to lace your corset, how to fit it, how to measure yourself, and how to season it. It is very, very important that you follow these steps because you do not want to make a mistake on getting the wrong corset as I have. I have fallen into buying cheap corsets made of plastic boning. I will rip. It will not hold essentially in. This is made out of steel bones. Steel boning and it is made out of lacing, I think it's called circus lacing. But it's made out of a nice textured lacing for you to fully get a tight grip.
Now, another thing too that I love about this corset, it is the Jade Corset. It is for curvier– For like curvier torsos. And this curves out so it gives you even more of an extreme hourglass which I love. This is how it looks. This is– I should have had it–
Let me show you guys. You know, doing a corset like this. And you just do the latches on it. And this is how the corset looks. I'm sorry, guys. But the latches is on there. You just put the latches on. And I'm going to show you guys. Ugh, I don't want to do it. Okay, so I'm just going to show you guys like this. This is how it looks. And this is how it looks in the back. And guys, when I tell you this cinches me in. I don't even need to tie it tight. It cinches me in without even me tightening the corset.
So, I'm going to show you guys my silhouette before I wear the corset and then I'm going to show you guys my silhouette after I wear the corset. And I want you guys to see the extreme curves it gives me. Guys, it's amazing. Watch this.
Okay, vixens, as you can see how my silhouette is, it's just a regular silhouette. This is how I look in the front. This is how I look on the side. This is how I look in the back, excuse my bra. This is how I look on the other side. And this is how I look in the front again.
Now, watch how this looks on me when I put the corset on and show you guys the difference. Now, you guys see how dramatic this corset made my silhouette go? I haven't even tightened this really, really right. I'm just seasoning it right now. Do you guys see this? Like, look at this. Look at this. Look, look, look. Look how beautiful my silhouette is. This is the side. This is the other side. I'm seasoning it. It's not even tied tight. This is the back. Guys, do you guys see this?
So, I'm telling you make, please– Make the purchase. It is worth it. This corset is worth it. And they have it in plus size. She has them in plus size, petite, waspy, long lines. She has everything for your size. So, if you are looking for that size for your curves, a corset for your curves, this is it. Do you guys see how this changed my whole silhouette? Like it changed my whole silhouette. I love this corset. It is comfortable to wear. I can wear this all day. I do recommend, though, that you wear these corsets starting off when you are seasoning, wear it one hour, and then work your way up each day. Wear two hours the second day. Three hours, four hours. And you work your way up. Do not start wearing this corset super tight and then trying to go five hours on your first try. Take your time. Because you do not want to hurt your ribs or your insides. Please, please, please, please take your time when you are wearing this corset.
But it is worth the purchase. And you will get some money off using my code. So, yes, this is how it looks. I hope you guys like it.
This corset is everything. This is my staple for now on when I'm wearing my stuff now. I cannot go without wearing this under my dresses to give me that tiny waist, that smooth silhouette. It's just giving me that bombshell silhouette and I love it.
Guys, it's worth the purchase. That is it. I hope you enjoyed this video. And I hope that I did a good demonstration on this corset. Please, please, please, it's called Glamorous Corset. She is really good. She will help you with your measurements. And she will also help you pick the right corset for your torso size and measurements. So, yes, go with Glamorous Corset. You cannot go wrong with them. I highly recommend. I would not put my name on something I don't approve of.
But thank you guys for watching. And stay tuned for my next nylon video. I'm going to be talking about retro nylons, vintage nylons, all the hosiery, all that stuff. So, please look out for that video. And yes, I am so happy to be back. I love you guys. And thank you for watching. And I hope you got something from this video. And if you need more information, send me a DM or you can always go to Glamorous Corset and ask questions there. Or leave your comments in the comment section below and let me know what you think. So, yes, you guys have a wonderful evening, and I will see you babies again soon.
Bye dolls.
---
To stay up-to-date with weekly blog posts, waist training tips, and the chance to win one of our monthly corset giveaways, follow us on Facebook, Instagram, & subscribe to our mailing list and YouTube channel today! Want to find the perfect steel boned corset? Shop some of our favorites: underbust corsets, overbust corsets, corset dresses. You can also shop our corsets by material: cotton corsets, denim corsets, leather corsets, mesh corsets, pvc corsets, and satin corsets. Have questions about getting started with waist training or finding the right size corset? Contact us!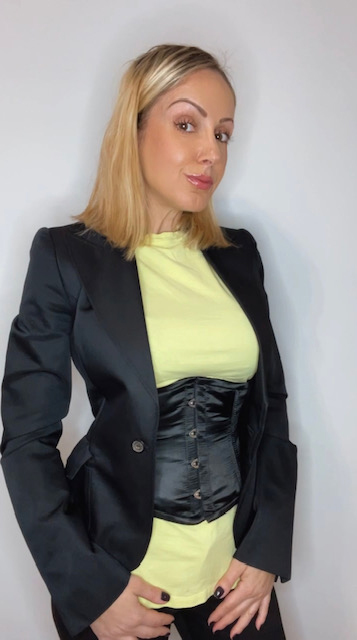 My name is Rachel, I am the owner of Glamorous Corset, a small business founded by me in 2010. Back In 2005, I was in a car accident that left me with a herniated disk. Much to my surprise I learned steel boned corsets were beneficial to several medical injuries including mine. I was always intrigued with corsetry, their history and their beautiful aesthetic. I love sharing knowledge about corsets, educating my wonderful readers and breaking the negative stigma related to corsetry. In combination with my years of research and personal experience I hope my articles are useful and can help anyone who has struggled with some of the same things I have. More about me…