Featured corset: Emma Black Satin Corset
Since corsets first entered the fashion scene, thousands (yes, thousands) of years ago, women (and some men) have relied on them for waist-slimming, figure-enhancing benefits.
Although corsetry, as an institution, has gone through some ups and downs, from periods of extreme popularity (Victorian era), to times of relative obsolescence (the roaring '20s), there's just no denying the power of the corset when it comes to support and compression.
Recently, women have once again become interested in how to get a smaller waist and a curvy, feminine appearance.
Because of this, corsets have made a comeback. Or maybe they never really left at all.
Either way, women interested in accentuating their curves, looking fantastic in every outfit, and feeling beautiful and feminine can have it all. How can you achieve the smaller waist and curvy proportions you crave with a waist training corset? Here's what you need to know.
Instant Gratification
If you want to know how to get a smaller waist with a corset, all you really have to do is try one on.
What you'll find is that a corset in the right size can immediately reduce your waist by 1-2 inches when cinched snugly, providing you with instant results that not only improve your appearance and boost your confidence, but provide a springboard to ongoing waist training.
Of course, you have to start by choosing the right style and size for your body, as well as your goals.
If, for example, you're just looking to highlight a smaller waist, an underbust or even a tiny waspie corset will do the trick. If you want to redistribute some extra weight in your midsection to create a more proportionate hourglass figure, an overbust model with a more pronounced spring could do the trick, whereas a longline corset could provide smoothing for the lower belly and even hips.
As for sizing, you'll need to carefully measure your underbust area, your waist and hips, your torso length (from underbust to hip), and possibly your bust, depending on the style of corset you prefer. Sizing for success ensures a corset that not only fits like a glove, but offers room to tighten as you progress in your waist training regimen.
Dramatic Results with Waist Training
So, you've tried on a corset and gotten a taste of what this traditional shapewear can do for you, and now you want more. The important thing to know about waist training is that it's a marathon, not a sprint, and it starts with setting realistic goals.
Although you can enjoy smoothing and even slimming benefits right off the bat, you may be interested in narrowing your waist by more than just an inch or two.
How can you decide how many inches are attainable? For starters, it may depend on your current size. If you're already slim, a waist reduction of up to 4-5 inches may truly be your limit. If, on the other hand, you're also looking to lose a significant amount of weight, you could reduce your waist size dramatically as you shed pounds.
You'll want to create a waist training schedule that includes working your way up to all-day wear (8-10 hours a day in your corset), and then incremental tightening, eventually downsizing to smaller corsets as you continue. The important thing to remember is that waist training is a personal pursuit, and you need to set a schedule that is safe, healthy, and right for you. The end result could be semi-permanent results, providing you continue with maintenance once you reach your sizing goals.
Who, What, Wear!
To be honest, the most important aspect of getting a smaller waist with a corset is simply wearing it on the regular. How can you do this when modern clothing isn't really meant to be worn over bulky support garments?
Start with sleek corsets in lightweight cotton, satin, or mesh that fit closer to the body, and minimize bulky decorations that could show under clothing. Stick with underbust models that are easier to hide and consider satin laces that lie flatter than nylon. Next, choose clothing that's better at concealing your undergarments, from empire-waist tops that float away from the abdomen, to blazers that hide the bump of lacing in the back. Or simply wear your corset outside of clothing in place of a wide belt or vest, for example. With just a bit of creativity, you'll have no trouble working corsets into your wardrobe and creating the smaller waist you covet.
---
Stay up-to-date with weekly blog posts, waist training tips, and the chance to win one of our monthly corset giveaways, like us on Facebook & subscribe to our mailing list today! Want to find the perfect steel boned corset? Shop some of our favorites: underbust corsets, overbust corsets, corset dresses. You can also shop our corsets by material: cotton corsets, denim corsets, leather corsets, mesh corsets, pvc corsets, and satin corsets.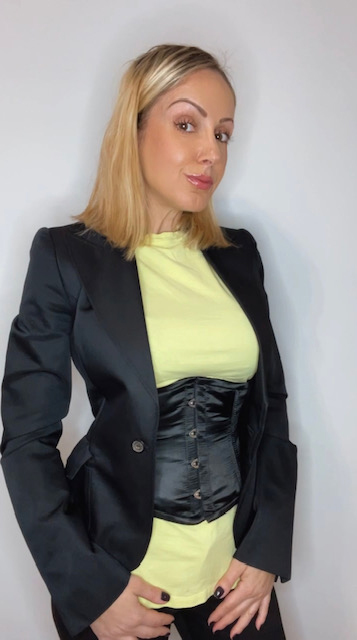 My name is Rachel, I am the owner of Glamorous Corset, a small business founded by me in 2010. Back In 2005, I was in a car accident that left me with a herniated disk. Much to my surprise I learned steel boned corsets were beneficial to several medical injuries including mine. I was always intrigued with corsetry, their history and their beautiful aesthetic. I love sharing knowledge about corsets, educating my wonderful readers and breaking the negative stigma related to corsetry. In combination with my years of research and personal experience I hope my articles are useful and can help anyone who has struggled with some of the same things I have. More about me…