When you get a corset for the purposes of waist training, you probably have several concerns related to the fit of the garment and how quickly you'll begin to see results.  What you might not consider, until you have it on, is whether or not you can eat while wearing it.  After all, it's not like you're putting in a set of dentures.
Still, your corset compresses your abdomen, where your stomach, intestines, and a lot of other internal organs reside.  It's only natural to wonder if this could impact your ability to accommodate a large meal.  Can you eat with your corset cinched tight?  Should you even try?  Or do you have to go through the rigmarole of removing it every time you want a latte or lunch?
To Eat, or Not to Eat, That is the Ingestion
Okay, let's just clear something up right off the bat.  OF COURSE you can eat with your corset on.  If you have it laced so tight that you can't get a bite down, gurrrl, you need to loosen those laces.
That said, you may not be able to eat as much in a sitting as you would without your corset on.  With some trial and error, you'll learn to eat slowly and pay attention to the signals your body is sending you, helping you to eat appropriately in any situation, corset or no.
If you find you feel hungry throughout the day, you may need to eat smaller portions more frequently.  You could also consider changing your diet to avoid empty calories, making sure you get the greatest nutrition and lasting satisfaction from every meal.
You need to be mindful of what you're eating.  If a bean burrito or raw, cruciferous veggies are on the menu – you know, items that may cause gas and bloating – you might want to loosens your laces a bit to accommodate without discomfort.  Adjusting to a new eating regimen that takes your corsetry into account is to be expected, but there's no reason to stop eating altogether or remove your corset during meals.
Accounting for Goals
When you start waist training, you probably have a set goal in mind that you're hoping to reach, such as narrowing your waistline by 2, 4, or 6 inches, for example.  You may also have weight loss goals that tie in with your waist training.
The diet you choose will be based on a number of factors that affect which foods you eat throughout the day, as well as the volume of food you consume.  Some diets include intermittent fasting, and this may factor into your eating decisions during corset wear.
However, a corset alone should never stop you from eating, in and of itself.  The important thing is to make healthy decisions designed to help your reach your goals in a safe and responsible manner.  Always make sure to hydrate properly and plan a diet that provides the nourishment you need to remain healthy and well, even if that means loosening corset lacing at certain points throughout the day.
---
Stay up-to-date with weekly blog posts, waist training tips, and the chance to win one of our monthly corset giveaways, like us on Facebook & subscribe to our mailing list today! Want to find the perfect steel boned corset? Shop some of our favorites: underbust corsets, overbust corsets, corset dresses. You can also shop our corsets by material: cotton corsets, denim corsets, leather corsets, mesh corsets, pvc corsets, and satin corsets.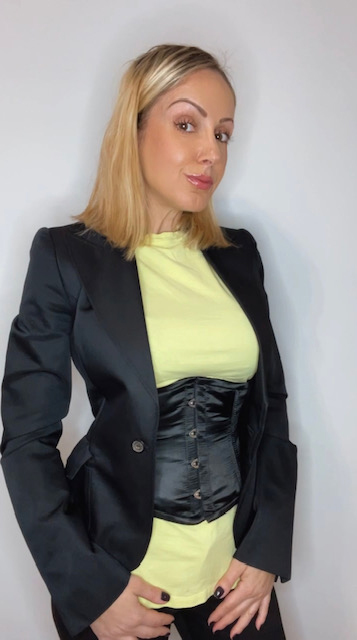 My name is Rachel, I am the owner of Glamorous Corset, a small business founded by me in 2010. Back In 2005, I was in a car accident that left me with a herniated disk. Much to my surprise I learned steel boned corsets were beneficial to several medical injuries including mine. I was always intrigued with corsetry, their history and their beautiful aesthetic. I love sharing knowledge about corsets, educating my wonderful readers and breaking the negative stigma related to corsetry. In combination with my years of research and personal experience I hope my articles are useful and can help anyone who has struggled with some of the same things I have. More about me…