Waist training focuses on a rather specific area of the body – the waist.  The goal is to accentuate the narrowest part of your torso to create an hourglass silhouette, and to do so with incremental slimming over time that leads to semi-permanent results.  Corsets are the tools that help you to reach your waist training goals.
That said, there is a wide world of corsetry to explore, and you may naturally wonder if one style of corset better suits your waist training needs.  For example, why use an overbust corset when a waspie will do?
Consider your Chuck Taylor's.  Wearing your knee-high All Stars is overkill for a b-ball game.  You'll just wear your standard 6-holes or maybe your 8-hole high tops.  The knee-high model is more for fashion than function.
Still, when you're wearing a corset day in and day out, you might want some variety, and overbust corsets offer certain benefits you won't get with underbust models.  The question is, can you waist train in an overbust corset?  Let's explore the pros and cons.
Functional Concerns
The main concern with any overbust corset is fit, and frankly, the more measurements you have to account for, the greater chance something won't fit quite right.  Many women who waist train start with off-the-rack corsets.  This isn't a bad idea from a financial standpoint, especially if you're still trying to figure out how committed you are to the process.
The problem is that every body is different, and standard sizing may leave something to be desired.  An overbust corset will have to fit your bust, your waist, and your hips, as well as your torso length.  That's a lot of specifics and you might have a hard time finding the exact sizing that fits your body like a glove.  This could leave you feeling uncomfortable throughout the day and impact your motivation to continue with waist training.
The best solution is to spring for custom corsets, tailor-made to your precise dimensions, but this can get pretty pricy.  Alternately, you can simply try before you buy.  With enough searching, you may find overbust models that will suit your needs.  If you're ordering online, make sure you understand return policies so you can swap for different sizes if needed.
Practical Benefits
Now that you understand the potential pitfalls of using overbust corsets for waist training, let's talk about some of the benefits.  The main draw for overbust corsets is that they cover two functional needs at once.  They serve as a tool for waist training and they also eliminate the need for a bra.
If you're having problems with pinching or rubbing between the top edge of your underbust corset and your underwire bra, overbust corsets offer all the support and lift of a bra without the worry of undergarments going to war every time you bend or twist.
Aesthetics
Finally, there are aesthetics to consider, and whether you prefer underbust or overbust corsets for waist training, it's always nice to have wardrobe options.  Whether you want to go strapless under formal wear or you're interested in a using your corset in lieu of a vest (over a tee or blouse) or even a top (under a blazer), an overbust corset can become a valuable piece in your wardrobe.  When you nail down sizing, it can also help you to reach your waist training goals.
---
Stay up-to-date with weekly blog posts, waist training tips, and the chance to win one of our monthly corset giveaways, like us on Facebook & subscribe to our mailing list today! Want to find the perfect steel boned corset? Shop some of our favorites: underbust corsets, overbust corsets, corset dresses. You can also shop our corsets by material: cotton corsets, denim corsets, leather corsets, mesh corsets, pvc corsets, and satin corsets.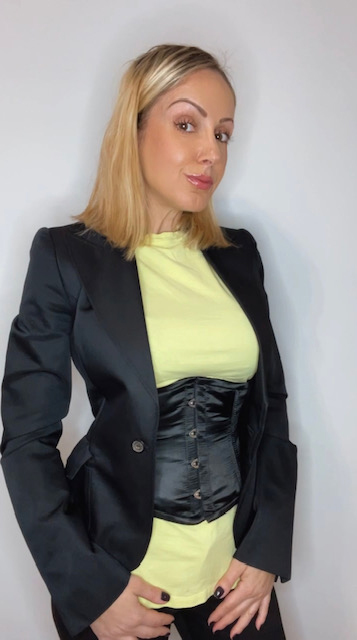 My name is Rachel, I am the owner of Glamorous Corset, a small business founded by me in 2010. Back In 2005, I was in a car accident that left me with a herniated disk. Much to my surprise I learned steel boned corsets were beneficial to several medical injuries including mine. I was always intrigued with corsetry, their history and their beautiful aesthetic. I love sharing knowledge about corsets, educating my wonderful readers and breaking the negative stigma related to corsetry. In combination with my years of research and personal experience I hope my articles are useful and can help anyone who has struggled with some of the same things I have. More about me…