Have you ever found yourself wondering just where a magician hides the doves that come flying out of his formerly flat top hat, or where all those colorful hankies you're pulling out of his hand came from? Magicians use trickery to conceal items until they're miraculously revealed, as if being pulled from thin air. Just because you can't see how they do it doesn't mean there isn't a perfectly logical explanation. When it comes to your corset, however, there's no magic involved. In order to make your waist look narrower, this compression garment simply has to push some stuff out of the way. Does a waist trainer push fat down? The simple answer is yes, but there's a little more to it, so before you despair of finding a corset that helps you get the proportions you want without creating a spare tire, here are a few things you should know.
Redistributing Fat
Even if you don't have a lot of extra fat in your midsection, strapping on a corset that significantly narrows your waist means that soft tissue has to go somewhere, and since the waist gets the brunt of cinching, it will either be redistributed up or down.  In truth, this isn't a bad thing, since it will create the exaggerated hourglass figure many women are hoping for when they add a corset to their daily wardrobe.
Using Spring to Your Advantage
Okay, so you want a narrow waist, but you're not super keen on getting a jelly roll between your jeans and your corset. One thing you should pay attention to is the spring of your corset, or the ratio between the circumference of the waist and the circumference of the bottom edge (hip) of the garment. If you feature a lot of cushioning around the midsection and you're worried about significant spillage along the bottom edge, simply look for a garment with a greater spring so you can enjoy a narrow waist that opens out to accommodate a wider stomach and/or hip area. This will help you to avoid the appearance of flesh rolling out from the bottom edge of the corset.
Controlling Lower Belly Fat
Another option is to choose a longline corset style that controls not only your waist, but also the lower portion of the torso. It's important to try before you buy to make sure a longline model will fit your body (it's not ideal for those with short torsos) and that it won't impair common movements like sitting or bending over.
Pushing Fat Up for a Fuller Bosom
Keep in mind that corsets can push fat both down and up.  With careful garment selection, you can focus on forcing fat upward to enhance your bosom instead of your lower abdomen.  You'll want to look for an underbust corset with a pronounced upper spring or opt for an overbust model that supports and shapes your breasts. Dealing with the fat that gets pushed aside when you start waist training can be frustrating if you have the wrong corset.  When you understand how fat is redistributed and what you can do to choose a corset that accentuates your curves in all the right ways, you're going to be much happier with the final results.
---
Stay up-to-date with weekly blog posts, waist training tips, and the chance to win one of our monthly corset giveaways, like us on Facebook & subscribe to our mailing list today! Want to find the perfect steel boned corset? Shop some of our favorites: underbust corsets, overbust corsets, corset dresses. You can also shop our corsets by material: cotton corsets, denim corsets, leather corsets, mesh corsets, pvc corsets, and satin corsets.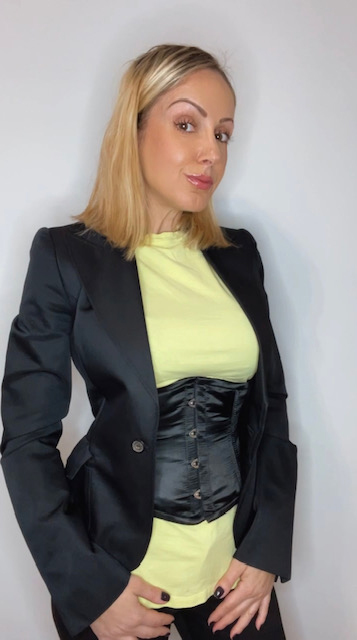 My name is Rachel, I am the owner of Glamorous Corset, a small business founded by me in 2010. Back In 2005, I was in a car accident that left me with a herniated disk. Much to my surprise I learned steel boned corsets were beneficial to several medical injuries including mine. I was always intrigued with corsetry, their history and their beautiful aesthetic. I love sharing knowledge about corsets, educating my wonderful readers and breaking the negative stigma related to corsetry. In combination with my years of research and personal experience I hope my articles are useful and can help anyone who has struggled with some of the same things I have. More about me…