When you first get a corset, you can totally expect it to fit you perfectly and give you the narrow waist and Jessica Rabbit proportions you've always dreamed of, right?  Er, not quite.  Like most things that are brand new, it's going to take some time to break in your corset so you can start training for the winsome waist you want.
As most experienced waist trainers know, it takes a while to feel comfortable in corsetry, and even when you do, it's still going to fit snugly.  In addition, waist training requires ongoing adjustments if you want to reach your ultimate downsizing goals.
That said, if you're feeling significant discomfort long after you've seasoned your corset, or you've noticed that your garment is somewhat off-kilter, you could be dealing with common corset problems, and most are relatively easy to fix.  Here are just a few you should know about before you start waist training.
Dubious Discomfort
Okay, a bit of discomfort is not out of the norm when you're waist training.  If you're doing it properly, i.e. slowly, with incremental tightening on a schedule, chances are you'll only experience mild discomfort as you size down, inch by inch.
If you're moving too fast, though, don't be surprised to suffer aches and pains along the way.  Hey, if you eat ice cream too fast, you're going to get brain freeze, and the same basic principle applies to speeding the waist training process and tightlacing before you're ready.  Remember, good things come to those who wait.
How can you tell if you're jumping the gun?  More likely than not, you're going to experience sore ribs if you're lacing too tightly too soon.  Pretty much everything else enclosed by the corset is squishy and moveable, to some degree, but your ribs, not so much.
Chances are, you'll also start to see some problems with the garment itself.  When you take the time to season a corset by starting with minimal daily wear and increasing incrementally until you're wearing it comfortably throughout the day, the garment will slowly conform to your figure, after which you can start to lace tighter to narrow the waist.
If you move too fast, you could start to see the seams pulling apart or ripping toward the top or bottom edges, where there's less give (at the ribs and hips), or pulling away from boning channels.  You might even notice steel bones popping right out of the top of channels, as they poke you painfully in the rib or underboob.
While these issues can be addressed after the fact by a skilled corsetier, they're best avoided in the first place by simply following a basic schedule for seasoning, followed by proper waist training.
Inaccurate Sizing
Another major problem that afflicts many waist trainers is choosing the wrong size and/or style of corset for your body.  Alright, I get it.  Really, I do.
It's a matter of pride that you fit into a certain size of jeans, right?  It doesn't matter if they give you a muffin top and indigestion, as long as the number on the label is the size you're fixated on.  Gurrrl, we've all been there.  That said, you're actually going to look better (and feel a lot more comfortable) if you purchase garments that fit your body right now.  This applies to your corset, as well as your jeans.
What happens when you choose a corset that's the wrong size or shape for your body?  Aside from feeling like you're packing 10 pounds of meat in a 5-pound bag (and looking like a stuffed sausage, to boot), you could end up poking yourself in odd places and all but ruin your garment in the process.
When a corset is too small and the gap in the back is too large (over 3.5 inches, typically), you're going to notice a couple of unfortunate side effects.  First, the modesty panel might not cover the gap, leaving you with a weird strip of flesh showing.  Or if there's no modesty panel, you'll just see a lot of squished back flesh and you'll probably end up with laces digging into your back.  Not pretty and not fun.
You could also see some obvious issues with your garment, like twisting, where the channels and seams between panels seem to lean to one side.  This is actually due to uneven tension on the laces, which is a byproduct of having a back gap so large that it's almost impossible to evenly disperse the tension across laces.
You may also experience problems like pain points where your corset digs into your breasts or hips.  This could be because of poor sizing or choosing the wrong corset for your frame (such as a longline style on a short torso).  The good news is, accurate measurements and proper waist training can help you to avoid all of these snafus, saving you time, money, and a lot of unnecessary aches and pains in the long run.
---
Stay up-to-date with weekly blog posts, waist training tips, and the chance to win one of our monthly corset giveaways, like us on Facebook & subscribe to our mailing list today! Want to find the perfect steel boned corset? Shop some of our favorites: underbust corsets, overbust corsets, corset dresses. You can also shop our corsets by material: cotton corsets, denim corsets, leather corsets, mesh corsets, pvc corsets, and satin corsets.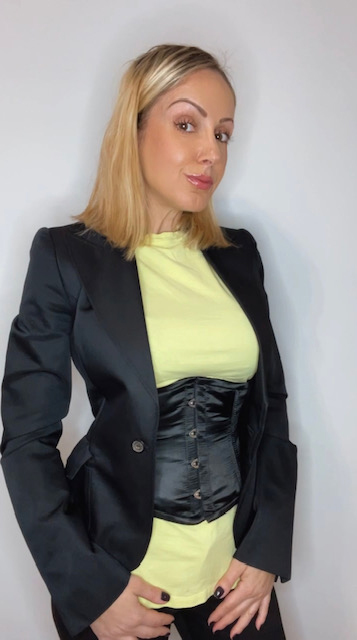 My name is Rachel, I am the owner of Glamorous Corset, a small business founded by me in 2010. Back In 2005, I was in a car accident that left me with a herniated disk. Much to my surprise I learned steel boned corsets were beneficial to several medical injuries including mine. I was always intrigued with corsetry, their history and their beautiful aesthetic. I love sharing knowledge about corsets, educating my wonderful readers and breaking the negative stigma related to corsetry. In combination with my years of research and personal experience I hope my articles are useful and can help anyone who has struggled with some of the same things I have. More about me…