Fashion trends come and go, but corsets have truly passed the test of time. Women have been wearing corsets since at least the 16th century and perhaps much longer.
What may surprise many people is that corsetry for men is nothing new. Form-fitting corsets were a fashion staple for gentlemen in the 1800s. The slim male waistlines aided by corset wearing were so popular that some savvy undergarment companies even designed corsets specifically for men to wear.
Does waist training work for men, too? The answer is definitely yes, you betcha, buddy. Corsets don't discriminate, and they're not just for men who want to create a more feminine shape.
They can help smooth the stomach and cinch the waist of a male silhouette just as efficiently as they do a female silhouette. The key to shaping is choosing the right garment for the right job.
Which Waist Trainer Is Best for Men?
There is no one best waist trainer for a man or a woman. A person's goals and body shape influence which corset will do the best job. A guy who is looking for back support may do better with a long-line corset, while one who wants to feminize his curves might opt for a traditional waist trainer.
At Glamorous Corset, the Dita corset is the top-selling garment for men and is considered to be a staple for any corset wearer. The Dita boasts a unique three-layer construction that gives it extra durability and support. This model can also be worn upside down – a popular option for men because it fits their natural shape better. 
We also recommended the classic Bella underbust corset for men. The Bella is a type of corset belt. At only eight inches tall, it is easy to conceal under clothing. 
The Emma underbust corset is one of our most flexible models when it comes to fitting diverse body types. Its straight top and bottom edges are complementary and comfortable for almost every shape. 
Okay, but Does Waist Training Work for Straight Guys?
To quote the great RuPaul, "We're all born naked, and the rest is drag." Fortunately, our culture's norms about what men and women can and can't wear are changing. Waist training is about creating a trimmer, toner midsection, and that has nothing to do with gender, biology, or sexual orientation.
The benefits of wearing a waist trainer transcend labels. Everyone can enjoy the following:
A boost in confidence
Better posture
Relief from back pain
Flatter stomach
Help with weight loss
Better fitting clothing
Waist training corsets can also be a helpful aid to males who are transitioning to females, males who are gender fluid, drag queens, or any male who desires a more feminine look from time to time. 
Regardless of gender identification, people love wearing corsets because they help them feel more like their authentic selves. Waist training can be one more way to align your physical self with the image you hold in your head.
The ultimate goal is not just to look a certain way. It's to feel more confident on all levels. That's something every human can benefit from.
3 Tips for Waist Training for Men
Whatever shape you're trying to achieve with waist training, the key is patience. You may look and feel better the moment you put your new trainer on, but the changes that are possible with waist training take some time to achieve.
1. Waist Training can Help with Weight Loss
Remember, trainers do not magically cause weight loss. They can be an effective part of your weight-loss regimen by helping reduce your appetite. Wear your trainer before and during mealtime for light compression on the stomach. It will help you feel full with less food.
2. Waist Training Takes Time
Waist training and wearing a corset occasionally to create a look are two different experiences.
Waist training is training. Just as you can't expect to complete a marathon the first time you go for a run, you can't tighten a corset to its smallest dimension the first time you put it on. Follow all suggested guidelines for seasoning and gradually sizing down your waist trainer for the best results.
3. Size Matters
A smaller waistline might be your goal, but starting with a too-small trainer won't help you get there. Take accurate measurements and purchase the trainer that works for the size you are now. Starting with a corset that's too tight will be uncomfortable and will discourage you from wearing it at all.
Embrace Your Individual Style
Whatever your goals or reasons for wanting to try a men's waist trainer, be true to yourself. Celebrate yourself for not allowing outdated limits on fashion to limit you.
Waist training can be just as beneficial for men as it is for women. There's no reason not to try a corset if you feel it would enhance your self-esteem and confidence.
---
To stay up-to-date with weekly blog posts, waist training tips, and the chance to win one of our monthly corset giveaways, follow us on Facebook, Instagram, & subscribe to our mailing list and YouTube channel today! Want to find the perfect steel boned corset? Shop some of our favorites: underbust corsets, overbust corsets, corset dresses. You can also shop our corsets by material: cotton corsets, denim corsets, leather corsets, mesh corsets, pvc corsets, and satin corsets. Have questions about getting started with waist training or finding the right size corset? Contact us!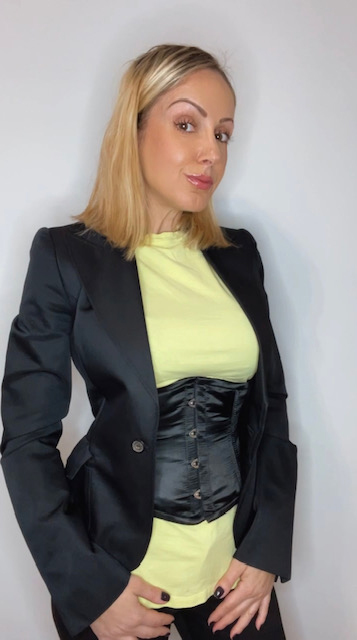 My name is Rachel, I am the owner of Glamorous Corset, a small business founded by me in 2010. Back In 2005, I was in a car accident that left me with a herniated disk. Much to my surprise I learned steel boned corsets were beneficial to several medical injuries including mine. I was always intrigued with corsetry, their history and their beautiful aesthetic. I love sharing knowledge about corsets, educating my wonderful readers and breaking the negative stigma related to corsetry. In combination with my years of research and personal experience I hope my articles are useful and can help anyone who has struggled with some of the same things I have. More about me…