You love wearing corsets. You love the way your corset makes you look in clothing and without clothing. You love the way it boosts your confidence and improves your graceful posture. If you've adopted a waist-training schedule, you probably also love the trim look your corset has helped you achieve.
But ouch, you're not so crazy about the way it feels when you try to sit down in a corset. Do you really have to stand up all day to be comfortable? Thankfully, the answer is no.
Sitting in Style
How and even if you can sit comfortably depends mainly on the style of corset you're wearing. Waist trainers are meant to be worn for many hours a day. That includes at your work desk, while running errands in the car, and when you're playing on the floor with the kids.
Some people wear their corsets all day, every day. Of course, all of these things require sitting down at some point.
Understanding which styles are made for real-life wear and knowing the right way to move in a corset will ensure you can sit, stand, and bend comfortably, no matter what your day brings.
If you find it difficult to sit down, your corset may be too long. Movement will be more limited in overbust and long-line styles meant for people with long waistlines. Try wearing a short corset or a corset belt for more freedom of movement.
Tips for Sitting in a Corset
First, do not make structural changes to your corset in an attempt to make sitting easier. Unless you are an experienced corset maker, cutting or altering your garment will probably result in a corset that is unwearable or more uncomfortable than it was to start with.
Second, purchase the correct size for the body you have now. Many people think that buying a smaller size will help them meet their goals sooner, but corseting doesn't work that way. A corset that's too tight will cause discomfort or even pain.
In addition, when fabric and laces are pulled too tight, they are more likely to tear. You could end up with a damaged garment that you can't even wear.
Other suggestions that will make sitting easier include:
Do not thread corset laces unevenly, incorrectly, or too tightly
Practice sitting in different types of seats to better understand your body dynamics in a corset
Once seated, practice slow, slight side-to-side movements to get up
Avoid slouchy, too-soft furniture
Make sure all closures have been fastened correctly
Keep your back upright with good posture
When possible, choose a straight-backed, stable chair that will support your upright posture. If you must be in a specific type of chair for work, feel free to make any fitting adjustments needed to accommodate your life. Loosening the ties a little or choosing a belt-style trainer may be necessary to strike a balance.

Remember, corset-wearing shouldn't be painful or limit your quality of life. If you've tried all the tips and still can't sit down and get up confidently, consider switching to the shortest style of corset belt. Once you've mastered wearing a smaller corset, you can gradually build up to a full-size or overbust garment.
Living the Corset Life
Adapting to daily corset wearing takes time and adjustment, but pain is a sign that something is wrong. Some movements may seem awkward or uncomfortable at first, but with practice, patience, and a few adjustments, your corset will begin to feel like a second skin.
Remember that your corset forces you to sit straighter and with the correct posture. You may have to adjust your habits to accommodate your new, more confident composure. 
---
To stay up-to-date with weekly blog posts, waist training tips, and the chance to win one of our monthly corset giveaways, follow us on Facebook, Instagram, & subscribe to our mailing list and YouTube channel today! Want to find the perfect steel boned corset? Shop some of our favorites: underbust corsets, overbust corsets, corset dresses. You can also shop our corsets by material: cotton corsets, denim corsets, leather corsets, mesh corsets, pvc corsets, and satin corsets. Have questions about getting started with waist training or finding the right size corset? Contact us!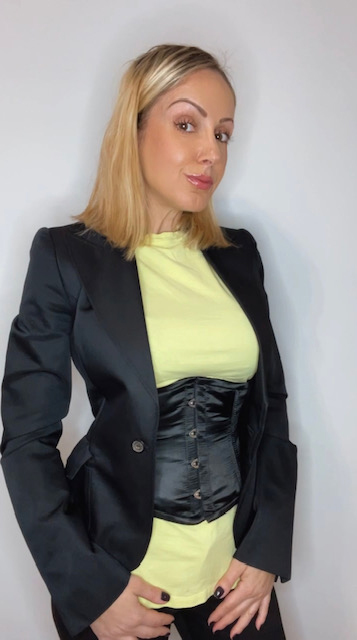 My name is Rachel, I am the owner of Glamorous Corset, a small business founded by me in 2010. Back In 2005, I was in a car accident that left me with a herniated disk. Much to my surprise I learned steel boned corsets were beneficial to several medical injuries including mine. I was always intrigued with corsetry, their history and their beautiful aesthetic. I love sharing knowledge about corsets, educating my wonderful readers and breaking the negative stigma related to corsetry. In combination with my years of research and personal experience I hope my articles are useful and can help anyone who has struggled with some of the same things I have. More about me…