While all of our corsets are designed for the purpose of waist training (and not just looking good), we know many of our customers are looking for steel boned bridal corsets to wear under their wedding dress. We have a beautiful selection of white & champagne bridal corsets perfect for the occasion – below are some of our favorites!
Elvira White Cotton Corset
Our GC-142, Elvira white cotton corset is a stunning long line corset, an excellent choice for someone who is tall, or has a long torso. It will draw in your waist and lift the bust. This beautiful cotton corset will hug your body and give you that hourglass shape that we all love and desire. Also great for back support and improving posture.
Read More
Lara White Cotton Corset
Our GC-160, Lara is a gorgeous multipurpose white cotton corset. Works for most figures, this stunning cotton corset will focus on slimming the waist while showing off your curves. Can be worn under clothing, wedding gown (bridal corset) or over any top for a night out. Either way, this corset is a head turner.
Read More
Kelly White Satin Corset
GC-129 is Kelly, a stunning long line white satin corset. Ideal for a long torso this daring double boned corset will provide extra durability and support.
Featured 22 Steel Bones (4 Rigid Steel Bones, 18 Spiral Steel Bones).
Read More
Jenna Bridal Satin Corset (Plus Size)
GC-152 Jenna in white satin is a must have plus size corset for any bride to be. Jenna's classic and elegant look is timeless. With its three layer construction and a combination of 20 flat and spiral bones throughout it has the capability of maximum cinching achieving the desired hourglass look.
Read More
Dita Champagne Satin Corset
Our GC-134, Dita champagne satin corset is must have in everyone's closet. Its 3 layer construction provides extra durability and support. Match it up with pants or a skirt and train your waist while you're at all. A great satin corset for everyday wear, it will cinch you in, in all the right places.
Read More
Want help finding the perfect steel boned corset to wear under your wedding dress? We'd love to help! Contact us, or like us on Facebook to receive news & updates.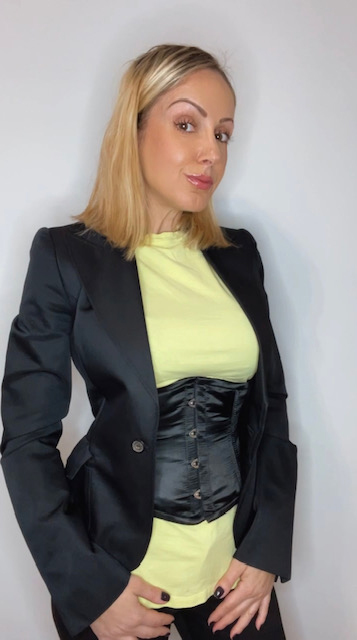 My name is Rachel, I am the owner of Glamorous Corset, a small business founded by me in 2010. Back In 2005, I was in a car accident that left me with a herniated disk. Much to my surprise I learned steel boned corsets were beneficial to several medical injuries including mine. I was always intrigued with corsetry, their history and their beautiful aesthetic. I love sharing knowledge about corsets, educating my wonderful readers and breaking the negative stigma related to corsetry. In combination with my years of research and personal experience I hope my articles are useful and can help anyone who has struggled with some of the same things I have. More about me…