Most women, when wearing an underbust corset (that extends to just under the bust but doesn't cover the bust area) will pair it with a comfortable and supportive bra. But what about when you wear an overbust corset? Many women wonder: do you wear a bra with an overbust corset?
In truth, it is a matter of personal choice. Corsets were designed to create a specific body shape, depending on the fads of the era, whether they were meant to create a flatter, slimmer physique or cinch the waist, lift the bust, and create a perfect hourglass shape. In other words, they do the job of a modern bra and more.
So no, you don't really need a bra when you wear an overbust corset. That said, you can add a bra to your ensemble, and you may want to for a variety of reasons, including personal preference. Here are just a few benefits you might gain by wearing a bra under your overbust corset.
Added Support
If your corset is the right size, chances are you will not need added support. The stiffness and strength of the garment (especially corsets with steel boning) will provide adequate lift and support for your bosom.
However, bras are also smoothing garments meant to provide support all the way around your torso. If you find that your corset is causing spillage around the back and armpits, the right bra may provide added smoothing and support around the sides and back.
In addition, those using corsets for the purpose of waist training may not want to wear a corset all day, at least in the beginning. Having a bra underneath makes it easier to slip out of your corset and continue your day.
Added Comfort
Corsets are designed to fit snug. Women who are not used to this heightened level of restriction may find the stiff fabric, boning, and seams uncomfortable in the sensitive bust region. Wearing a soft, molded-cup bra underneath could increase the level of comfort by adding an extra layer of fabric between the skin and the corset. For beginners, a cotton corset like our Dita cotton corset can also add additional comfort.
Added Style
Whether you're wearing a corset under your clothing or you're showing it off as lingerie, you should definitely experiment to find your own personal style aesthetic. Perhaps you like having a lacy bra peeking out from your corset, you prefer to have straps rather than bare shoulders, or you like an added pop of color. Either way, there's nothing to stop you from exploring different style options, not only for corsets, but also pairing your corsets with other undergarments.
Bra Types
Again, you don't necessarily need to wear a bra with an overbust corset as it is designed to perform the same function as a bra (and then some). In fact, wearing a bra with a corset could be overkill, potentially creating a situation in which there is too much lift.
Some trial and error will be required to figure out what works for your body and suits your style. You will likely find that certain bra types are not ideal with an overbust corset.
For example, you may want to avoid both underwires and excessive padding. The first will almost certainly be uncomfortable with the compression of a corset, and the second could create too much lift, creating a shelf of cleavage. You'll simply have to try a few different options to see what's right for you.
---
Have additional questions about properly using your corset? We'd love to help! Contact us, or like us on Facebook to receive news & updates.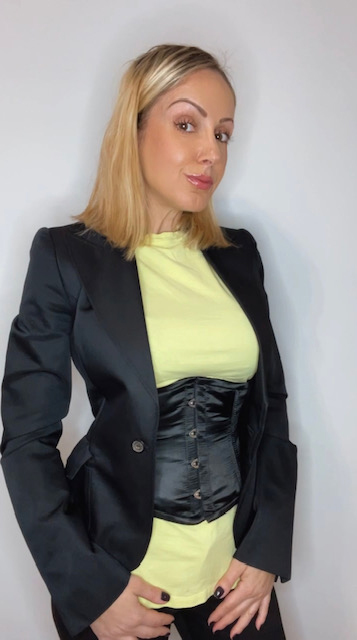 My name is Rachel, I am the owner of Glamorous Corset, a small business founded by me in 2010. Back In 2005, I was in a car accident that left me with a herniated disk. Much to my surprise I learned steel boned corsets were beneficial to several medical injuries including mine. I was always intrigued with corsetry, their history and their beautiful aesthetic. I love sharing knowledge about corsets, educating my wonderful readers and breaking the negative stigma related to corsetry. In combination with my years of research and personal experience I hope my articles are useful and can help anyone who has struggled with some of the same things I have. More about me…