Featured Corset: Dita Black Satin Plus Size Corset
In the Victorian era (and others), women of a particular class were expected to wear corsets as part of their daily attire. These women carried on everyday lives, engaging in regular daily activities with nary a fear that they wouldn't do what they wanted because of their supportive undergarments.
Eventually, corsets went out of fashion in favor of separates (bra and underwear). In the intervening years, it seems that society lost all sense of what corsets could and could not do. Suddenly, women who chose to wear corsets found themselves under much scrutiny amid claims that these devil garments would displace ribs and rearrange internal organs. Burn them, burn them!
Okay, so it maybe wasn't quite that dramatic. Still, for some reason, a simple undergarment meant to provide needed support and compression was singled out as a symbol of female oppression, prompting a wave of misinformation regarding how corsets actually perform. One of the more pervasive myths is that corsets cause your core muscles to atrophy (sigh).
Well, let's get right to it. Is there a connection between corsets and muscles? Can wearing a corset cause your core muscles to weaken to the point of being problematic? Here's what you need to know.
What Causes Muscles Atrophy?
Muscle atrophy is a condition that occurs when thinning, or wasting of the tissue, leads to muscle loss. The most common cause of muscle atrophy is a lack of activity, typically due to a sedentary lifestyle, injury or illness that limits motion (such as a stroke), or being bedridden, just for example. It can also happen if you spend time in a gravity-free setting like outer space, which may be possible in the near future.
The Connection between Corsets and Muscles
Generally, wearing a corset doesn't technically meet the criteria for muscle atrophy because your muscles are still working. You're still sitting, standing, walking, reaching, and performing a hundred other movements that require the use of your core muscles, even though your torso is supported and compressed by a corset.
That said, the way you wear your corset can impact your range of motion and how much you're able to utilize your core muscles. Can this cause some weakening of the muscles? In extreme cases, it is possible, albeit unlikely.
Tightlacing
There are a couple of scenarios in which some measure of muscle weakening is possible. First, it can occur if you consistently lace your corset too tightly. Even among dedicated waist trainers, tightlacing isn't common, but if you spend years tightlacing, there's a chance you may experience some muscle atrophy as a result.
Extended Wear
Corsets and muscles may also intersect when you wear a corset too much; you could start to notice weakening if you remain in your corset around the clock. When waist training, it is recommended that you wear your corset for at least eight hours a day. Some suggest a range of about eight to ten hours for optimal results.
You might think that wearing a corset longer each day will improve results, but this simply isn't the case. When you wear your corset around the clock, you could experience several unwanted outcomes, such as disrupted sleep patterns and excessive wear on garments.
This choice could also cause some muscle weakness when you remove your corset. Because your muscles are never allowed to fully function, they may get tired faster, particularly oblique muscles under the most compression. That said, you're not going to fold like a napkin when you remove your corset. You simply may not have as much strength to perform specific movements without support.
Keeping Your Core Strength While You Waist Train
There's no denying the power of good posture to maintain spinal alignment, improve circulation, and avoid neck and back pain typical to our slouch-ridden society. What you might not know about corsets and muscles is that proper wear could improve muscle tone.
By forcing you to maintain an erect carriage, corsets may actually make your muscles work more than you're used to, mainly if your job entails sitting all day. More importantly, you may find your posture improved even when not wearing your corset because muscle memory causes you to sit and stand straighter.
If you're at all worried about muscle atrophy, consider exercises that strengthen and tone your core without bulking muscles. Yoga and Pilates are excellent choices that complement your waist training regimen and improve overall fitness. When paired with proper waist training practices, you won't have to worry about muscle atrophy associated with corset wear.
---
To stay up-to-date with weekly blog posts, waist training tips, and the chance to win one of our monthly corset giveaways, follow us on Facebook, Instagram & subscribe to our mailing list today! Want to find the perfect steel boned corset? Shop some of our favorites: underbust corsets, overbust corsets, corset dresses. You can also shop our corsets by material: cotton corsets, denim corsets, leather corsets, mesh corsets, pvc corsets, and satin corsets. Have questions about getting started with waist training or finding the right size corset? Contact us!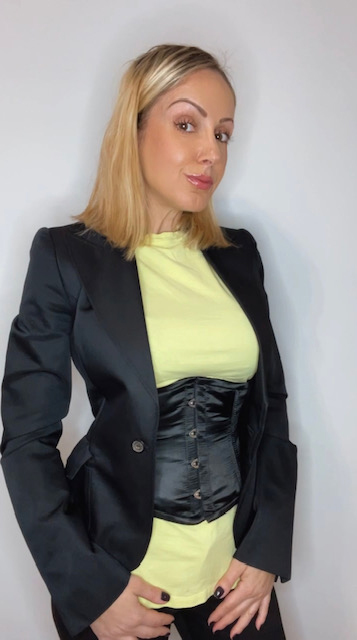 My name is Rachel, I am the owner of Glamorous Corset, a small business founded by me in 2010. Back In 2005, I was in a car accident that left me with a herniated disk. Much to my surprise I learned steel boned corsets were beneficial to several medical injuries including mine. I was always intrigued with corsetry, their history and their beautiful aesthetic. I love sharing knowledge about corsets, educating my wonderful readers and breaking the negative stigma related to corsetry. In combination with my years of research and personal experience I hope my articles are useful and can help anyone who has struggled with some of the same things I have. More about me…