Featured Corset: Gia Black Satin Corset Belt
Corsets come in so many beautiful styles, shapes, and materials that no one can blame you for wanting to try them all — and you should. Wearing a corset as a fashion piece or as a way to show off your lovely curves is fun and stylish, but not all corsets are ideal for waist training.
Many who are new to corset-wearing ask, "Can you waist train with a corset belt?" The short answer is no, mostly — but there are exceptions.
What is a Corset Belt?
All types of corsets are designed to lift the bust, snatch the waist, and give the look of a taut, lithe torso. There are two main types of corsets: overbust and underbust. The corset belt, sometimes called a waspie, is a type of underbust corset. 
Corset belts are small and are often worn on the outside of the clothing as a fashion accessory. Some fashion corset belts do not contain the panels, lacing, or bones that make for a true corset. These types of corset belts can make a great accessory, but they are definitely not suited to waist training.
How Does Waist Training Work? Can You Waist Train with a Corset Belt?
The first step in waist training is to find a corset that fits your body properly. A good fit requires several measurements, including the waist, hip, torso length, and underbust. A trainer that fits correctly should be snug but not uncomfortable. If it pinches or makes it difficult to breathe, it is not the right size or shape, or you have laced it up too tight.
Waist training works by slowly pressing fluids out of the fat tissues in your abdominal area. The firm and consistent compression displaces excess fluid and improves posture, which can lead to health benefits. You'll look amazing the moment you put your waist trainer on, and with continued use, you'll slowly see your waistline begin to shrink.
Spring is another important element in corset fitting. Spring refers to the ratio of the waist circumference to the garment's edges. The edges are the top and bottom of the garment — where it rests at the hips and, in the case of an underbust corset, where it rests beneath the bust.
The amount of spring in a corset affects the shape. Curvier women benefit from a corset with generous spring to accommodate their fuller figures. An Elizabethan period corset, which was made to flatten a woman's curves, is an example of a garment with very little spring.
Waist Training with a Waspie
Waspie corsets are typically no more than eight inches wide. They are traditionally worn to bring focus to and exaggerate the look of a thin waist.
These corsets look amazing worn over clothing like a regular belt, but they can be worn under your clothing as well. They do not provide the same level of breast support or torso control as a longline corset, but including a waspie in your corset collection is never a bad idea.
With fit and structure so important, can you waist train with a corset belt? Corset belts that are only a few inches wide don't provide the coverage needed to create the hourglass shape most corset users are going for.
However, depending on your measurements, a wider corset belt like our six-inch Gia Black Satin Corset Belt could be suitable for effective waist training.
The Gia is a newer addition to the Glamorous Corset waspie collection. It is made from satin that's been fully lined with 100% cotton and waist tape, and it contains all the components of a true corset:
Steel busk
Traditional bi-directional back lacing
16 steel bones
While it won't work as a true waist trainer for every person, the Gia is well suited for anyone with a short or average torso. However, for most people, a corset less than six inches wide will not create the sought-after hourglass shape or fit snugly enough to do its job.
Corset Belts Musts
If you decide to try a corset belt for waist training, don't keep it all to yourself. Instantly transform loose-fitting clothing into curve-flattering fashion by wearing your corset belt on the outside of your clothing.
Can a corset look high-fashion? Try pairing a corset belt over your favorite designer jacket. Stick with monochromatic colors for a more high-end look, and remember not to pile on the accessories. Let your perfectly cinched waist be the center of attention.
---
To stay up-to-date with weekly blog posts, waist training tips, and the chance to win one of our monthly corset giveaways, follow us on Facebook, Instagram, & subscribe to our mailing list and YouTube channel today! Want to find the perfect steel boned corset? Shop some of our favorites: underbust corsets, overbust corsets, corset dresses. You can also shop our corsets by material: cotton corsets, denim corsets, leather corsets, mesh corsets, pvc corsets, and satin corsets. Have questions about getting started with waist training or finding the right size corset? Contact us!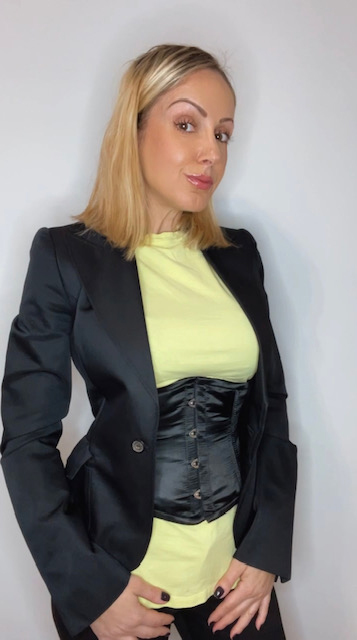 My name is Rachel, I am the owner of Glamorous Corset, a small business founded by me in 2010. Back In 2005, I was in a car accident that left me with a herniated disk. Much to my surprise I learned steel boned corsets were beneficial to several medical injuries including mine. I was always intrigued with corsetry, their history and their beautiful aesthetic. I love sharing knowledge about corsets, educating my wonderful readers and breaking the negative stigma related to corsetry. In combination with my years of research and personal experience I hope my articles are useful and can help anyone who has struggled with some of the same things I have. More about me…