Waist training with steel boned corsets is about more than physical transformation. It also changes the way we perceive our bodies, providing mental and emotional benefits that boost confidence and help us to feel beautiful every day. This is why corsets can be a tool for positive change in your life, especially when undertaking weight loss goals that require persistence. The ongoing support you'll gain with a waist trainer can help to motivate you to continue toward your goals. While significant weight loss may be your desired outcome, you could get more than you bargained for in loose, excess skin as fat melts away. This can be a real blow to your confidence and undermine your ability to move forward and reach your ultimate weight loss goals. When you're dealing with the extra baggage of loose skin around your midsection, it can be hard to feel sexy or look your best in clothing. Luckily, you'll find a solution in the waist trainers you love. Do waist trainers help with loose skin? Here's what you need to know.
Physical Benefits of Waist Trainers
Unfortunately, there's no easy fix for loose skin. Significant weight loss is a major accomplishment, but it can be dampened by the loose, saggy skin that often accompanies this transformation. Whether you're working on toning and tightening or awaiting cosmetic surgery to remove excess skin, you may naturally feel somewhat defeated, and this can lead to backsliding on your weight loss journey. How can waist trainers help? While corsets provide a measure of transformative magic in and of themselves, they do not have the power to shrink loose skin. That said, they can help you to corral your curves so that you feel confident and attractive in whatever you wear. Waist training corsets can be used to support your midsection in a variety of ways, potentially including marshalling excess skin to create the smooth, curved silhouette you crave. You'll have to experiment with different sizes, styles, and springs to accommodate existing curves, but with a bit of effort, you can look and feel beautiful in your body during the weight loss process, until you have the opportunity to remove excess skin.
Psychological Benefits
No matter how proud you are of efforts and persistence, resulting in significant weight loss, the physical reality of living, moving, and dressing yourself with excess skin can have a disheartening effect. You've worked so hard and now find yourself saddled with layers of loose skin that can't easily be hidden under clothing. Using a waist training corset can not only help to improve daily function by supporting your figure and keeping loose skin contained, but it can also have a profound impact on your psyche. When you see the svelte physique you've been working toward, it can boost your morale and provide the motivation you need to reach your overall goals. The mental and emotional effects of weight loss are often overlooked in favor of the physical transformation, but when you have scads of loose skin to contend with, it can definitely have a negative emotional impact and plant seeds of self-doubt in your mind. The right steel boned corsets can help you persevere and feel attractive every step of the way.
Better Than Other Smoothing Options
Let's be honest – the average slimming and shaping garments simply aren't designed to handle the difficulties of excess skin following significant weight loss. Even if they could contain loose skin, they're unlikely to provide the support and shaping needed to create the seductive curves you crave. Corsets are the obvious solution, providing the maximum support you need to regain function and mobility, not to mention the smooth and shapely physique you've worked so hard for.
---
Stay up-to-date with weekly blog posts, waist training tips, and the chance to win one of our monthly corset giveaways, like us on Facebook & subscribe to our mailing list today! Want to find the perfect steel boned corset? Shop some of our favorites: underbust corsets, overbust corsets, corset dresses. You can also shop our corsets by material: cotton corsets, denim corsets, leather corsets, mesh corsets, pvc corsets, and satin corsets.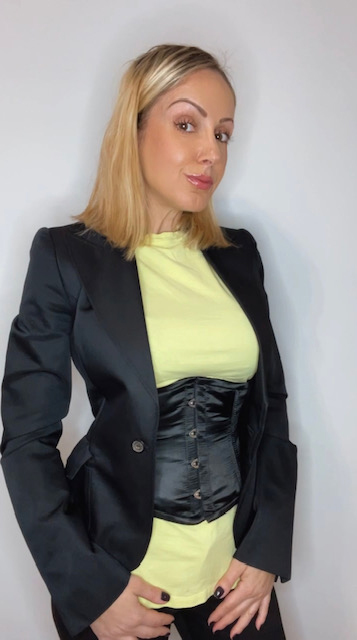 My name is Rachel, I am the owner of Glamorous Corset, a small business founded by me in 2010. Back In 2005, I was in a car accident that left me with a herniated disk. Much to my surprise I learned steel boned corsets were beneficial to several medical injuries including mine. I was always intrigued with corsetry, their history and their beautiful aesthetic. I love sharing knowledge about corsets, educating my wonderful readers and breaking the negative stigma related to corsetry. In combination with my years of research and personal experience I hope my articles are useful and can help anyone who has struggled with some of the same things I have. More about me…