Physiologically speaking, flat tummies are not the norm for adult women.  As we age, put on weight, and go through pregnancy and childbirth, our stomachs are prone to taking on a bit of a pooch.  This isn't to say we can't fight nature with rabbit food diets and crunches galore, but for many women, maintaining the flat stomach of youth is an uphill battle.
Isn't there an easier way?  If you're not keen on liposuction and you still like to eat bread, you might turn to waist training corsets for an alternative solution.  Do waist trainers make your stomach flat, though?  Here's what you can realistically expect when you slip into a steel boned corset in order to transform your midsection.
Can a Corset Make Your Stomach Flat?
The answer to this question is complicated.  In the immediate sense, the answer is yes.  Corsets are designed to deliver support and compression, shaping your body to fit the curve of the garment, to a degree, and holding everything in place with rigid steel boning.  Instant transformation is kind of the name of the game with steel boned corsetry.
The type of corset you choose is important.  A waspie just nips in the waist, so you'll probably need a longline model to compress the entirety of your stomach, extending to the hip and hiding any perceived problem areas.  The compression and support offered by a rigid corset redistributes soft tissue in the midsection to create a more pleasing shape.
In the long term, however, a corset cannot make your stomach flat.  While a waist training regimen can deliver semi-permanent waist slimming results, reducing your waist size by up to several inches over time, corsets do not reduce fat or excess skin, and therefor do not "flatten" your tummy in any permanent way.  When you take them off, the pooch will still be there.
Still, you will smooth your shape and look fantastic in whatever you wear when you start with this corrective foundation.  In addition, wearing a corset, especially a longline model, will improve your posture by forcing you to stand and sit upright, which will further slim and elongate your body lines.  The end result will be the appearance of greater height, a slimmer physique, feminine curves, and a flat belly, all of which help you to look and feel your best every day.
The Psychology of Waist Training
While a corset can only flatten your stomach temporarily while you're wearing the garment, you'll gain more than physical benefits from donning this supportive shapewear.  When you look in the mirror and see the attractive, feminine form you prefer, it will boost your self-esteem and help you to face the world with confidence.
Most people don't put on a corset with the intention of feeling a sense of empowerment.  They're simply seeking a solution to a physical conundrum.  As a result, you're going to get a lot more than you bargained for when you slide into a steel boned corset and cinch up the lacing.
If you're really trying to achieve a flat stomach after weight gain or pregnancy, a corset can help you to reach weight loss, toning, and tightening goals not in a physical sense, but through mental and emotional support.  Motivation is a major factor in successful weight loss, which requires perseverance above all else.
When you're working hard to stick with a diet and exercise routine and you're not seeing the rapid results you hoped for, it's easy to get discouraged and fall off the wagon.  Donning a corset to instantly reshape your body in the meantime can show the results you're seeking and give you the impetus you need to keep working toward more permanent weight loss and body shaping goals.
When you need a morale boost following pregnancy and childbirth that leaves you with a natural tummy pooch, you'll get it from a corset that returns your body to the svelte silhouette you recognize as your own.  If you want to know how great you'll look when you shed unwanted pounds, your corset can give you a sneak preview.
It's not always easy to feel good about our bodies in a society hell bent on telling us that the natural female body shape doesn't conform to beauty standards.  If only we could airbrush ourselves, maybe we'd have a chance!  In the meantime, achieving your own body shaping goals is made easier with the aid of a steel boned corset that flattens your stomach and contours your curves.
---
Stay up-to-date with weekly blog posts, waist training tips, and the chance to win one of our monthly corset giveaways, like us on Facebook & subscribe to our mailing list today! Want to find the perfect steel boned corset? Shop some of our favorites: underbust corsets, overbust corsets, corset dresses. You can also shop our corsets by material: cotton corsets, denim corsets, leather corsets, mesh corsets, pvc corsets, and satin corsets.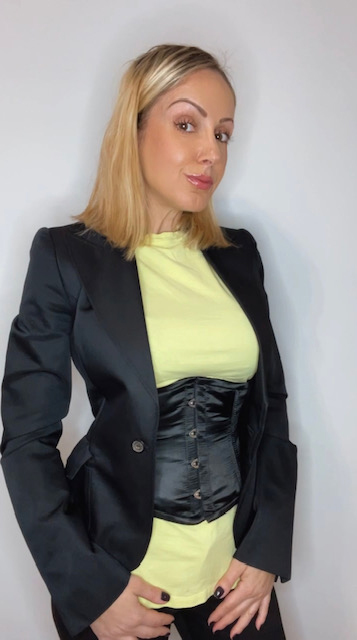 My name is Rachel, I am the owner of Glamorous Corset, a small business founded by me in 2010. Back In 2005, I was in a car accident that left me with a herniated disk. Much to my surprise I learned steel boned corsets were beneficial to several medical injuries including mine. I was always intrigued with corsetry, their history and their beautiful aesthetic. I love sharing knowledge about corsets, educating my wonderful readers and breaking the negative stigma related to corsetry. In combination with my years of research and personal experience I hope my articles are useful and can help anyone who has struggled with some of the same things I have. More about me…