Featured Corset: Lara Beige Mesh Corset
Some questions are meant to be rhetorical, and others have long complicated answers. Then, there are questions that have a simple, straightforward answer designed to make your life incredibly easy. Can a corset reshape your body? Yes! Of corset can! Sorry, that just slipped out.
Reshaping is the whole purpose of a waist-training corset. It's meant to slim your waistline, smooth your torso, and in some cases, create the voluptuous, feminine, hourglass figure Mother Nature neglected to provide.
With that being said, it's not something that happens overnight. To see results, you'll have to take an informed approach to waist training. Here are a few tips to get the reshaping you want when you wear a corset.
How Can a Corset Reshape Your Body?
Like bras, corsets are support garments, but first and foremost, they're designed for compression. A waist-training corset has several features you won't find in your average brassiere, or in a fashion corset, for that matter.
Steel boning is the primary support structure of this garment, and there are several robust bones spaced across the expanse of your corset. These are tucked into secure channels separated by panels of resilient fabric such as cotton, satin, mesh, or leather, for example.
Finally, the garment is secured with strong closures, including steel busks in the front and lacing in the back to tighten the corset to your satisfaction. What does all of this do for your shape? Once the garment is under tension, it causes your body to conform to its shape, as determined by the aforementioned steel boning.
While there are limits to how much your corset can shape your midsection right out of the gate, you can achieve more pronounced results with long-term wear, called waist training.
Steps to Achieving the Shape You Prefer
Our bodies are always changing. We gain and lose weight. As we age, our shape and weight distribution can change, especially following pregnancy. Things will eventually start to succumb to the tyranny of gravity.
There are all kinds of support and compression garments to combat the impact of life on your body, but only a corset is designed to deliver significant changes. To achieve a new shape, you'll have to make a few informed decisions.
Choose the Right Corset
A couple of factors will determine the right corset for your purposes. First, you need to understand what works for your body. If you have a short torso, for example, a longline model is not your friend. If your body type is athletic, with a rectangular torso, a pronounced spring will likely result in gaps at the top or bottom of your garment or both.
The right corset needs to fit the body you have right now, with the option for incremental changes. There are charts to help you out, but the place to start is with accurate measurements (underbust, waist, hip, and torso length), and if you have trouble, contact professionals to help you find the perfect corset to reach your goals.
Create a Waist Training Schedule
Once you've got a couple of great corsets in your closet, it's time to create a waist-training schedule. After all, how can a corset reshape your body if you don't wear it?
When you first put on your corset and start waist training, you can reasonably tighten to trim the waist 1-2 inches, seeing instant results that drive your motivation to continue.
You'll start by wearing it just a couple of hours a day and then incrementally increase the length of daily wear as you feel comfortable doing so. It may take a few days or a few weeks to work your way up to the recommended eight hours of wear that waist training requires (or more, depending on your preference).
From there, you'll start incrementally cinching down. The standard is about one-half to one inch at a time, with at least several days or even a few weeks of wear before you cinch more.
Again, there's no set time here – do what feels right for you. Just put safety first and ease off if you have issues like difficulty breathing, discomfort, chafing, or a significant impact on daily activities.
Set Realistic Goals
A good goal to start with is a reduction of 2-4 inches, and if you have some success and want to keep going, you can always move the goalpost. Keep in mind, though, that there's only so much give in your body, especially if you're slim to start with.
For some women, weight loss paired with waist training can yield incredible results, but you should always listen to your body. If you're in pain, you're probably doing something wrong, and it's best to take a step back, reassess, and possibly change your goals. Remember, waist training is a marathon, not a sprint.
---
To stay up-to-date with weekly blog posts, waist training tips, and the chance to win one of our monthly corset giveaways, follow us on Facebook, Instagram & subscribe to our mailing list today! Want to find the perfect steel boned corset? Shop some of our favorites: underbust corsets, overbust corsets, corset dresses. You can also shop our corsets by material: cotton corsets, denim corsets, leather corsets, mesh corsets, pvc corsets, and satin corsets. Have questions about getting started with waist training or finding the right size corset? Contact us!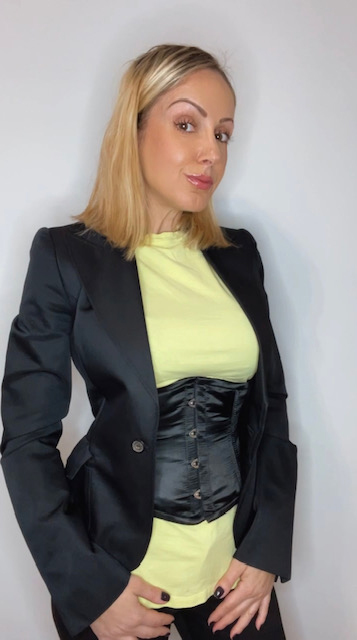 My name is Rachel, I am the owner of Glamorous Corset, a small business founded by me in 2010. Back In 2005, I was in a car accident that left me with a herniated disk. Much to my surprise I learned steel boned corsets were beneficial to several medical injuries including mine. I was always intrigued with corsetry, their history and their beautiful aesthetic. I love sharing knowledge about corsets, educating my wonderful readers and breaking the negative stigma related to corsetry. In combination with my years of research and personal experience I hope my articles are useful and can help anyone who has struggled with some of the same things I have. More about me…