Featured Corset: Bella Black Mesh Corset
You wear a bra under your shirt, panties under your jeans, and socks inside your shoes (one would hope). However, a corset is designed as an undergarment, albeit one with expansive coverage. Do you even need to wear something under it?
As it happens, waist training corsets, which are intended for 8+ hours of daily wear, typically include an inner lining to protect both your skin and the garment. Even so, you may find it more comfortable to have your preferred material touching your skin, and even with a lining, a little extra protection could increase the longevity of your garment.
The next question, then, is what to wear under a corset. The good news is you have a few options to explore.
Why It's Important
Before we dive into what to wear under a corset, let's take a second to discuss why this is important.
Socks keep grime and sweat from your feet from seeping into your shoes and protect your toes from chafing and potential issues like foot fungus. In the same way, an extra layer between your skin and corset is good for both your torso and your garment.
If you're a fan of having a blemish-free face, you probably already know that sebum (oil) emerges from pores to keep skin hydrated. We also sweat and experience cellular turnover, creating an outer layer of dead skin cells (essentially dander). When you wash your face daily, you slough all of this away to create smooth skin and clean pores.
Donning a compression garment like a corset is similar to wrapping the same Ace bandage around your face every day, collecting sebum, sweat, and skin cells along the way.
Because corsets aren't meant to be washed daily, wearing a lining of some sort can really cut down on the gross factor and help to protect your garment from bodily fluids that might prematurely break down fibers. You'll also add a layer of protection for the skin to prevent chafing, rashes, and other potential discomfort.
What to Wear Under a Corset
Now that you know why you should add a second layer, it's time to consider what will work best. There are two great options – tank tops and liners made specifically for corsets.
Tanks
If you're the casual sort that likes multi-purpose clothing, you'll be happy to hear that your average cotton or jersey tank top makes for a decent liner under your corset. Most people already have some tanks on hand, or you can find them for just a few bucks when you hit up sales at most casual clothing stores.
Best of all, they come in many colors, so you can match them to corsets or make stealthing easier. You can also use a silky camisole if you prefer, but be aware that you could sweat quite a bit and ruin it.
Liners
What if you don't want a lining in between your corset and your bra? While some ladies would be fine with a tank with a built-in bra, you may prefer a corset liner in conjunction with a more supportive bra.
These tubes are typically soft, stretchy, seamless, and designed to cover your torso from the hip to the underbust area. Liners also work great when you want to go strapless.
Corsets as Outerwear
Regarding what to wear under a corset, you can expand your options by skipping the stealth and turning your undergarments into outerwear. This is easy enough if you like a waspie, as it can double as a wide belt at your natural waist. Worn with skirts, slacks, or even a cardi, it's a great way to embellish a wide range of outfits.
Longer underbust corsets look super cute over casual tanks, tees, blouses, and shirt dresses, elevating all kinds of outfits. Overbust corsets are a fitting (and fitted) choice for office-appropriate outfits that include, say, an Oxford or blouse with a blazer.
With shoulder straps, your corset can even serve some sexy vest realness. All you need to do is experiment with your wardrobe to find the looks that make you feel beautiful, confident, and comfortable every day.
---
To stay up-to-date with weekly blog posts, waist training tips, and the chance to win one of our monthly corset giveaways, follow us on Facebook, Instagram & subscribe to our mailing list today! Want to find the perfect steel boned corset? Shop some of our favorites: underbust corsets, overbust corsets, corset dresses. You can also shop our corsets by material: cotton corsets, denim corsets, leather corsets, mesh corsets, pvc corsets, and satin corsets. Have questions about getting started with waist training or finding the right size corset? Contact us!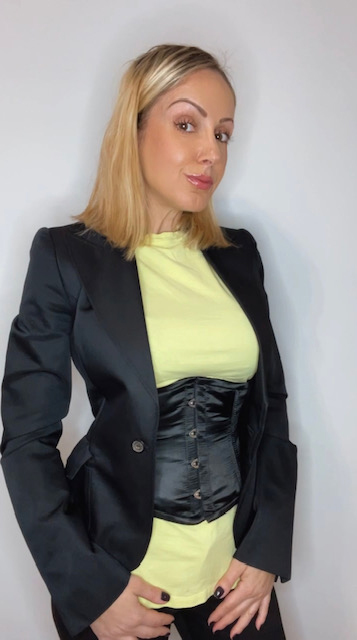 My name is Rachel, I am the owner of Glamorous Corset, a small business founded by me in 2010. Back In 2005, I was in a car accident that left me with a herniated disk. Much to my surprise I learned steel boned corsets were beneficial to several medical injuries including mine. I was always intrigued with corsetry, their history and their beautiful aesthetic. I love sharing knowledge about corsets, educating my wonderful readers and breaking the negative stigma related to corsetry. In combination with my years of research and personal experience I hope my articles are useful and can help anyone who has struggled with some of the same things I have. More about me…