Seasoning your corset is less like putting the right amount of salt on your steak and more like lovingly wiping and oiling your cast iron skillet to build up a tasty patina over the course of weeks, months, or in some cases even years.
The good news is, it shouldn't take nearly as long to season your corset as your skillet.
In fact, it could take as little as just a few days of wear to season your corset, especially if you're a seasoned pro yourself.
However, seasoning a corset is no more a one-size-fits-all proposition than choosing the perfect corset.
It varies by a number of factors, from the materials used, to the type of construction, to the style of corset, to your own tolerance for breaking in new shapewear.
The question many women ask when first starting out with corsetry, whether they're simply dipping their toes in the water for an upcoming wedding or diving in headfirst with waist training, is how you know when your corset is seasoned enough to wear throughout the day and begin tightening in earnest to reach your waist size goals.
Again, this is subjective and the experience will vary from one woman and corset to the next.
That said, you don't need to be completely in the dark.
You're sure to develop your own criteria for gauging that "seasoned" feel, but there are a few hallmarks of a well-seasoned corset you can look for along the way.
Here are some tips for figuring out when your corset has had enough seasoning and is ready for you to fully enjoy.
No More Tenderness
When you first shimmy into a new corset and start to lace it up, you're sure to notice that the fit is…well, not quite right.
This can be of some concern to newbies to waist training, especially after meticulously taking measurements to get precisely the right size.
Do not fear – corsets are born stiff, but made to soften with use.
Steel boning, rigid construction, and robust textiles are all meant to last over the long haul, providing you with maximum use value.
Early on, however, it can take a bit of time to conform these garments to your particular contours.  Hence, the seasoning process.
If you've found seasoning tutorials, you know that you're not supposed to lace your corset too tightly until it's seasoned.
That said, it does need to be snug if you want it to start to mold to your personal proportions.
In the beginning, it may not be uniformly fitted.  This takes time, and in the meantime, you could feel some discomfort and tenderness in certain spots during and after wear.
If, for example, you have a relatively straight torso and you purchased a corset with a pronounced spring (a nipped-in waist, as opposed to flaring bust and hip areas), you're sure to feel some pinch around the waist until your corset gets used to your body, and vice versa.
One way you know your corset is seasoned is when you stop feeling tenderness and the garment feels comfortable all around, even when snugly laced.
Snug Fit All Around
When you first put on a new corset, it's not unusual to have pinching in some areas and gaps in others.
You may discover, much to your dismay, that you can fit more than a finger or two into the top or bottom edges of your corset due to significant gaps.
As you season your corset, midsection tenderness will ease and the gaps will disappear, giving you an overall snug fit that makes you feel like you're slipping into a glove when you don your new corset.
Comfortable, Relatively Unrestricted Wear
At first, you might feel like your body is in an epic battle with your corset.
As you try to move around in this uncomfortable and restrictive shell, you may notice not only some chafing or tenderness, but also muscle soreness related to sitting in an unnaturally stiff posture.
This will ease as your corset molds to fit your curves and becomes the truly one-of-a-kind garment you need for waist training.
Within a few days or a couple weeks of wear (depending how long you wear it daily, how much you tighten, etc.), your corset should start to feel a lot less stiff and inflexible.
As a result, your body will begin to relax into it, further enhancing the seasoning process.
In short order, wearing your corset will feel much less intrusive and more natural.
Seasoning a corset could take as little as about 10 hours of wear (just about a week) or it might take up to 100 hours.
Different corsetiers will have different recommendations, and again, it could depend on a variety of factors.
However, when you feel comfortable in your corset, you'll know.
Then you can jump into your waist training regimen with confidence.
---
Stay up-to-date with weekly blog posts, waist training tips, and the chance to win one of our monthly corset giveaways, like us on Facebook & subscribe to our mailing list today! Want to find the perfect steel boned corset? Shop some of our favorites: underbust corsets, overbust corsets, corset dresses.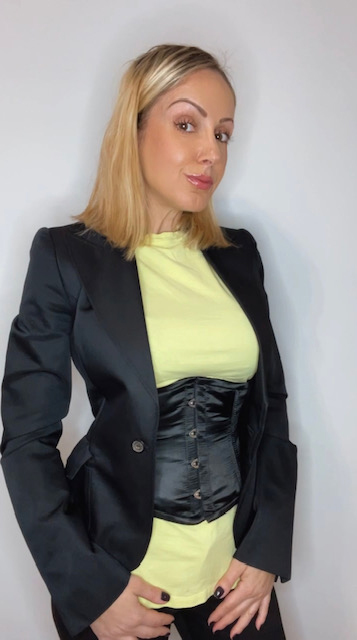 My name is Rachel, I am the owner of Glamorous Corset, a small business founded by me in 2010. Back In 2005, I was in a car accident that left me with a herniated disk. Much to my surprise I learned steel boned corsets were beneficial to several medical injuries including mine. I was always intrigued with corsetry, their history and their beautiful aesthetic. I love sharing knowledge about corsets, educating my wonderful readers and breaking the negative stigma related to corsetry. In combination with my years of research and personal experience I hope my articles are useful and can help anyone who has struggled with some of the same things I have. More about me…