If you're at all interested in traditional, waist training corsetry, you probably have some ideas about what to look for in a good corset already.
For starters, you know you need rigid, steel boning instead of the plastic stuff found in costume corsets if you want to get the waist-nipping, tummy-taming properties corsets are known for.
You may also know that true waist training corsets have heftier hardware, including busks, whereas fashion corsets generally rely on cheap hook and eye closures that will bend or pop off should you tighten your corset too much.
Naturally, the fit and aesthetic qualities of the garment will also rank high on your list of priorities when purchasing a new corset.  You want it to look and feel great!
Still, there are a few things you'll want to focus on if you're planning to start a waist training regimen and wear your garment for hours each day.
The devil is in the details, and since the last thing you want is to feel like you're in a hellish torture device, you really need to learn about the details you didn't know to look for in a corset.
Quality Textiles
The good news is that most corsets with steel boning are going to be built to last, which means they'll come with high-quality textiles designed to weather wear and tear.
Still, you'll want to look for sturdy canvas, satin, brocade, leather, and so on to make sure you get maximum use value out of your pricier, high-end corsets.
Another must-have is interior lining.
This helps to protect your skin from the pressure and friction of exposed boning channels, while also protecting the inner workings of your garment from sweat and body oils that can lead to early deterioration.
Cotton coutil is the most common fabric used for lining, but it isn't the only option.  It just happens to be more durable than, say, silk.
Boning Spacing
Believe it or not, there is no single formula for determining the spacing of boning channels in a corset.
This can make it difficult to know what to look for.
What you need to know right off the bat is that more boning is not always better. It could just add more expense and weight to your garment.
The best thing you can do when you start waist training is try out a couple of different models.
Get yourself a single boned and a double boned corset to see how they fit and the level of support and compression they provide.
Some wearers prefer the added cinching power of double boning while others find the extra boning decidedly uncomfortable, so you'll have to see what works best for you.
Grommet Spacing
You might look at a hundred corsets and never notice that the grommets are spaced differently, but while some are uniformly spaced, others space grommets nearer the waistline closer together for added strength and durability.
This is really only necessary if you're a serious tightlacer, so don't think you have to look for this feature specifically.
Sturdy all-around construction helps to evenly distribute pressure across grommets for standard waist training purposes.
Spring
Until you've been waist training for a while, the spring of your garment, or the difference between the girth of the waist and the hip, might not make a huge difference.
It will depend somewhat on your natural shape, as well as the dimensions you're hoping to attain during the course of your waist training, but it will certainly become a more important factor in purchasing corsets as you get further along in your waist training journey.
Visible Details
Do the patterns on the panels line up to create an unbroken image?
Do the boning channels seem to bunch up during wear?
Is the waist clearly defined before wear or does the garment look more like a cone?
Good corsetiers pay attention to every detail, and this is how you know you're getting a comfortable, durable, dependable garment that's worth every penny.
---
Stay up-to-date with weekly blog posts, waist training tips, and the chance to win one of our monthly corset giveaways, like us on Facebook & subscribe to our mailing list today! Want to find the perfect steel boned corset? Shop some of our favorites: underbust corsets, overbust corsets, corset dresses. You can also shop our corsets by material: cotton corsets, denim corsets, leather corsets, mesh corsets, pvc corsets, and satin corsets.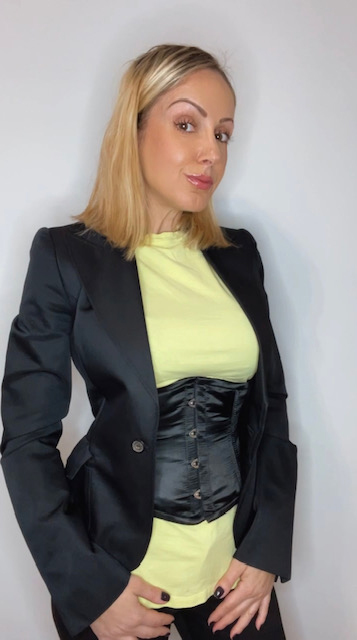 My name is Rachel, I am the owner of Glamorous Corset, a small business founded by me in 2010. Back In 2005, I was in a car accident that left me with a herniated disk. Much to my surprise I learned steel boned corsets were beneficial to several medical injuries including mine. I was always intrigued with corsetry, their history and their beautiful aesthetic. I love sharing knowledge about corsets, educating my wonderful readers and breaking the negative stigma related to corsetry. In combination with my years of research and personal experience I hope my articles are useful and can help anyone who has struggled with some of the same things I have. More about me…