We all know that corsets were initially intended to be worn under clothing, which puts them solidly in the realm of undergarments, and by extension, lingerie.
Of course, the corsets of old were largely functional, and not necessarily designed for flaunting.
Women weren't running around their boudoirs, intent on flashing white, canvas corsets to get the hearts of their paramours racing.
You could call these corsets the granny panties of the era – entirely functional with very little flair.
Luckily, the ladies of the Victorian era were looking for something a little more sumptuous when it came to their precious underpinnings.
Instead of relying on plain cotton, women started spicing up their support garments with exotic fabrics and luxurious embellishments.
In design, it is said that form follows function, and this was definitely the case with corsets, which evolved over hundreds of years to become the glorious garments they are today.
So, what's the deal with modern corsets? Are they merely flashy lingerie, meant to fan the flames of romance?
Or are they, at their heart, still the utilitarian garments designed to streamline the waist and create a svelte and feminine physique under clothing?
Here's what you should know.
The Corset Revival
As you probably know, there was a vast gap in the 20th century where women forsook corsets, girdles, and other constraints in favor of smaller and less restrictive brassieres.
With new clothing styles coming into fashion and demanding barely-there undergarments, corsets simply fell out of favor.
You can thank Madonna for the comeback and reimagining of corsetry.
The nineties saw her pairing outlandish costume corsetry with menswear to create a high-art commentary on gender stereotyping.
This, however, kicked off a new trend in corsetry: corsets as outerwear.
Fun and Flirty Corsets
Suddenly everyone was making corsets, from lingerie boutiques like Victoria's Secret and Agent Provocateur, to high-end fashion labels like Jean Paul Gaultier (who made them for Madonna).
This trend had one unfortunate consequence, however.  It served to muddy the waters of what a corset actually is.
The growth of fashion corsets in the nineties and beyond created a confusing landscape for lovers of this long-lived garment.
However, it's easy to spot the differences between costume corsetry, meant purely for fun and fashion, and traditional corsets designed for waist training.
Costume corsetry is inexpensive and clearly not designed to provide the same compression and support as a traditional corset.
It features plastic boning, more for looks than shaping, along with low-grade textiles that are likely to tear if you over-tighten.
Functional Waist Training Corsets
The good news is, traditional corsets made a comeback right along with fashion garments.
Many women became interested in the classic appeal of corsetry as a means of trimming the waistline and looking fabulous.
Thanks to the overlap in function and fashion, modern waist training corsets featuring robust fabrics, steel boning, and proper hardware (busks, as opposed to hook and eye closures common to costume corsets) are now widely available.
They cost more than costume corsetry, but they also provide substantially greater function.
Since they're so attractive, they can also be worn both under and over clothing, depending on the look you're going for.
Are they lingerie? They're whatever you want them to be.
---
Stay up-to-date with weekly blog posts, waist training tips, and the chance to win one of our monthly corset giveaways, like us on Facebook & subscribe to our mailing list today! Want to find the perfect steel boned corset? Shop some of our favorites: underbust corsets, overbust corsets, corset dresses. You can also shop our corsets by material: cotton corsets, denim corsets, leather corsets, mesh corsets, pvc corsets, and satin corsets.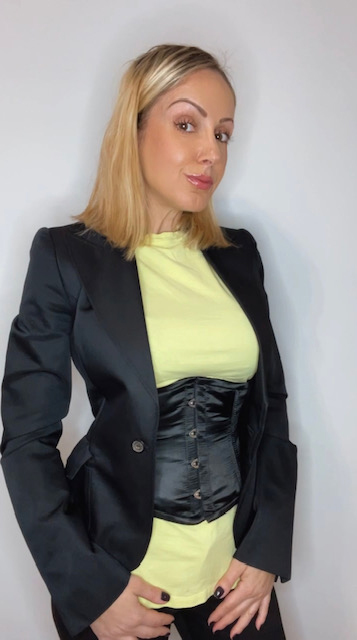 My name is Rachel, I am the owner of Glamorous Corset, a small business founded by me in 2010. Back In 2005, I was in a car accident that left me with a herniated disk. Much to my surprise I learned steel boned corsets were beneficial to several medical injuries including mine. I was always intrigued with corsetry, their history and their beautiful aesthetic. I love sharing knowledge about corsets, educating my wonderful readers and breaking the negative stigma related to corsetry. In combination with my years of research and personal experience I hope my articles are useful and can help anyone who has struggled with some of the same things I have. More about me…