What is steel boning in a corset? Why use steel boning for waist training? Here's a quick 101 on the steel boning in a steel boned corset.
What are Bones in a Corset?
Bones are long, thin rods that provide the rigid structure of a corset. They are called bones because they were originally made from whale bones. These days, you can find versions made of steel, plastic, and other materials, but steel boning is preferred for waist training. Bones are held in place by channels sewn into the fabric of the corset.
Why Use Steel Boning?
Today, steel is still favoured for high-quality corsets. Plastic bones do not have the strength required for tightlacing and are known to warp and bend, often in unflattering ways. Many modern bodices, strapless gowns and lingerie use a variety of plastic boning because it is much cheaper. So if you're looking to use a corset for authentic waist training, it'll require an authentic steel boned corset.
What are the Different Types of Steel Boning?
Modern steel bones come in two basic varieties: "flat" steel boning (sometimes called just "enamel" or "rigid" boning) and "spiral" steel boning. Spiral boning is flattish but thicker than flat boning because of the tips required on the ends. Flat boning bends in only one direction, while spiral steel boning bends easily in two directions. Spiral steel boning may thus be used on curved channels or where a more gentle support is acceptable.
Flat Steel Boning
Flat steel boning is made by stripping steel sheets, then carefully rounding the sharp edges. As a result, flat boning isn't "poky," as you might expect, but it is very rigid. This provides strong support for your abdomen and back while waist-training. For those who are wearing corsets to help with back pain and posture, the inflexibility of steel bones will go a long way in helping to form firm muscles.
Spiral Steel Boning
Many people imagine a spring when thinking of spiral steel bones, but they are actually flattened coils. These coils are more flexible than flat steel bones, which gives the wearer more mobility. As a result, corsets made entirely of spiral steel bones are often preferred by dancers and stage performers.
Other Useful Resources
---
Stay up-to-date with weekly blog posts, waist training tips, and the chance to win one of our monthly corset giveaways, like us on Facebook & subscribe to our mailing list today! Want to find the perfect steel boned corset? Shop some of our favorites: underbust corsets, overbust corsets, corset dresses. You can also shop our corsets by material: cotton corsets, denim corsets, leather corsets, mesh corsets, pvc corsets, and satin corsets.
Sources:
https://en.wikipedia.org/wiki/Bone_(corsetry)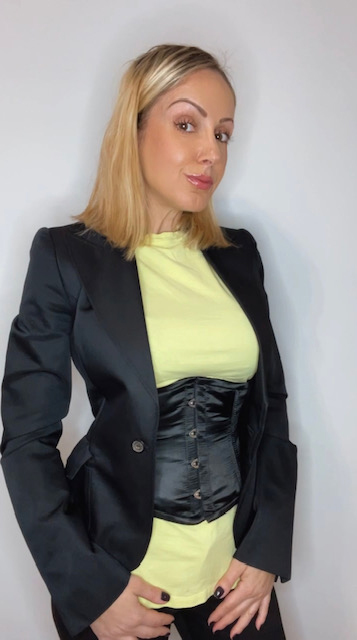 My name is Rachel, I am the owner of Glamorous Corset, a small business founded by me in 2010. Back In 2005, I was in a car accident that left me with a herniated disk. Much to my surprise I learned steel boned corsets were beneficial to several medical injuries including mine. I was always intrigued with corsetry, their history and their beautiful aesthetic. I love sharing knowledge about corsets, educating my wonderful readers and breaking the negative stigma related to corsetry. In combination with my years of research and personal experience I hope my articles are useful and can help anyone who has struggled with some of the same things I have. More about me…