This article was first published by Ayana on The Vintage Guidebook, Your fashion and lifestyle guide, with a twist from the past.
Featured Corset: Lara Black Cotton Corset
We've all seen photos of '50s actresses and wondered HOW on earth they could have such an exaggerated hourglass shape in an era before #gymlife?
The answer is…they didn't!
Whereas past societies seemed to understand that its far easier to achieve a great body by simply faking it with accessories rather than actually altering your body to fit some arbitrary ideal, today we spend hours working out, thousands of dollars on diet teas and shakes, and way too much gas driving to yoga and pilates classes all to look "good" (because let's be honest, most people don't care about being all that fit- just hot).
This thinking would have been completely foreign to people in the 1950s. How could one possibly change their entire body just to look on-trend. That'd be crazy! No no- it's far easier to buy things to place on your body to mold it properly and then let yourself go when you're at home (guess some things never change).
Beyond cosmetic purposes, corsets can also be quite supportive, especially for bustier women. And since I spend a lot of time sitting at a desk, posture is very important to me; anything that keeps me from hunching over by the end of the day is a win.
As someone also interested in historical fashion, the idea of corsetry to give one a desired shape has long since intrigued me but they can be tricky to fit at home and are too expensive an investment to buy on the fly. Then one day, Glamorous Corset approached me and asked if I would like to try one of their corsets, the pièce de resistance for any '50s queen (Would I???) If you're someone is also intimidated but cautiously curious about corsetry, here was my experience with them:
About the brand
Glamorous Corset is a New York based, woman-owned small business dedicated to selling steel-boned corsets worldwide in a broad range of shapes and sizes. They do not claim to be 100% historically accurate reproductions, but can serve for a variety of needs such as providing a historical-inspired silhouette, costumes, or waist-training. They are available 7 days a week for questions about sizing or fit- a must for anyone new to corsetry!
The corset arrived within about a week with minimal packaging. A cardboard mailer and velvet pouch with a little paper booklet were all I received and frankly that's all anyone really needs?. There are countless videos and blog posts on their site that explain how to try on and how to ensure a proper fit to begin "seasoning" your new corset.
Packaging
First Impressions
I was given the Lara corset in black which currently retails at $89 USD, is made of 100% cotton- the best fabric choice (in my personal opinion) if you're going to wear something with some weight to it.
The corset is substantial but not heavy, and provides ample support for both bust and back. The sturdy corded ties and cotton body were comfortable against the thin tees I wore underneath when I first tried it on. I had to go back and forth a bit with my measurements to find the right size as I don't have a proportionately sized torso (most people don't- it's fine!).
As someone who is naturally thin but not particularly curvy, I was hoping for something that would help support my back during long hours at my computer. Okay, okay- and alllllllso give me that 1950s "wasp waist" that was the envy of every Marilyn Monroe wannabe both before and since under all my clothes.
Ok fine, but how did it wear???
Now, I won't lie. Getting into this…was a learning curve. It's best if you can get a friend to help you put it on initially because it's a bit of challenge to get that snug fit while also holding it up. But after a while it becomes second nature and I could get in and out of it unassisted in just a few minutes.
A corset kind of feels like a very snug vest. It shouldn't be painful to wear or impede your ability to breathe or move. If it hurts, take it off immediately and try again- a properly fitting corset should NOT hurt.
I first put this on over a T-shirt underneath my regular clothes to "season" it for about 2 months, wearing it starting for about 20 minutes and then gradually increasing the time each day.
Although I believe you could tight-lace this corset if you wanted to, I pulled it just tight enough to give me some "shape" but not enough to restrict breathing or movement for the sake of a tiny midsection. You likely won't have the same full range of motion you're used to though, but I found I quickly adjusted to this- make sure you put on any bottom clothing before the corset- trust me! It also wore very well over a plain slip, in case you wondered about how it fares against non-loungewear.
Make sure to tie those knots! You don't want this loosening up on you easily. The Lara will definitely give you curves if you have none, but be warned- this is not a tummy-flattener so just know that beforehand (if you're wearing anything with a pencil skirt, think again).
However, Glamorous Corset has beautiful craftsmanship, customer service, and a simple-yet-elegant aesthetic that is multi-purpose: for costuming, for performing, for shapewear, for historical reenactments (although as I've said, it's not 100% accurate, it does get you there better than a regular bra and panties)- or for anything else you can think of where you want a coke-bottle shape!
I wholeheartedly recommend this company for your corsetry needs. The price is relatively affordable (well, you know, by those of us who blow our money on vintage shapewear in the first place, oops!), and they were such a joy to work with for someone who's an absolute beginner. Any of their corsets would be the perfect Ren Faire essential, pirate accessory, or (hint, double hint) holiday gift!
Have you ever worn a "real" (i.e. not from Party City haha) corset? Did you feel similar to my experience? After this review, are you brave enough to try one out?
---
To stay up-to-date with weekly blog posts, waist training tips, and the chance to win one of our monthly corset giveaways, follow us on Facebook, Instagram, & subscribe to our mailing list and YouTube channel today! Want to find the perfect steel boned corset? Shop some of our favorites: underbust corsets, overbust corsets, corset dresses. You can also shop our corsets by material: cotton corsets, denim corsets, leather corsets, mesh corsets, pvc corsets, and satin corsets. Have questions about getting started with waist training or finding the right size corset? Contact us!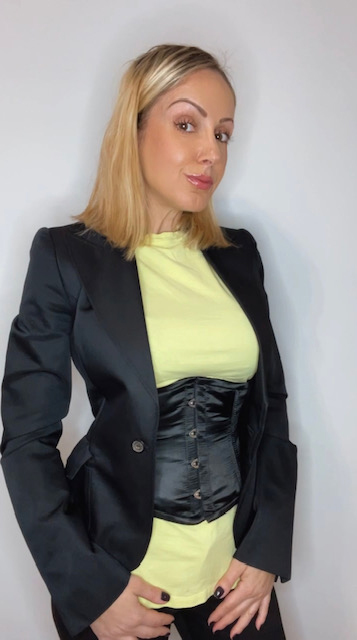 My name is Rachel, I am the owner of Glamorous Corset, a small business founded by me in 2010. Back In 2005, I was in a car accident that left me with a herniated disk. Much to my surprise I learned steel boned corsets were beneficial to several medical injuries including mine. I was always intrigued with corsetry, their history and their beautiful aesthetic. I love sharing knowledge about corsets, educating my wonderful readers and breaking the negative stigma related to corsetry. In combination with my years of research and personal experience I hope my articles are useful and can help anyone who has struggled with some of the same things I have. More about me…