In this video, A Very Vintage Darling shares her experience trying on and reviews the Jade Curvy Black Cotton Corset from Glamorous Corset.
I am genuinely so excited. This is the first video I have had the motivation to film for literally months. I think, the last video I filmed was September and I haven't even gotten around to editing and doing all of that yet. I don't want to make this intro too long. But I did just want to say a massive, massive thank you to the people who reached out while I've been on a break for personal reasons. People who, I know I was still uploading some content on my Instagram and on my TikTok especially, but people who reached out and said that they missed seeing my YouTube videos and that they really liked them. And that they were hoping that there would be more of them soon. And that means the absolute world to me. I know I am such a small creator. But the idea that people would enjoy and miss my content when I don't make it, it's so amazing. So, I'm really, really hoping to get back to making more YouTube content, more regular content, actually uploading the content, and yeah. Thank you so much to everyone who watches my channel as always. And I am on my tippy toes when I should just be moving the camera frame down.
So, today's video is a super exciting one. It is going to be my first try on of my amazing new, I got it delivered two months ago, corset that I am so excited to say was actually gifted to me by the amazing company, Glamorous Corset.
Glamorous Corset is a New York based corset brand who do a load of really, really amazing corsets. And they reached out to me online and said that they really liked my content and that they would love to send me a corset to try out and make some content and make a video about. And of course, I was amazed. Super, super stoked. And super, super honored that they'd want to work with me. Thank you so, so much Glamorous Corset for sending me this corset and I'm sorry this video is s lightly late. But we are going to give it a go.
So, there are lacing instructions in this corset guide, that arrived with the corset, that shows you step by step how to lace it. Although they do arrive pre laced anyways. But if you want to lace it yourself, you can. And also, how you put on your corset, how to season it, and how to clean it.
So, I have never worn a full corset before. I have one like [inaudible 03:11] and also body shapers like this, cincher from What Katie Did. I will leave this in a link below. I do have two of those, but I can't find the other one.
But I have never actually worn just a full corset. I did used to have a What Katie Did sort of all in one but that was, I can't remember what they are called, but like a Marry Widow style where it had the bra and slightly corseted body. But it wasn't laced. You couldn't really adjust the fit or anything.
So, this is the first corset that I have had that you can adjust to your own body shape. I sent them my measurements and they decided that the Jade corset I believe, in 24 inch would be the best fit for me, which comes in black, which is very, very pretty. They do have some pretty colored corsets. But they said that that one they thought would be the best for me, especially since it was my first time. And I'm really nervous. So, let's just get on doing this.
So, the corset is laced. I have left it slightly obviously loose at the back so that I can tighten it as I need to. And you can see that it has these really long strings here. And as I understand it, these are what you use to finish tightening the corset. So, I've never tried this before. And we're just going to go for it. I have my vintage slip on because you should always wear corsets with a slip. And the knot is at the bottom. You can see the little knot here. That should be the bottom of the corset. So, it goes this way up.
So, we're going to take it up and make sure that I don't wrap everything. Surely there is a knack to it. I don't quite know what it is. Maybe it says in the book. Where's the book? I think the actual problem is that I need to loosen the laces more. So, let me do that. Let me get these all nicely lined up. And then click them together, step one. On.
Okay, so now, you can see that the corset is on but there is loose material here and here. There is a really big black bug outside my window. What the guide says is, starting rom the top, pull the laces a little tighter. Then move the lace down until it reaches the loops at the middle of the lacing calls. And next, go to the bottom of the lacing and pull the laces tighter there.
[music]
Oh, yeah, see how that is getting like tighter at the bottom there?
[music]
Okay. So, the bottom feels a lot more snug. I've not done this correctly because I've not gone bottom top, bottom top. But I will do the top now.
[music]
I'm also going to keep like stopping and breathing out so I can make sure I'm not overtightening. Because I don't want to be uncomfortable. Oh, this is so nice on my back. Oh my God.
[music]
And I've got it all done up. You can see there is way less of a gap at the top although it still feels a bit gappy.
[music]
There we go. Oh, that's so cool. Like I've never really been into the whole corset thing before. This is amazing. So, we've done that. And then, I'm going to take these loose panels and we're going to make a bow.
And there we go. We are in it. This is actually like super-duper comfortable. I hope I have this on correctly. I think I do. This is actually so comfy. It's like being held by a person, like the pressure is so nice. I haven't tied it to– I haven't laced up too tightly because I think that will be really uncomfortable. And I'm probably going to be eating a hot dog and stuff later, so I don't want to feel like [gasp]. But this is so cozy, oh my God. I've never actually sung properly corseted.
[singing]
That feels so nice. Oh, I'm wearing this for my next concert. Oh, my goodness, definitely. This feels so good. This is like quite a snug dress, which is why I wanted to try it with this corset. It also can be interesting to get into. So, pray for me.
I'm going to take– I'm going to take the clips out of my hair first. I feel like I maybe should have put the dress on first without the corset and then take it off and showed you like the difference. But believe me when I say that getting out of this, no. Not happening. Oh, yes. I absolutely love how this looks. Let me fix my hair really quickly. Oh, who is she?
I love this. I don't feel like it's made a massive change, like a massive, massive change to my silhouette, which is good. That's not what I wanted. But I do feel like it's just enhanced it, given me that bit more of like that hourglass shape. And I think it looks so pretty. And again, I am surprised at how comfortable this. Like I didn't think it was going to be uncomfortable. But I definitely, yeah. I definitely didn't anticipate how comfy this would be and how nice it would feel on my back. Like this is great. No wonder people with back problems have like orthopedic corsets. This is awesome.
I want to thank Glamorous Corsets so, so much for sending me this fabulous corset. This will definitely not be the only video where it is featured. I just really wanted to do a trying on and like a first impressions video. And then, hopefully as I wear it more, as I begin to season it more, and break it in, I can give you updates on my sort of corset experience and corset journey. But I am so, so happy. I am so, so excited.
I will put all of the information about Glamorous Corsets in the description below including this fabulous corset that I am wearing right now and a sleek little discount.
Please do remember to have courage and be kind and make all of your dreams come true. And I will see you in my next video. Bye.
---
To stay up-to-date with weekly blog posts, waist training tips, and the chance to win one of our monthly corset giveaways, follow us on Facebook, Instagram, & subscribe to our mailing list and YouTube channel today! Want to find the perfect steel boned corset? Shop some of our favorites: underbust corsets, overbust corsets, corset dresses. You can also shop our corsets by material: cotton corsets, denim corsets, leather corsets, mesh corsets, pvc corsets, and satin corsets. Have questions about getting started with waist training or finding the right size corset? Contact us!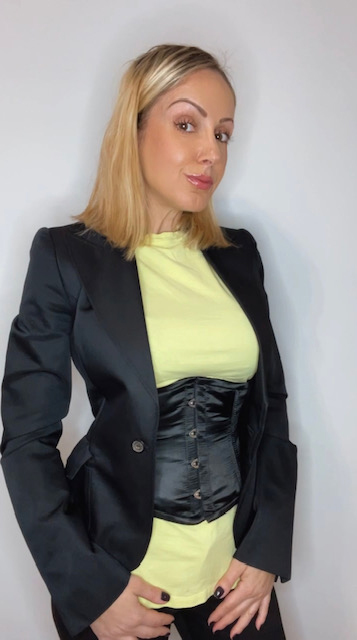 My name is Rachel, I am the owner of Glamorous Corset, a small business founded by me in 2010. Back In 2005, I was in a car accident that left me with a herniated disk. Much to my surprise I learned steel boned corsets were beneficial to several medical injuries including mine. I was always intrigued with corsetry, their history and their beautiful aesthetic. I love sharing knowledge about corsets, educating my wonderful readers and breaking the negative stigma related to corsetry. In combination with my years of research and personal experience I hope my articles are useful and can help anyone who has struggled with some of the same things I have. More about me…