Featured Corset: Jenna Black Satin Plus Size Corset
There are times in life when additional coverage is appealing, like if you live in a state with frequent floods or fires, or you have a preexisting medical condition.  In such cases, having extra insurance coverage is a no-brainer.
Then there are times when you want considerably less coverage, like when you're developing a golden glow for your wedding day and you want to avoid tan lines that look like they're holding up your strapless Vera Wang gown. When choosing corsets, however, you might not know if an overbust or underbust model is best. Do you want more coverage or less?
In truth, there are reasons why you might want both options in your wardrobe. Here are a few pros and cons of overbust corsets that will help you to decide if this full-coverage model is right for you.
The Pros of Overbust Corsets
Added Support
There's no denying that larger breasts can be a burden – literally. They can cause you to slouch, result in back pain, and leave you with painful impressions as straps and underwires dig into your skin. This is where an overbust corset comes to the rescue with added support.
Overbust corsets cover the bust and extend higher up the back, sometimes to just under the scapulae, or shoulder bones. When laces are tightened, you'll find that the compression and rigidity of your corset provides all the support you need to lift breasts and stand tall.
Posture Correction
Is good posture a sign of well-bred young ladies? In this day and age, it's a rare woman who has attended finishing school, and the relaxed clothing and attitudes common to modern life, along with the tendency to spend our days hunched over a keyboard or smartphone, have led to common complaints like neck, shoulder, and back pain.
Your inclination to don corsetry may have more to do with narrowing your waist and looking svelte under clothing than standing up straight, but you'll also enjoy the added benefit of posture correction when your spine is made more erect by rigid steel boning and stiff textiles. An overbust corset extends this feature from your lower to your upper back, and in some cases, it helps to alleviate the back pain caused by slouching.
No Bra Straps
Tired of pesky bras straps digging into your shoulders, showing under tank tops, and making it difficult to wear strapless tops? Good news, then – with overbust corsets you can ditch your bras altogether and enjoy the support you need to keep your breasts lifted and locked in place, with nary a strap to be seen.
Can Double as Outerwear
Okay, so one of the drawbacks of wearing overbust corsets is that you're going to have a harder time hiding them under clothing. With more coverage comes more lumps and bumps in an area where most tops are the tightest.
While you can choose stiffer fabrics, looser tops, or details like patterns and ruffles to try to camouflage your corset, you could also cut to the chase and simply wear your overbust corsets on the outside of clothing. When you choose a model with shoulder straps, you can wear it over blouses in lieu of a vest. Or, if you're going for an edgier evening look, pair your overbust corset with a cute blazer, and no shirt at all.
The Cons of Overbust Corsets
Adds Compression
When you wear an underbust corset, your lungs still have a lot of room to expand into the chest. When you constrict the chest area, as well, breathing deeply is a different experience that requires you to learn to expand into your shoulders and upper back.
Minor adjustments can help here, so you'll just need some trial and error to hit that sweet spot where you get the breast support you need without losing undue lung capacity. If you have breathing issues like asthma, you might want to consider sticking with an underbust corset.
Reduces Mobility
Any corset is going to limit your mobility to some degree, even tiny waspies. These supportive garments are designed for compression, which means, at the very least, you're going to have trouble bending at the waist when you wear them.
However, the coverage you'll enjoy with an overbust corset comes with a caveat – you'll significantly limit the ability to bend and twist through the torso. This can take some getting used to, so it's probably best to have both underbust and overbust models on hand, allowing you to switch it up, depending on planned activities that may require more mobility.
Requires More Measurements
When choosing any style of corset, you'll need several measurements, including your waist, hips, underbust area (just under your bust line – the crease where your breasts meet your abdomen), and the length of your torso from underbust to hip. When you choose an overbust model, you'll also have to factor in cup size and bust measurements.
This could, in theory, lead to additional complications when it comes to finding the perfect fit, and depending on your measurements, it could preclude you from purchasing off-the-rack garments. While it's always best to purchase custom corsets if you have the moola, there's no denying it's easier to find ready-to-wear models of the underbust variety.
Harder to Camouflage
Hiding an underbust corset isn't too difficult with the right clothing, such as empire or A-line shirts that float away from the body at the bust line. However, the more coverage you gain from your corset, the harder it is to hide.
There are things you can do to make camouflaging your overbust corset easier. For example, you can start by choosing a smooth corset textile, such as satin or cotton/canvas, that will not only hold up well under tension, but that remains relatively smooth under tops.
You can also choose layers that are better at hiding your undergarments, like button-down blouses in stiff fabrics (think starched cotton), or looser tops that float away from the body, as opposed to clingy jersey knit or lightweight chiffon, for example. Alternately, you could find ways to use your corset as outerwear, layering it over tees, blouses, and other tops.
A Note on pricing: As you may have expected, more material and workmanship equate to additional cost. You may find the added expense worthwhile, however, when you consider you can forego bras when wearing overbust corsets.
---
Stay up-to-date with weekly blog posts, waist training tips, and the chance to win one of our monthly corset giveaways, like us on Facebook & subscribe to our mailing list today! Want to find the perfect steel boned corset? Shop some of our favorites: underbust corsets, overbust corsets, corset dresses. You can also shop our corsets by material: cotton corsets, denim corsets, leather corsets, mesh corsets, pvc corsets, and satin corsets.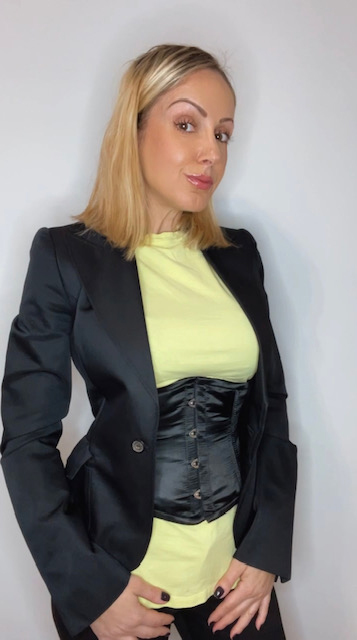 My name is Rachel, I am the owner of Glamorous Corset, a small business founded by me in 2010. Back In 2005, I was in a car accident that left me with a herniated disk. Much to my surprise I learned steel boned corsets were beneficial to several medical injuries including mine. I was always intrigued with corsetry, their history and their beautiful aesthetic. I love sharing knowledge about corsets, educating my wonderful readers and breaking the negative stigma related to corsetry. In combination with my years of research and personal experience I hope my articles are useful and can help anyone who has struggled with some of the same things I have. More about me…