Featured Corset: Desiree Black Satin Corset Dress
Historically, scoliosis and fashion have not gone hand-in-hand. In truth, it's not often that disease and fashion intersect. Naturally, medical devices are primarily focused on utility. They're designed to treat what ails you. While form follows function in design, it seems that the medical field finds this secondary step unnecessary.
So when you're diagnosed with scoliosis, you probably don't expect to find options for corrective braces that elevate your wardrobe. Can the right corset break this trend with a functional and beautiful means of stabilization?
A Brief Breakdown of Scoliosis
Scoliosis is characterized by curvature of the spine, specifically in a sideways orientation. Cases range from mild to severe and could worsen over time, with the spine potentially twisting, in addition to curving.
Typically discovered in adolescence, the causes of scoliosis are often unknown. Some cases never progress beyond mild curvature, causing no pain and having little to no impact on one's life. Severe cases can cause significant pain, disfigurement, disability, and even peripheral issues like difficulty breathing.
If signs of worsening curvature are noted, patients may have to wear a brace or, in extreme cases, undergo surgery. A contoured plastic brace typically stops scoliosis from progressing and might be discontinued once adolescents reach adulthood and stop growing.
The General Benefits of Corsetry
Steel-boned corsets may be used for a variety of reasons. Generally speaking, the most common use for a rigid, resilient, steel-boned corset is waist training. These sturdy garments are designed to be cinched in order to narrow the waistline, enhance feminine curves, and contour the torso.
Corsets may be used for minor cinching of just 1-2 inches, helping ladies look fabulous and sleek in every outfit. Or they can be tightlaced to slim the waist by up to several inches, and with proper waist training, they can deliver semi-permanent results.
However, corsets can infer a range of additional benefits. Many women report increased feelings of confidence when wearing a corset. Some say it feels like a hug that helps to reduce anxiety. The right model could also contribute to improved posture, and this is where it may overlap with scoliosis.
Custom Corsetry for Improved Posture
It's important to note that a corset isn't a medical device, and you should always speak with a trusted physician before trying potential treatment options on your own. While doctors may not necessarily prescribe a corset, they can help you understand how this support garment compares to and contrasts with a typical brace.
If you've tried both, you may find a corset somewhat more comfortable and forgiving. There's no denying it's not quite as rigid as molded plastic. Could this impact potential benefits? Certainly, and that is why it's always best to try different options and find what works for you.
The Shape of a Brace vs. a Corset
A scoliosis brace is typically custom designed for the wearer and may extend from the underbust and shoulder blades down over the hips. The equivalent in corsetry would be a longline underbust or overbust corset.
Braces sometimes have a similar appearance to a conical corset that tapers straight from the underbust to the waist, then curves out over the hips, although they are designed and fitted to the individual patient.
Customization Is Key
In terms of trying a corset, off-the-rack might not work. You'll likely need a custom corset, and depending on the curvature of your spine, you may require an asymmetrical model. Your best bet is to visit a corset maker to have precise measurements taken so that you can get a personalized fit.
Is a Corset Right for You?
There are a couple of reasons why you might try out a corset instead of a brace. For one thing, this support garment is snug but comfortable, and it may allow for some range of motion not possible in a plastic brace.
Corsets can offer greater discretion under clothing if you're trying to be stealthy, serve up confidence in intimate situations, and even make for a lovely addition to your wardrobe, worn over a tee, blouse, or dress. They're also significantly cheaper than braces.
While a custom corset could set you back a few hundred dollars or more, a medical brace for scoliosis might be upwards of $5,000, and incredibly, it may not be covered by insurance. With so many potential benefits to consider, there are plenty of reasons to give corsets a try.
---
To stay up-to-date with weekly blog posts, waist training tips, and the chance to win one of our monthly corset giveaways, follow us on Facebook, Instagram & subscribe to our mailing list today! Want to find the perfect steel boned corset? Shop some of our favorites: underbust corsets, overbust corsets, corset dresses. You can also shop our corsets by material: cotton corsets, denim corsets, leather corsets, mesh corsets, pvc corsets, and satin corsets. Have questions about getting started with waist training or finding the right size corset? Contact us!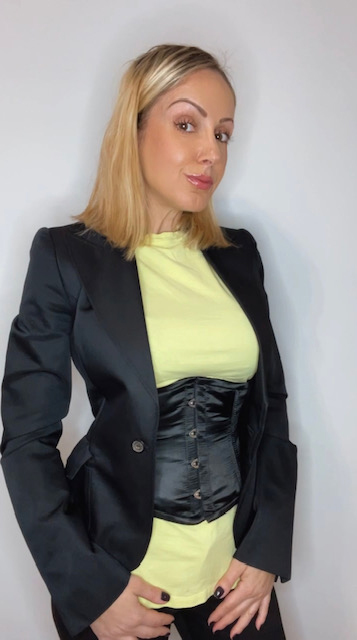 My name is Rachel, I am the owner of Glamorous Corset, a small business founded by me in 2010. Back In 2005, I was in a car accident that left me with a herniated disk. Much to my surprise I learned steel boned corsets were beneficial to several medical injuries including mine. I was always intrigued with corsetry, their history and their beautiful aesthetic. I love sharing knowledge about corsets, educating my wonderful readers and breaking the negative stigma related to corsetry. In combination with my years of research and personal experience I hope my articles are useful and can help anyone who has struggled with some of the same things I have. More about me…