At Glamorous Corset, all our corsets will come pre-laced, however if you would like to re-lace your corset with difference laces we hope this video on how to lace your corset can help.
Video Transcription
Hello, friends. And welcome to our Glamorous Corset YouTube channel. We are new here and would love it if you can, guys please subscribe to our channel and help us grow our channel.
On today's episode, we will be talking about re-lacing your corset. Please note that Glamorous Corsets will come pre-laced for your convenience. However, if you would like to re-lace your corset, we hope this tutorial helps you.
We will be re-lacing with this beautiful magenta color lace. Without further ado we will start by threading the laces, creating our very first x. So, first we're threading under the grommets, and to keep the laces nice and even. The laces are super long, which is pretty awesome because you can tie the laces in different ways. Sometimes we get little tangles. But that is okay.
Now, we will be crossing over to the other side, threading the lace over the grommet as you can see. Okay, and again on this side, over the grommet where we will be making our first x.
So, here we go. We have a very first x outside of the corset and over the grommets. Now, we will continue with our x pattern. But this time we will thread the lace under the corset. Right under the corset, as such. Okay? And we will do the same crossing over to the other side, again under the grommet.
Sometimes the lace can get tangled, but that's okay. Okay, so here we go. So, we have an x on the outside of the corset and a smaller x on the inside of the corset. So, we continue with the same pattern until just about the center of the corset. So, now again, over. Okay. Again, over on this side. Another little tangle. Okay? And now, under. And under on this side as well. Now, we have a total of four x's over, under, over, under. And again, we continue the pattern. Now, we go over.
And the same for this side. As you can see, now we are approaching the center. This is where our waist tape is. We will shortly begin creating our bunny loops. Now, we go under, under the grommet. Under the grommet on this side as well.
Okay, now we start with our bunny loops. When you're tightening up your corset, this is exactly what you'll be pulling on. So, this time instead of going across, we will be coming down right underneath and going into the grommet as such. Extend your laces just a bit, so they are nice and even. Here are the bunny loops that we will be pulling on when we close our corset, okay? And now again, we are continuing on with our crisscross pattern. Under, and this side, under as well.
Now, over, crisscrossing, similar idea if you are tying your sneakers or any types of shoes with lacing. Under. And finally, over. Here we are at the very bottom where now we make a nice knot, which will be under your corset so that it will not be visible as so.
Now adjust your corset accordingly. And finally, now we are ready to make our bow. When the laces are a little long, making a bow can be just a bit tricky. Here we go. Okay. You can always tuck the excess lacing inside the corset, but we'll save that for another video.
This concludes our tutorial on how to re-lace your corset. We really hope that you've found it helpful. And if you have any further questions, please do not hesitate to reach out to us. We thank you advance and please subscribe to our new channel.
---
To stay up-to-date with weekly blog posts, waist training tips, and the chance to win one of our monthly corset giveaways, follow us on Facebook, Instagram, & subscribe to our mailing list and YouTube channel today! Want to find the perfect steel boned corset? Shop some of our favorites: underbust corsets, overbust corsets, corset dresses. You can also shop our corsets by material: cotton corsets, denim corsets, leather corsets, mesh corsets, pvc corsets, and satin corsets. Have questions about getting started with waist training or finding the right size corset? Contact us!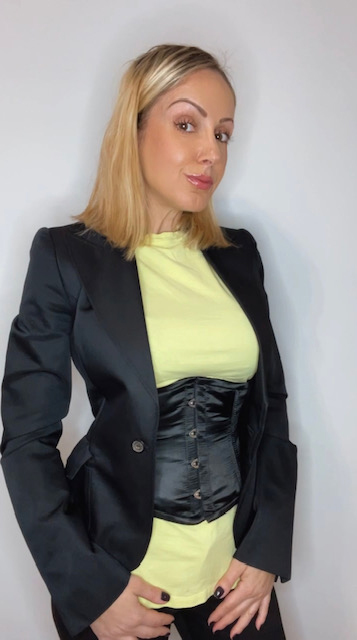 My name is Rachel, I am the owner of Glamorous Corset, a small business founded by me in 2010. Back In 2005, I was in a car accident that left me with a herniated disk. Much to my surprise I learned steel boned corsets were beneficial to several medical injuries including mine. I was always intrigued with corsetry, their history and their beautiful aesthetic. I love sharing knowledge about corsets, educating my wonderful readers and breaking the negative stigma related to corsetry. In combination with my years of research and personal experience I hope my articles are useful and can help anyone who has struggled with some of the same things I have. More about me…