Featured Corset: Bella Black Satin Corset
Life can be full of embarrassing moments, especially regarding fashion. We all have those pictures we'd like to burn from our experimental teens and twenties.
Whether yours feature perms and acid-washed jeans, chokers and butterfly clips, or ultra-mini skirts and Ugg boots, there's no denying that trending fashion can quickly turn faux pas.
The good news is that you can stock your closet with timeless wardrobe staples that will look chic from one decade to the next. I know what you're thinking – BORING! And while it's easy to underwhelm with an LBD, a classic suit, or a white tee and jeans, this is where accessories come in.
Believe it or not, one of the best accessories is an underbust corset. It's not just shapewear anymore – you can pair it with all kinds of outfits for eye-catching results when you know how to style an underbust corset. Here are a few tips and tricks to turn this waist-training wonder into a recurring mainstay of your everyday ensembles.
How to Style an Underbust Corset for Casual Appeal
Underbust corsets can extend from the underbust crease to the hip, or they can be a tiny, 6-eyelet waspie just a few inches tall. In other words, you have some choices for coverage. How can you keep it casual?
Start by choosing understated materials like cotton, denim, or mesh that aren't going to outshine other elements of your ensemble, and avoid a lot of attention-grabbing embellishments. You don't necessarily have to shy away from color, especially if your outfit is primarily neutral, but don't go too flashy. And choose your outfit with care.
Tee and Jeans
It doesn't get more casual than a simple tee or tank with jeans, and this combo is incredibly easy to upgrade with a corset. If you want to keep it low-key, opt for a neutral hue and a shorter stance. Make sure to choose a tee that falls to the hip, rather than a midriff or tunic length, for the most flattering visual proportions.
Shirtdress
Honestly, a corset can elevate nearly any dress, but if you're going for a casual daytime look, you can't beat a shirtdress.
This breezy garment can sometimes look a little slouchy, but when you know how to style an underbust corset with it, you'll add structure and create an outfit that's laid back but polished.
Blouse and A-Line Skirt
If you want to step up your casual look, a two-piece ensemble with a blouse or cardi and a knee-length skirt will do the trick. To complete the look, add a waspie as a stand-in for a wide belt to accentuate your natural waist, offset cap sleeves, and a flared A-line skirt.
How to Style an Underbust Corset for Wow Factor
Casual is great for your average daytime look, but if you want to style for evening dates, clubbing, or other events, you'll need to step up your game. This means opting for a fancier corset.
Fabrics like satin, brocade, velvet, and even leather or slick PVC will immediately pull focus, especially when paired with the right garments. You don't necessarily have to go formal (unless it's a formal event), but your average tee and jeans simply won't do. Want to know how to style an underbust corset for out-of-this-world wow factor?
Flowy Maxi
When it comes to amping up the appeal of maxi dresses, you want to go more minimalist than muumuu.
A bit of flow is a good thing, and you can't go wrong with some color, pattern, and shine for visual interest, but don't go overboard with volume, or it will bunch up quite a bit when you add your underbust corset. Opt for a waspie to maximize the impact of a slim waistline.
Bodycon Sweater Dress
If you're not timid about flaunting your contours, a bodycon sweater dress is a classy way to do it – providing plenty of coverage so you can leave a little something to the imagination.
You can really have some fun with a longer underbust model corset, especially if you choose features like contoured cutouts for the hip area or other attractive embellishments.
Wide-Leg Jumpsuit
Whether you like a '70s-inspired halter top, Halston design in flashy lamé, or you're more into a modern interpretation in drapey jersey, a one-piece jumpsuit can easily bridge the gap between hassle-free and haute couture. Add an underbust corset in complementary colors and textiles to give your outfit some extra oomph.
When you pair the right underbust corset with a casual or upscale ensemble, you not only create the hourglass figure you crave, but you add polish to every look.
---
To stay up-to-date with weekly blog posts, waist training tips, and the chance to win one of our monthly corset giveaways, follow us on Facebook, Instagram, & subscribe to our mailing list and YouTube channel today! Want to find the perfect steel boned corset? Shop some of our favorites: underbust corsets, overbust corsets, corset dresses. You can also shop our corsets by material: cotton corsets, denim corsets, leather corsets, mesh corsets, pvc corsets, and satin corsets. Have questions about getting started with waist training or finding the right size corset? Contact us!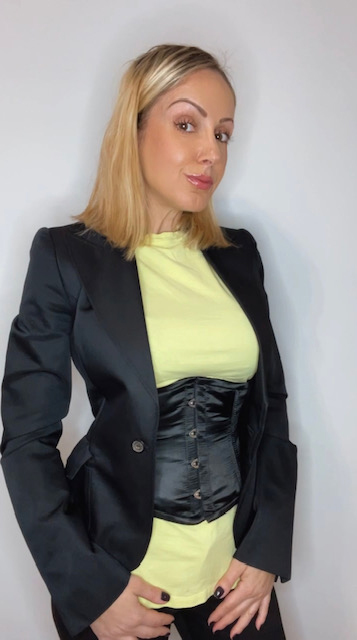 My name is Rachel, I am the owner of Glamorous Corset, a small business founded by me in 2010. Back In 2005, I was in a car accident that left me with a herniated disk. Much to my surprise I learned steel boned corsets were beneficial to several medical injuries including mine. I was always intrigued with corsetry, their history and their beautiful aesthetic. I love sharing knowledge about corsets, educating my wonderful readers and breaking the negative stigma related to corsetry. In combination with my years of research and personal experience I hope my articles are useful and can help anyone who has struggled with some of the same things I have. More about me…