Many off-the-rack corsets come with a modesty panel designed to bridge the gap that lies between the laces at the back of your garment.
For the most part, the edges of the corset where you lace it aren't meant to touch or overlap.
When they do, it's usually time to downsize your corset.
However, that doesn't mean you want exposed flesh puckering beneath the laces, or that you want your lacing to leave an uncomfortable imprint on your flesh.
Even so, there are women who find the modesty panel cumbersome or otherwise unnecessary.
Serious tightlacers simply may not want the added bulk in their garments.
The good news is, modern corsetiers are aware of this issue and so make their garments with easy conversion in mind, thanks to modesty panels that are robust, yet easy to remove.
How do you go about removing a modesty panel when it no longer suits your purposes?  Here's what you need to know.
Is it Easily Removable?
For starters, not all modesty panels can be easily removed.
You need to look at where your modesty panel is attached to the garment to see if there's a seam allowance, or a strip of fabric beyond the stitching.
If this is visible, you should have no trouble removing the modesty panel without damaging your corset.
If the panel has been stitched into a seam in the garment lining (as opposed to being added on the outside of the finished garment), removing it will require you to repair your corset afterward, and this could lead to weakness in the garment itself.
The alternative, if there is no seam allowance, is to simply cut off the modesty panel as close to the seam as possible.
However, this could leave you a line of remaining fabric near the seam that pushes into the skin and causes discomfort when you tighten your corset.
Grab Your Seam Ripper
Having the right tool on hand makes this job a cinch, and the one tool you can't do without is a seam ripper.
This pointy, U-shaped tool is designed specifically for speedy seam removal without damaging the integrity of your garment, and you can find it at any fabric store or online for just a few bucks.
All you have to do is slip the pointy end under stitches and push through to cut them, keeping in mind that there is often extra stitching (back-stitching) at either end of a line of stitches for added strength and durability.
Be careful to point the seam ripper away from your hands – it's easy to stab yourself with this sharp tool.
Preserving Your Panel
What if you decide later on you want to reinsert your modesty panel, or you want to add it to a different corset?
Just in case you want to reuse your modesty panel, you should take care in removing it.
Try not to stab it with a seam ripper, and don't rip it off the garment once you've sliced a few stitches.
Even if you take the time to remove it carefully, the process shouldn't take more than a minute or two, and the end result will be a pristine corset and a modesty panel that can be reused later on.
---
Stay up-to-date with weekly blog posts, waist training tips, and the chance to win one of our monthly corset giveaways, like us on Facebook & subscribe to our mailing list today! Want to find the perfect steel boned corset? Shop some of our favorites: underbust corsets, overbust corsets, corset dresses. You can also shop our corsets by material: cotton corsets, denim corsets, leather corsets, mesh corsets, pvc corsets, and satin corsets.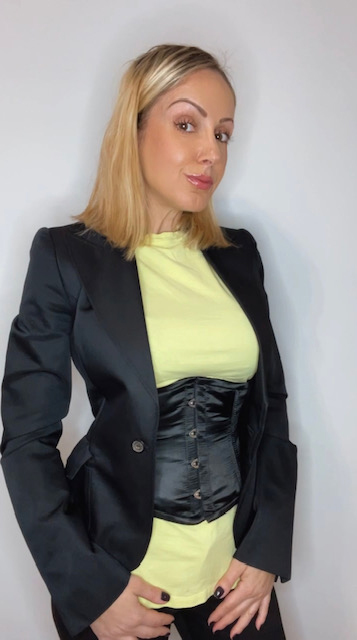 My name is Rachel, I am the owner of Glamorous Corset, a small business founded by me in 2010. Back In 2005, I was in a car accident that left me with a herniated disk. Much to my surprise I learned steel boned corsets were beneficial to several medical injuries including mine. I was always intrigued with corsetry, their history and their beautiful aesthetic. I love sharing knowledge about corsets, educating my wonderful readers and breaking the negative stigma related to corsetry. In combination with my years of research and personal experience I hope my articles are useful and can help anyone who has struggled with some of the same things I have. More about me…