Featured Corset: Desiree Black Leather Corset Dress
The female ensemble can be a complex affair. While your daily outfits may consist of little more than jeans and a t-shirt, they could also have several layers with a range of zippers, buttons, hooks, ties, and more. It gets even more complicated when you get into fancier attire like cocktail dresses and formal wear.
If you've ever tried to zip the back of your own dress, you know it requires a lot of scooching and some flexibility. This is especially true of dresses that feature a corset design, which is to say, they have to lace up the back and sometimes the front. It's a lot quicker and easier with a second set of hands to offer an assist.
When you contemplate how to lace a corset dress by yourself, you may be understandably skeptical about your ability to cinch successfully. In truth, this is a situation where you're probably going to wish the days of having a lady's maid weren't a thing of the past. How can you get into your corset dress and ensure it's appropriately laced and cinched? Here's what you need to know.
Can You Lace a Corset Dress by Yourself?
Consider, for a moment, the scene in Gone with the Wind where Scarlett O'Hara is having her corset tightened while she clings to a bedpost to stop from being dragged across the floor from the tugging. While modern women have found ways to tighten their own laces (attaching loops to a doorknob and gently pulling away until snug, for example), some experimentation will show you that this is much easier with a shorter corset (an underbust or waspie) than an overbust or longline model.
This is because you have to adjust the lacing up the length of the garment as you go to ensure even, parallel edges across the back gap. The longer the corset, the harder this is to do on your own. You likely won't get far with a dress before realizing you really do need help. You can certainly try to figure out how to tie a corset dress yourself. Still, chances are you'll find it frustrating, uncomfortable, and ultimately unsuccessful in terms of accomplishing a straight line up the back.
How to Lace a Corset Dress by Yourself: Tackling the Pre-Game
While you might not be able to cinch a longer corset on your body, you can learn how to lace a corset dress by yourself before you put it on. You could follow several patterns, but the most popular and effective is typically starting from the top, leaving long loops in the middle for cinching, knotting, and trimming any remaining laces at the bottom.
With a typical corset, this leaves loops somewhere around the waistline, which you may be able to reach on your own if you're reasonably flexible. Even so, you might not have the leverage to pull loops on your own without the aid of a doorknob. With a corset dress, your loops are going to be lower, likely at or below the small of the back, approximately midway down the dress.
Why You Should Seek a Helping Hand
Even if you're, like, contortionist-level flexible, figuring out how to tie a corset dress yourself is basically impossible. Sure, you could use the doorknob method to pull your loops, but you'd still have to adjust laces to pull evenly from top to bottom. That means from the upper back to mid-thigh, at least. You'd really need eyes and arms in the back of your head.
Even with the use of mirrors, this will prove a tedious task, and chances are, it's not going to be as even as you think. If you want that perfectly straight line of lacing, from top to bottom (and you definitely do in this bodycon dress), the quickest and easiest way is with help. Enlist the aid of your partner, sister, or friend to save time and hassle and make the most of your stunning corset dress.
---
To stay up-to-date with weekly blog posts, waist training tips, and the chance to win one of our monthly corset giveaways, follow us on Facebook, Instagram & subscribe to our mailing list today! Want to find the perfect steel boned corset? Shop some of our favorites: underbust corsets, overbust corsets, corset dresses. You can also shop our corsets by material: cotton corsets, denim corsets, leather corsets, mesh corsets, pvc corsets, and satin corsets. Have questions about getting started with waist training or finding the right size corset? Contact us!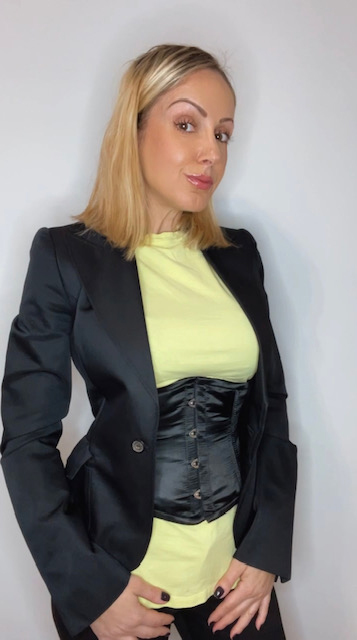 My name is Rachel, I am the owner of Glamorous Corset, a small business founded by me in 2010. Back In 2005, I was in a car accident that left me with a herniated disk. Much to my surprise I learned steel boned corsets were beneficial to several medical injuries including mine. I was always intrigued with corsetry, their history and their beautiful aesthetic. I love sharing knowledge about corsets, educating my wonderful readers and breaking the negative stigma related to corsetry. In combination with my years of research and personal experience I hope my articles are useful and can help anyone who has struggled with some of the same things I have. More about me…