Featured Corset: Jolie Black Cotton Corset, Long Line Curvy Steel Boned Underbust Corset
Video Transcription
Hi guys. It's Di Ara, your host. Welcome. If you are new, where have you been? Thank you for taking some time and spending it with me.
Have you ever heard of a company by the name of "Glamorous Corset"? Well, I have recently found them and guess what I got? Bam! You're not surprised, are you? I just received this a few days ago. I have not seen it. As bad as I want to open it, I decided to just wait so that you and me can do it together.
Now it came in a box, a regular FedEx-type box, so not a bag. I know some people kind of don't like when they get their corsets in a bag. This one came in a pretty sturdy box, and when I opened the box, this is exactly what I got right here. Let's open this bad boy — or bad girl — up. It's just gorgeous, isn't it?
Right off the bat, I can tell you that the quality is on point. Say what? Okay. The cords look good. This is a size 18. It's right here. Boom! Size 18 corset. It is 13 inches long. I am going to be showing you the corset up close and personal, and I also am going to be trying it on for you somewhere within this video. That's good.
I am ready to lace up. Are you ready? Let's get the party started! All right, don't be fresh. I'll be right back.
All right, guys. Before we go any further, I just wanted to give you some features and details about this corset. It does have 28 grommets, 24 steel bones, 4 which are rigid steel bones and 20 are spiral steel bones. It has a steel bust. It is specifically made for long torso individuals. It has a 13-inch front length. The back length is 13.5 inches. The sides are 14 inches. It is made and lined with 100% cotton. It does include a waist tape. It has a 5-inch wide modesty panel. It has a traditional bi-directional back lacing and 6 suspender loops.
All right, guys. You remember the drill, right? I am going to undo… and I just want to double check and make sure you see that this is a… can you see that? I don't know if you can see it. It's an 18, per usual.
You know how this works. When you get a brand new corset, you want to undo the cords as much as possible. You know? The very best way to try on a brand new corset is to open the… we want to go all the way open. That's what I'm going to do here. But let's get started.
It clicked in quite well. Lets straighten this bad boy. And now I am just… now I'm just going to adjust my modesty panel. If you've seen one video of a modesty panel adjustment, you've seen them all. All right? Just try to bring it in as much as you can. If you've seen it once, you've seen it. Let me just double-check that I'm straight. And I am.
I'm just going to tighten my laces. Now, remember, this is a brand new corset, so I will not tighten too much because I have to season the corset. Got it? Good.
Now right off the bat, I just love this corset and I'm going to tell you why. I like long…. I prefer longer corsets because this corset is so high up in the back. I think a lot of you that have this back fat problem issue, thing will really appreciate this corset right here. It's really easy to get the cords coming up, and because the corset isn't used to me, it's going to take me… please excuse my phone. I have a friend. I'm actually going to have a corset party in a few days and my friend is trying to coordinate with me.
Oh, my God. You're going to love the way or how far down the bottom, like right here, goes. If you have an issue with the bottom — a little pooch, you know, flowing out — this one is not going to give you that issue. And, like I said, the back… look at the back. Look how high the back is. There's just no way that you're going to have any overflow, if you know what I'm talking… you know what I'm talking about. Usually, for that overflow, I recommend other extra cardio… and I know not all of us want to do that, I enjoy it, so it's not an issue for me. But wow, there is definite control in those two areas. I want to get it snug. I'm not going to get it tight, just snug. Remember that. A brand new corset, you need to give it time. Give me a minute while I do this and I'll be right back.
This corset is so freaking comfortable. Holy cow! Like if it was made for me, but it's not, but it feels like it is. Oh, man! This one's easily going to be my favorite. What do you think? Is that straight? It looks straight enough to me. Yeah, I think that's where I'm going to leave it. Yeah. Okay.
So, yeah. I think it's good. Yeah. I think I had a little… it was a little crooked right here so I had to undo it. It happens with a new corset. You know? But it's very important to get that… you want to get it straight or as straight as possible. Okay? Right there, it's good. It feels good there.
You know what? The modesty panel is not in the way. A modesty panel can be really frustrating because you have to like fix and adjust it a whole bunch. I only adjusted it maybe two times and it was perfectly, perfectly okay. Do you hear that? Holy cow it's raining hard. Thunder. Thunder, baby.
All right. I think I'm happy now. I think I'm happy now. All right. I'm happy here. You know the drill. I know I'm not supposed to wrap the cords around me, but you ain't the boss of me. I'll do this the way I want to. Just like I live my life the way I want to and you should be, too.
All right, guys. I'm pretty much done with this one. If you're someone that has issues with spillover from the bottom, this corset is not going to allow you to have that issue. If you have issues up here at the top, like the back fat, this corset is not going to allow that to happen. It's super comfortable. Can you see? I'm super happy.
Now, see that? I can sit, I can move, I could twerk if I wanted to, but I'm not gonna. Okay. The corset is really, really, really comfortable. I am having like no issues. I got the longest one because I have a long torso for a small little lady like me.
All right. From this moment on, you can consider this moment here, the beginning of the seasoning process. I will make an update video in a few weeks. Maybe even two because I have a new seasoning schedule and it's pretty extreme. I'm going to definitely put this corset to the test.
All right, guys. I hope you enjoyed this video. I know I did. Also, before I forget, I do have a coupon code if you wanted to give any of these corsets a try. The coupon code that I have is "DiAra20" for a 20% discount on any purchase. All right, guys. Thank you so much for watching this video. Don't forget to subscribe and I will see you next time. Bye.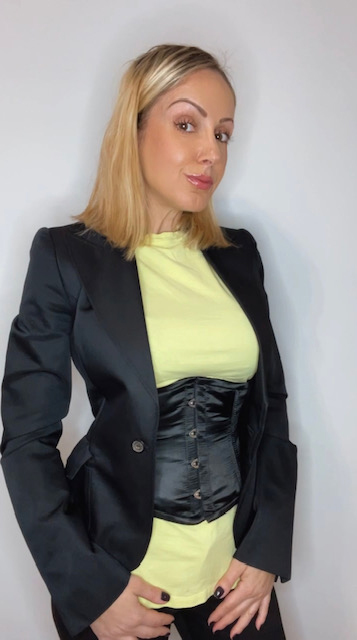 My name is Rachel, I am the owner of Glamorous Corset, a small business founded by me in 2010. Back In 2005, I was in a car accident that left me with a herniated disk. Much to my surprise I learned steel boned corsets were beneficial to several medical injuries including mine. I was always intrigued with corsetry, their history and their beautiful aesthetic. I love sharing knowledge about corsets, educating my wonderful readers and breaking the negative stigma related to corsetry. In combination with my years of research and personal experience I hope my articles are useful and can help anyone who has struggled with some of the same things I have. More about me…