You may be under the misconception that undergarments are supposed to remain under your everyday clothing – to be fair, that's pretty much what the name implies. However, all you have to do is look at celebrities in public to know this is hardly the case anymore. We seem to be living in an "anything goes" fashion climate these days, with celebs like Kim K. (the whole Kardashian/Jenner clan, really, sans Rob), Rihanna, Taylor Swift, Miley Cyrus, and many more stepping out day and night wearing nothing more than a bra for a top, in some cases covering totally sheer bras with open blazers.
Of course, wearing undergarments in place of actual garments is nothing new – Gwen Stefani practically made a career out of running around in little more than bras and bikini tops paired with slouchy pants and barely-there plaid skirts. Madonna famously donned corset tops even before Stefani. The material girl never shied away from a little controversy and a lot of cleavage.
The point is that it has long been acceptable for women to sport their lingerie, shapewear, and other undergarments on the outside of clothing for the purposes of fashion, and you, too, can get the most out of your steel boned corsets by throwing caution to the wind and using them to make a fashion statement. How can you do this without feeling self-conscious or inviting some serious side-eye at the office? Here are a few options to consider when it comes to corset tops for going out.
Add a Touch of Modesty
You might be surprised by the many ways you can fashionably wear a corset on the outside by simply pairing it with other types of tops. For an office look, think about adding a button-down, sheer blouse, or shirt-dress underneath your corset. For the sheer blouse or extra modesty, an overbust corset is advisable.
For a killer weekend look, add a waspie and a few layered necklaces to your standard tee and jeans or make like Kim K. and wear your corset over a long, tunic tee. Wearing a corset over a sweater dress, or just about any dress, really, is pretty obvi, but still totally simple and chic.
Pair it with a Jacket
This look might not necessarily fall under the heading of "office appropriate", but when you throw in some skinny jeans and high-heeled booties, you definitely have a look worthy of a hot date or a night at the club. Try pairing your steel-boned corset with a blazer for a sleek, sophisticated look, or a moto jacket if you want more edge. What other kinds of jackets can you use?
During the time pirates sailed the high seas, most women wore corsets under their dresses. You can incorporate the best of both worlds by pairing a fancy, damask corset with a naval-inspired pirate captain's coat that nips in at the waist, hangs to your knees, and features some fancy embellishments like metallic buttons, folded cuffs, or even epaulettes. For a modern take, check out pics of Elizabeth Olsen as the Scarlet Witch from "Captain America: Civil War".
---
Stay up-to-date with weekly blog posts, waist training tips, and the chance to win one of our monthly corset giveaways, like us on Facebook & subscribe to our mailing list today!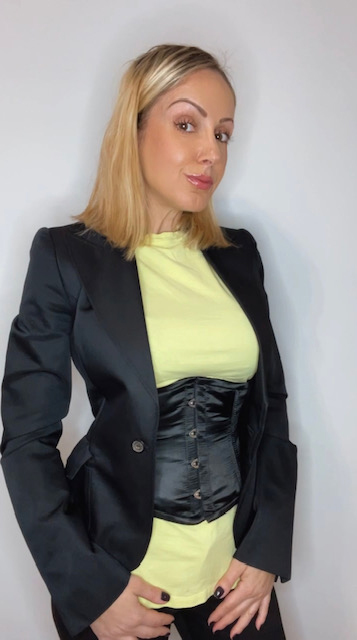 My name is Rachel, I am the owner of Glamorous Corset, a small business founded by me in 2010. Back In 2005, I was in a car accident that left me with a herniated disk. Much to my surprise I learned steel boned corsets were beneficial to several medical injuries including mine. I was always intrigued with corsetry, their history and their beautiful aesthetic. I love sharing knowledge about corsets, educating my wonderful readers and breaking the negative stigma related to corsetry. In combination with my years of research and personal experience I hope my articles are useful and can help anyone who has struggled with some of the same things I have. More about me…